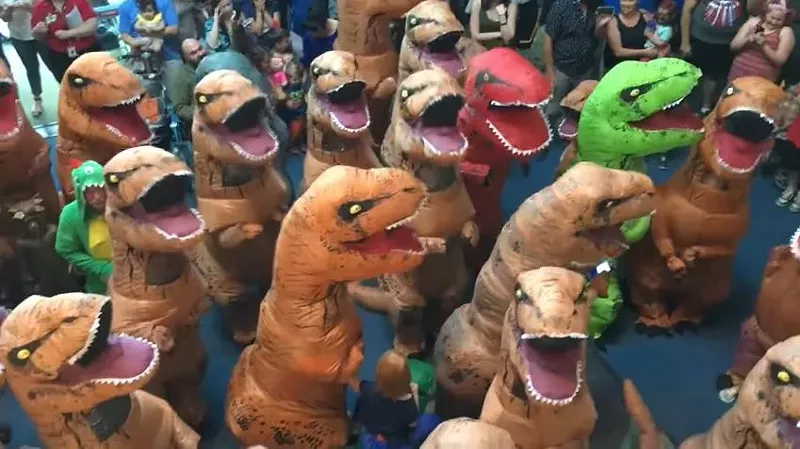 Screenshot via YouTube
One of the vicious dinos captured a child, but everyone was like "Whatevs."
Dinosaurs were meteor-clobbered out of existence some 66 million years ago, but last week, they returned for a visit to the Saint Louis Science Museum — and this time, they got funky.
According to the not-so-harrowing footage below, a squad of more than 30 inflatable Tyrannosaurus Rexes showed up to the museum's First Friday event last week. Apparently, the
Jurassic Park
-themed event featured a group performance to the tune of DJ Casper's classic 1998 dance hit, "Cha Cha Slide," which we're pretty sure will still be playing at birthdays and proms 66 million years from now.
In any case, here's the footage. One would think that T-Rexes would have trouble with all that clapping, little arms and all, but we're simply saying that these life-sized dinosaurs, uh... find a way.

Follow Danny Wicentowski on Twitter at @D_Towski. E-mail the author at Danny.Wicentowski@RiverfrontTimes.com
Sign up for our weekly newsletters to get the latest on the news, things to do and places to eat delivered right to your inbox.