THEO WELLING
Throw your hooves in the air if you're a true playa.
Twilight Sparkle, Big Daddy McColt, Pinkie Pie — these are not the names of '80s scrambled Cinemax characters, but of ponies. Specifically, the cartoon ponies of
My Little Pony
, which was revived in the late 2000s long after its '80s heyday. The reboot features a massive ensemble cast of ponies (there are hundreds of them) with names ranging from the sweet and saccharine to the downright uncomfortable.
Lee Howard-Ginther wants to bring these ponies (Pinkie Pie included) to the attention of the public. She is behind the sixth annual Crystal Fair, which seeks to bring together "bronies" of all walks of life.
For clarification, "brony" is the name for a fan of My Little Pony, and is generally seen as a gender-neutral term, though the Crystal Fair's website says that "pegasister" is also acceptable.
"The biggest fan population are men. The age varies, could be anywhere from 14 to in their 40s," Howard-Ginther explains. "It's a close-knit community."
This isn't the only convention for people of this fandom, but is one of the most successful. "The biggest one was Bronycon, in Baltimore. There was also one in Ohio [TrotCon]," Howard-Ginther says. "Eventually we said, 'Why don't we try it in St. Louis?' So we've been doing it for a few years here."
This year's Crystal Fair features Lee Tockar and Andrew Francis as guests, both of whom are voice actors on the show. The group CKC (Curvy Kitty Cosplay) will be present as well, in what appears to be an act of solidarity in the oft-maligned "costumed adult community."
Perhaps this solidarity is needed, however; many bronies are unfairly treated or even persecuted. "There was a boy, he was nine, he and his brother watched together, so for his birthday his brother got him a My Little Pony backpack," Howard-Ginther remembers. "When he wore it at school he got teased, so he attempted to hang himself." Fortunately the boy recovered, and, Howard says, "different voice actors heard about it, so they called him in the hospital and talked to him in character."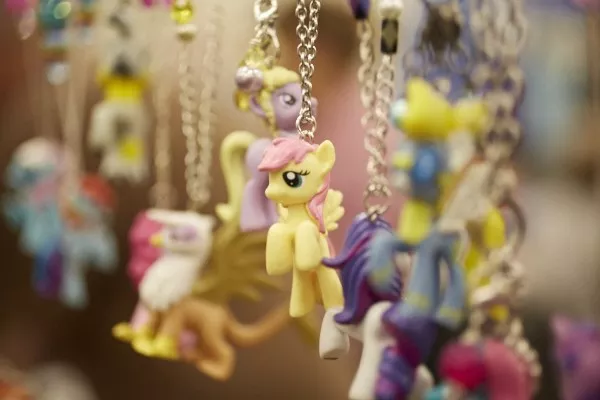 THEO WELLING
The vendor room will be a treasure house of My Little Pony memorabilia.
In addition to being a tight-knit community, it is also a very localized one. The Crystal Festival features four mascot ponies, three of which have some sort of connection to St. Louis. One of the ponies is named Toasted Ravioli, and features a yellowish body with a shock of orange hair.
Howard champions the festival as a "Four Corners" type spot where people of all fandoms can convene and be comfortable together, including those who may have a more difficult time finding an accepting community.
"There are a good percentage of bronies that have social disorders, are on that scale, and they're finding that this show is helping those people, it's bringing them together," Howard-Ginther says."The show is helping them by teaching them social values and cues, in a way that they can relate and understand. The festival is a good way for all of them to be together."
Despite what many people may see as a non-traditional hobby, brony fandom could be, in the words of Marx, the "heart in a heartless world." This is a community which is keen on inclusion, diversity and solidarity, qualities that are typically scarce when operating within the psychological mechanics of a group. It is about who is inside the horse suit, rather than the superficial qualities that only run skin deep.
The Crystal Fair takes place from Friday, May 25, to Sunday, May 27. It will be held at the Westport Conference Center at Westport Plaza (111 West Port Plaza Dr; www.crystalfairstl.com). Individual day badges start at $25.
THEO WELLING
Won't you please give a lost pony a good home and regular grooming?