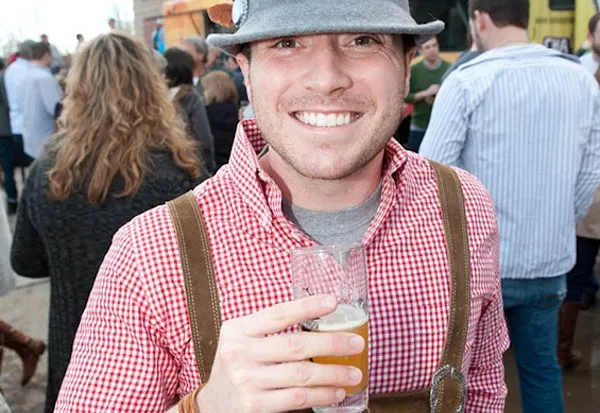 JON GITCHOFF
Get your bock on at Maifest this Saturday.
It's a packed weekend this go-round, with two major art exhibitions, an art fair, a late-night circus show and some of the quickest operas around. And don't forget your ma this weekend — she'd eventually forgive you if you did (that's what moms do), but you really shouldn't test her patience.
Here are this weekend's picks.
1. Celebrate Tennessee

The Tennessee Williams Festival St. Louis returns with the second of Williams' great plays,
A Streetcar Named Desire
. Blanche DuBois, a woman in her thirties, is forced by need to move in with her younger sister Stella. Stella's husband, Stanley, isn't keen on Blanche (her sense of superiority grates), but refuses to let her cramp his rough style. Close quarters soon lead to conflict, but Blanche remains convinced that Stanley's pal Mitch will sweep her off her feet and take her away to a life more her liking. She doesn't count on anyone discovering the secret that drove her to her sister's house, though.
A Streetcar Named Desire
is performed at the Grandel Theatre (3610 Grandel Square) at 7:30 p.m. Thursday through Sunday (May 10 to 13) and 7:30 p.m. Wednesday and Thursday (May 16 to 17), with additional shows at 2 and 7:30 p.m. Saturday, May 19. The opening night includes a New Orleans-style parade down Grandell at 7 p.m. Tickets are $25 to $45. For information on the festival's discussions and other performances, visit
www.twstl.org
.
See also: A Streetcar Named Desire Triumphs at the Tennessee Williams Festival
2. After the circus comes more circus

Long after the aerialists have stopped spinning and the learned pigs are snuggled up in their blankets, there's another circus that takes place in the Circus Flora Bigtop (3401 Samuel Shepard Drive;
alofttenttakeover.bpt.me
). At 10:30 p.m. Friday, May 11, Chicago's Aloft Circus Arts takes over the tent and performs its punk-cabaret circus show,
El Circo Cheapo
. This is the circus for adults; the Ringmaster has a dirty mind and an even filthier mouth, and the aerialists perform nervy feats that use power and the element of surprise to brush up against the safety envelope. Tickets for this one night only show are $15.
COURTESY OF SAINT LOUIS ART MUSEUM
Great Rivers Biennial winner Addoley Dzegede in her studio.
3. St. Louis artists take center stage

As part of its mission to present work by modern artists, the Contemporary Art Museum supports local artists through the
Great Rivers Biennial
. A team of esteemed jurors from the art world work through more than 150 applications to select three artists who live in the metro area for a high-profile exhibition at the museum. Addoley Dzegede, Sarah Paulsen and Jacob Stanley are the recipients of the eighth installment, and all three should be well-known to gallery habitues. In
Ballast
, Dzegede uses patterned textiles, sculpture and video to explore the hidden and forgotten history that creates a sense of "unified" identity. Paulsen combines consumer campaigns, immigrant narratives and stop-motion animation in an installation of single-channel videos to create a multi-part story about the invisible framework that supports and reinforces racial oppression. Stanley's sculptures are constructed to explore the nature and passage of time. His piece
Accretion
is a quarter-inch thick steel sheet; visitors can each place one sheet on top of it. As time passes and the weight increases, the steel will bend.
The Great Rivers Biennial
opens with a free reception from 7 to 9 p.m. Friday, May 11, at Contemporary Art Museum St. Louis (3750 Washington Boulevard;
www.camstl.org
). The artists and jurors will hold a panel discussion at 11 a.m. Saturday, May 12. The show continues through Sunday, August 19, and admission is free.
Amy Sherald, Varsity Girl, 2016. Oil on canvas, 54 x 43 inches. Collection of Nancy and David Frej. Courtesy the artist and Monique Meloche Gallery, Chicago.
4. She's putting black people in museums

If you think you aren't familiar with
Amy Sherald
's work, you're wrong. Sherald painted Michelle Obama's official portrait, and that image was broadcast around the world and back. Sherald's portraits are of everyday black people (Mrs. Obama excepted, of course) with serene expression standing against featureless monotone backgrounds, and done in the large-size format once reserved for royalty and the wealthy elite. By portraying her subjects realistically and in vibrant color, Sherald liberates the black image from the traditional narrative; there are no sociological clues that hint at the status of her people. They are their own context, their eyes taking in the viewer with majestic calm.
Amy Sherald
, an exhibition of the artist's paintings, opens with a free reception from 7 to 9 p.m. Friday, May 11, at the Contemporary Art Museum St. Louis (3750 Washington Boulevard);
www.camstl.org
). The exhibit remains up through August 19, and admission is free.
5. Quickie operas for the modern age

The stereotype about opera is that they're loud, they're long and they're overly dramatic about everything. Oh, and then someone, usually a woman, dies, and it's all over.
In truth, operas come in many flavors. Wolfgang Amadeus Mozart's Da Ponte operas –
Le Nozze di Figaro
,
Don Giovanni
and
Così fan Tutte
– all feature libretti by Lorenzo Da Ponte, and exemplify the possibilities of the form.
Figaro
is a comedy about a count trying to bed his servant's fiancee before their marriage while his other servants attempt to embarrass their master for his temerity.
Don Giovanni
is about ladies' man Don Juan, whose carnal lust leads him to a fateful meeting with a choir of devils; it's half comedy, half melodrama. The third is another comedy about a pair of noble friends who attempt to trick their fiancées into swapping partners through disguise and deception. All three remain popular among modern audiences for their beautiful music and their comic turns. All three will be performed in one night by Gateway Opera – but there is a twist.
The company's
15 Minute Mozarts
will condense each opera down to fifteen minutes, courtesy of adapter Caetlyn Van Buren.
Even if you're intimately familiar with the Da Ponte trio, Michaeleh Metz, Gateway Opera's development and marketing manager, promises a very different experience from the standard staging.
"Our costumes are fairly traditional, and the setting is fairly minimal," Metz offers. "But this is Mozart like you haven't seen before. They're funny, and they have contemporary references for the modern audiences."
15 Minute Mozarts is performed at 7 p.m. Friday and Saturday (May 11 and 12) at the Chapel (6238 Alexander Drive;
www.gatewayopera.org
). Tickets are $25 to $30.
6. May means beer outdoors in any language

In Bavaria the transition from winter to spring is celebrated with Maifest, an outdoor festival with food and bock, a strong German beer. The hallmark of a bock is that it's just as refreshing in cool weather as it is in warm.
Maifest
is celebrated from noon to 10 p.m. Saturday, May 12, at Urban Chestnut's Midtown Brewery and Biergarten (3229 Washington Avenue;
www.urbanchestnut.com
). In addition to the release of UCBC's new collaborative beer, Mondo Maple Maibock (brewed in conjunction with London's Mondo Brewing Company), the fest will also boast a range of experimental beers such as Mint Julep Barrel-Aged Draft, and Tamarind Thai Basil Schnickelfritz. The festival package is $18 and includes three beer & food tickets and a commemorative glass. Individual beer & food tickets are $6 each.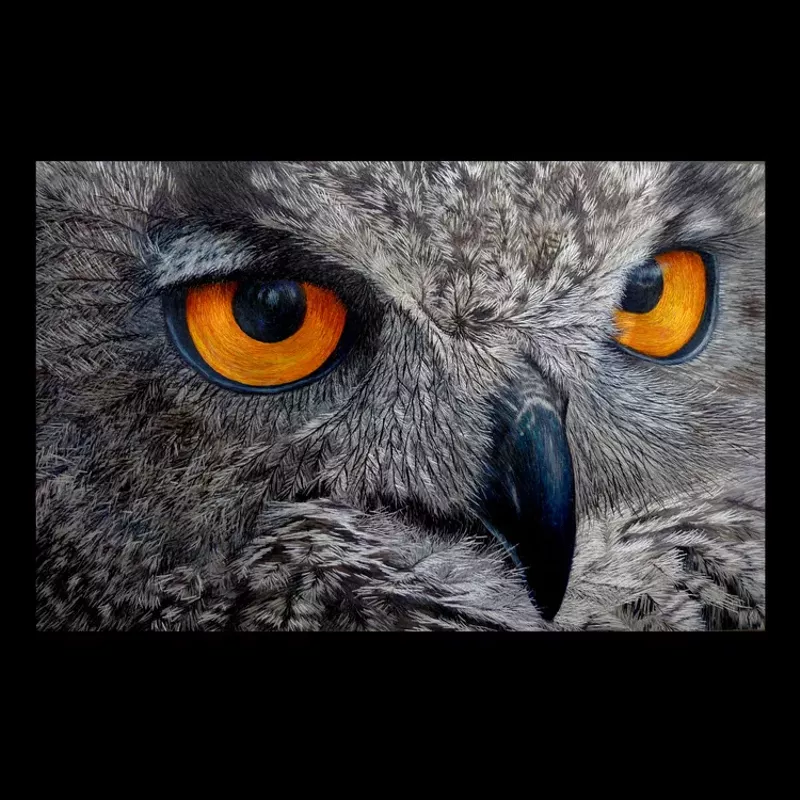 YANFANG INLOW
The Laumeier Art Fair includes work in all media, such as this excellent embroidery owl.
7. Did you forget about Mother's Day?

As you and your mother age it becomes more difficult to find a suitable gift for each other when holidays roll around. Mother's Day happens to be Sunday, May 13, which coincides rather neatly with the
Laumeier Art Fair
. It's a nigh-perfect gift for mom. The two of you (let your siblings fend for themselves) can enjoy a nice day outdoors looking at the excellent work of more than 150 artists, much of which would make excellent gift. Jewelry, beautiful ceramics, lush textiles and fibers, photography and painting will all be on display; it's part gallery walk, part shopping excursion. And the best part is that even if your mom refuses to let you buy her something, you'll still have given her what she really wants: Time spent with her favorite child. The Laumeier Art Fair takes place from 6 to 10 p.m. Friday, 10 a.m. to 8 p.m. Saturday and 10 a.m. to 5 p.m. Sunday (May 11 to 13) at Laumeier Sculpture Park (12580 Rott Road, Sunset Hills;
www.laumeier.org
). Admission is $10, but free for Laumeier members.