Albert Pujols may have notched his 3,000th hit as an Angel of Anaheim, but he hasn't forgotten the ballclub for whom he hit his first 2,703.
On
Facebook today
, the former St. Louis Cardinal made a sales pitch for the T-shirt he wore just after recording No. 3,000 last Friday. The shirt, he wrote, had been made by
Route 66 Promotions
, a company based in Fenton that's owned and operated by deaf people.
And that's not all: All of its sales, he wrote, benefit the Pujols Family Foundation, which
benefits people in St. Louis with Down syndrome
.
"When I was younger," Pujols wrote, "I made a promise that if I ever became successful in baseball, I wouldn't forget where I came from. I made a promise to serve my people. Since hitting 3,000, there have been countless interviews and news stories about the milestone. But I want to use my time in the spotlight to shine it on those who are most deserving."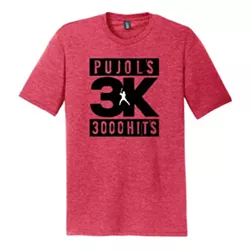 Like, say, Thomas Otto-Bruc. According to a
2017 profile on the Daily Moth
, Otto-Bruc launched Route 66 Promotions in 2012. "I started screen printing out on my own in my garage," Otto-Bruc tells the site. "Then I hired another deaf person to help out. ... We continued to grow. About two years ago, we had 8 people. Now we have 10+ people working for the business."
The company handles screen printing, embroidery and other needs. "We grew to meet whatever customer demands were," Otto-Bruc says.
You can learn more about Route 66 Promotions via YouTube. Or maybe just buy a shirt! They're
$19.99 via Pujols' foundation website
.
(And no, we do not want to hear about how you're pissed at Albert Pujols. Like our former spouses and lovers, baseball players sometimes leave us for better opportunities. We do not own them. They do not owe us. And if we're lucky, some day, we can get over the hurt feelings and find a way to be friends again. The week they achieve a significant milestone and simultaneously find a way to help us out is a very good time to bury the hatchet.)

We welcome tips and feedback. Email the author at sarah.fenske@riverfronttimes.com