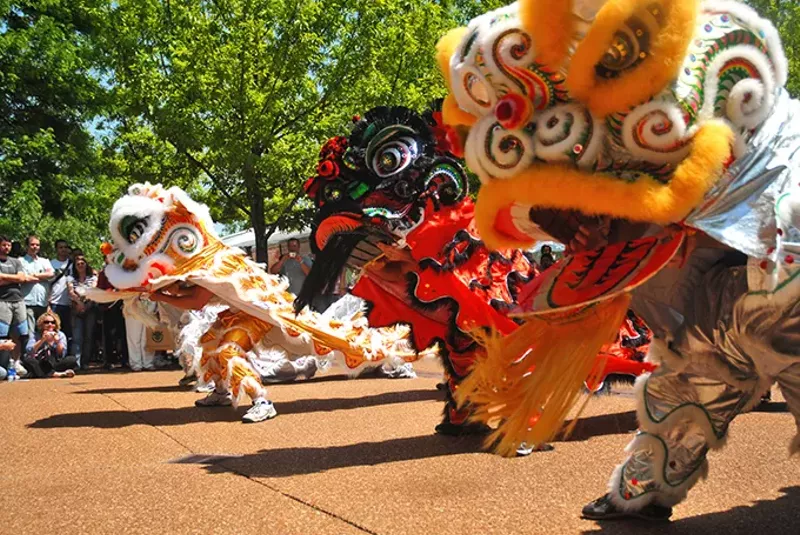 JOSH MONKEN COURTESY OF THE MISSOURI BOTANICAL GARDEN
A big parade and a bigger dragon open Chinese Culture Days.
Guys, the circus is in town. Not only that, there's a festival devoted to lager (cool, refreshing lagery goodness), a dance concert and the professional wrasslin' you know and love. It's an April shower of hits.
Here are this week's top picks.
1. Ring for the bellhop!

It's an unwritten rule that when you need a bellhop, you can't find one. The bellhop at
Circus Flora
's Hotel Balding has disappeared, and in
The Case of the Missing Bellhop
, the entire circus goes on the hunt for him, using desperate measures to find him. Acrobat Jeison Dominguez takes the high road, climbing the rotating Wheel of Destiny as it heads for the top of the big top, while Cuzin Grumpy's trained pigs search low, as only learned pigs can. The St. Louis Arches, the Flying Wallendas and the Alanian Riders and their horses all join the search. Can anyone find the little fella? Circus Flora opens its new season in its new permanent home in Grand Center (3401 Washington Boulevard;
www.circusflora.org
) with shows Thursday through Sunday (April 19 to May 13) and two 7 p.m. Wednesday performances (April 25 and May 2). Tickets are $12 to $75.
2. Take the route with the view

Dancers are all about bodies in motion, so it makes sense that Consuming Kinetics Dance Company's new show is all about travel and adventure.
The Scenic Route
features works by the company's resident choreographers (Arica Brown, Sam Gaitsch and Ashreale McDowell), as well as choreography from special guests Ryadah Heiskell and Cecil Slaughter, among others. Consuming Kinetics Dance Company performs
The Scenic Route
at 8 p.m. Friday and Saturday and 3 p.m. Sunday (April 20 to 22) at the Marcelle Theater (3310 Samuel Shepard Drive;
www.ckdc.org
). Tickets are $25.
Cyprien Gaillard, French, born 1980; KOE, 2015; film still, color HD video, no sound; 4 minutes, 17 seconds © Cyprien Gaillard. Courtesy the artist, Sprüth Magers, and Gladstone Gallery, New York and Brussels
3. Witness the tropical birds of Germany

Wild rose-ringed parakeets are found in Africa and India — and also in Düsseldorf, Germany. The German variety arrived as pets and then either were released or escaped into the city. The birds have made a home for themselves on one of the city's upscale streets, roosting happily in building façades. Artist
Cyprien Gaillard
followed the parakeets with a camera as they winged home at twilight. His short film
KOE
shows flocks of them as they fly past concrete and steel, thousands of miles away from their tropical ancestral lands. The silent film is a commentary on how humanity interferes with nature, and how animals are forced to adapt to a rapidly urbanizing world.
KOE
is shown on a loop in gallery 301 at the Saint Louis Art Museum (1 Fine Arts Drive;
www.slam.org
) as part of the New Media Series. It remains on display Tuesday through Sunday (April 20 to July 15), and admission is free.
4. Check in with your planet

How are you feeling about the state of the planet: optimistic, or something worse? In either case, the
St. Louis Earth Day Festival
will brighten your outlook. This year's event features dozens of exhibitors providing everything from arts and crafts to information about alternative fuels and green building practices. Many of this year's food vendors are members of the Green Dining Alliance, and even the ones that aren't have agreed to adhere to its standards while at the festival. There will be a ton of vegan and vegetarian options from Bombay Food Junkies, Confluence Kombucha and SqWires Restaurant & Annex, as well as treats for meat eaters from Salt + Smoke, Baileys' Range and Bayou Seasoning and Catering. Two stages of live entertainment will keep you hopping throughout both days, with acts ranging from the live birds of the World Bird Sanctuary to the Brothers Lazaroff. The St. Louis Earth Day Festival takes place from 11 a.m. to 5 p.m. Saturday and Sunday (April 21 to 22) on the Muny grounds in Forest Park (
www.stlouisearthday.org
). Admission is free.
5. Experience culture from the other side of the world

What would spring in St. Louis be without the Missouri Botanical Garden's
Chinese Culture Days
? The two-day celebration begins with a 70-foot-long dancing dragon leading a parade of revelers, followed by acrobats, dancers, displays of traditional art and more. There's an outdoor food court serving cuisine from many of China's diverse regions as well as cooking demos — it's a packed weekend. This year's Chinese Culture Days takes place from 9 a.m. to 5 p.m. Saturday and Sunday (April 21 and 22) at the Missouri Botanical Garden (4344 Shaw Boulevard;
www.mobot.org
). Admission is $7 to $15.
6. It's the hard-working beer for a hard-working city

Ryan Rakel is the ombudsman and event coordinator at Urban Chestnut's Grove Brewery & Bierhall. He explains the origin of the LagerFest as a simple matter of taste.
"It's a style that we know and love, and we brew them well," Rakel opines. (He's right; try UCBC's Zwickel and fall in love all over again.) "It's the most mass-produced and popular beer, but not in craft breweries. It's not easy to do, and it's not easy to hide its flaws if it goes poorly."
UCBC challenged area and national breweries that make quality lagers to whip up a historic lager of the past in order to get a wide variety of styles. The results should be impressive.
"We should have 20 to 25 varieties on tap," says Rakel, before rattling off a list of options. "We're doing four, because we're hosting — a 1910 lager, a honey lager and what we're calling an India Pale Lager. There's a Kulmbacher clone, a couple doppelbocks, a Baltic porter and a couple of ambers."
LagerFest takes place from 11 a.m. to 8 p.m. Sunday, April 22, at Urban Chestnut's Grove Brewery & Bierhall (4665 Manchester Avenue; www.urbanchestnut.com). A commemorative glass and five samples cost $15. Additional samples can be purchased (two samples for $5).
7. The action may heat up, but it's still RAW

We live in an age of constant spectacle (not a good thing), and yet the WWE has still been able to surprise fans this year. That's mostly because of man-mountain Braun Strowman, who has destroyed wrestlers, lighting rigs, a production truck and the ring itself so far this year. His follow-up to that carnage was to team up with a kid from the crowd to win the RAW tag team championship at Wrestlemania 34. What's next for the big man? Strowman is scheduled to appear at
WWE Monday Night Raw
at 6:30 p.m. Monday, April 23, at Scottrade Center (1401 Clark Avenue;
www.scotttradecenter.com
), along with Seth Rollins, Cesaro, Sheamus and Finn Bálor. Tickets are $20 to $125.
8. Nazis are on trial, as they should be

After World War II finally ended, the Allied powers began a series of investigations into non-combatant crimes committed by German citizens under the Nazi regime. Abby Mann's drama
Judgment at Nuremberg
is a fictionalized account of one such tribunal, which saw a handful of German judges and prosecutors tried for knowingly sentencing innocent people to death for crimes of "blood defilement" (that's sex with Jewish people for you non-Nazis). How does a respected jurist sink to collaborating with evil? The tribunal wants to find out, but it may not like what it discovers. Midnight Company presents Judgment at Nuremberg at 7:30 p.m. Wednesday through Saturday and 2 p.m. Sunday (April 25 to 29) at the Missouri History Museum (Lindell Boulevard and DeBaliviere Avenue;
www.mohistory.org
). Tickets are $18 to $20.