PHOTO BY JAIME LEES
The man. The legend. Clownvis Presley.
When your boss asks if you want to whip up some product reviews for 4/20, you immediately say "hells yes" and take a moment to appreciate that you're livin' the dream.
And when you need the reviews to be entirely professional, you call up your famous local stoner who works as a clown/Elvis impersonator. (Obviously.)
That's right, we're talking about your boy
Clownvis Presley
. When he's not busy being one of the funniest guests on
America's Got Talent
and baiting Sharon Osbourne into telling him to "
fuck off
," he's a mellow dude who just likes to chill. Would you have guessed that "The King of Clowns" is a long-time cannabis connoisseur? It's true. We swear. When you're looking for a green life OG, they don't come more qualified than Clownvis.
Clownvis has appeared on Comedy Central,
The Tom Green Show
, Playboy Radio and Sirius XM. He's been on comedy bills with legends such as Sarah Silverman, Margaret Cho, Drew Carey, David Spade and Bob Odenkirk. He's even played shows with Neil Hamburger, Unknown Hinson and Mac Sabbath. In short, he's one hardworking clown, yet he still made time to inhale. Truly, an act of generosity.
We met up with him a couple of weeks ago so he could try out these fancy products using… um, tobacco. Yep, it was some kind of weird-smelling tobacco, that's for sure. (We didn't ask too many questions.) Clownvis was prepping for his current tour, which had him scheduled to visit his spiritual headquarters (
Denver
) and also making an extended stop beneath the big lights in Las Vegas. (Pretty soon, he goes on tour with the Blasters.)
We gave him absolutely nothing in exchange for these reviews, so you know that you can trust his opinion. Well, as much as you can trust a man with a painted face who travels with several trunks filled with polyester jumpsuits.
PRODUCT:
Heavy Duty Beaker
COMPANY: Higher Standards
FROM: Vape World
PRICE: $160.00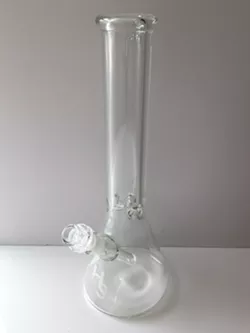 This beaker is made from durable medical-grade borosilicate glass and designed to look extra scientific. The wide base provides stability and the entire design is just lovely. It arrives with its own sleek storage case and even includes a custom ice mould made from silicone "for extra smooth rips" of water-cooled smoke.
Clownvis was impressed by the heft of this piece and said that bongs get a bad name because there are so many cheap ones out there. He recommends a heavy one with thick glass like they make at Higher Standards.
After giving it a once-over and filling it with just the right amount of water (the man has good instincts), he let 'er rip. He praises the method of the bong delivery system, and said that this item "definitely gets you high really quick." He also said that ritual-wise, a bong is a great way to get the job done.
PRODUCT:
G Pen Elite x Stash Collaboration
COMPANY: Grenco Science
FROM: Vape World
PRICE: $169.95
We picked this one to review purely based on looks. The stash box that's designed to look like a spray paint can was just too cool. And we'd heard good things about
Snoop Dogg's G Slim
, so we wanted to see if the G Pen Elite was actually any better. And when we saw that there was a
Stash
collaboration, we just had to check it out.
This vape is light and Clownvis praised it as being almost toy-like in its simplicity. In fact, he thought the toy factor could've even been increased a bit, saying that "it would be cool if they put a spinner on it somehow." He said that the ergonomics were great and that it felt nice to hold. He also praised its "suck-namics," which is clown-speak for "sucking dynamics." With its simplicity and the current
extra-low price point on the basic designs
, we can't recommend this one enough. We got ours from
Vape World
and they price match, so if you find it listed somewhere for even cheaper, give them a call and they'll get you sorted.
PRODUCT:
IQ Vaporizer
<!———————StartFragment———————>COMPANY: DaVinci
FROM: DaVinci
PRICE: $274.99
OK, yes, this thing is expensive. But holy cow. Our first instinct was to explain it as the Rolls Royce of vapes, but considering all of the technology involved, the
DaVinci IQ
might be the Tesla of vapes. It even has an accompanying app that will let you do things through the magic of Bluetooth like turn the device on, set the temperature and track your use. So if you're using marijuana for medical purposes and need help tracking your dosages, this is absolutely the vape of your dreams. Everything about this thing is quality as heck, including the 100 percent ceramic zirconia air path. (The customer service is also primo. When we had a battery glitch they replaced ours in a snap.)
When we placed the IQ in Clownvis' heavily accessorized hands he said, "Oh damn!" You can just
feel
the quality. He had a bit of an issue with getting his mouth right on the top of the vape because he didn't want to mess up its sleekness with his face paint, so next time we'll remember to hook our clown friend up with the optional mouthpiece that DaVinci includes in the packaging just in case the flat-top isn't your style.
Clownvis called the IQ a "fog machine" and said that it "hits like a dragon." Which, we assure you, is his
highest
compliment.
Email the author at jaime.lees@riverfronttimes.com
Sign up for our weekly newsletters to get the latest on the news, things to do and places to eat delivered right to your inbox.