18 Observations After Trying St. Louis' Bike Share for the First Time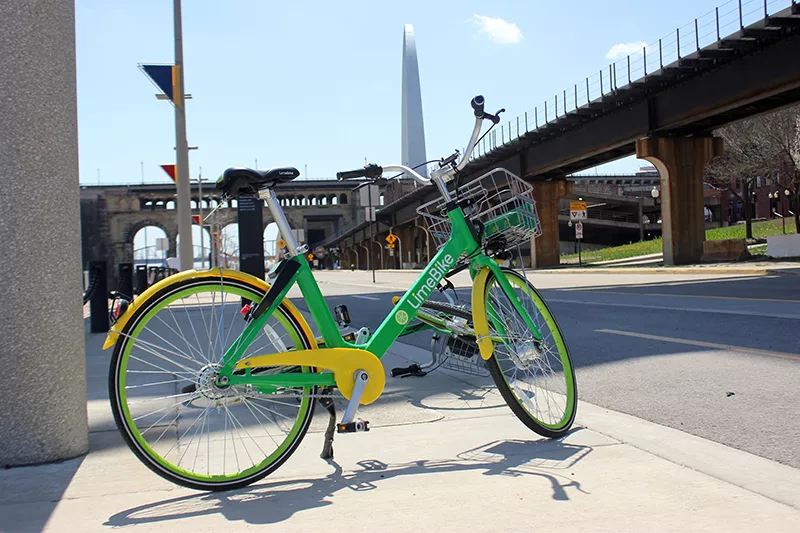 Chris Ward, DJ for KDHX's
loudQUIETloud
program, which airs Monday nights at 11 p.m., recently took one of the city's brand spankin' new ride-sharing bikes for a ride, noting his observations along the way.

An RFT reader, he allowed us to publish these thoughts, which you can read in their only lightly edited glory below:
The app tells you how many calories and how much carbon you saved per session.

The GPS isn't always accurate...a few bikes were not where they said they were at all. I basically just had to keep my eyes open until I saw a bunch of them.

There are apparently Treasure Hunt events, which sounds fun.

There are going to be lots of fun "brand opportunities" with these for companies and events.

If I ever encounter Jamie Allman on the street, I will ring my bell and yell "OI! You're a shit broadcaster, and you'll never be as good as me!" and ride off laughing. [Editor's note: Ward's disdain for Allman is all-consuming, and pre-dates Allman's stated interest in shoving things up kids' asses. For a full explanation, watch this insane video of Ward taking twenty minutes at the top of his KDHX show to gloat about Allman's downfall while wearing a suit.]

They're single-speed bikes, so they aren't great for really long distances but good for a little exercise.

It's hard for me to look around now without thinking of weird places I could leave my bike.

When convention season hits downtown, it's going to be worse than usual.

Seems like a good thing for the city as long as we don't ruin it ourselves. Which ... when have PEOPLE ever ruined a good thing?


[Editor's note: We edited this story after it was published to reflect the fact that these are single-speed bikes, not fixed gear ones, which one commenter noted would be "a hilarious, blood soaked disaster." We regret the error.]




Sign up for our weekly newsletters to get the latest on the news, things to do and places to eat delivered right to your inbox.


Support Local Journalism.
Join the Riverfront Times Press Club

Local journalism is information. Information is power. And we believe everyone deserves access to accurate independent coverage of their community and state. Our readers helped us continue this coverage in 2020, and we are so grateful for the support.

Help us keep this coverage going in 2021. Whether it's a one-time acknowledgement of this article or an ongoing membership pledge, your support goes to local-based reporting from our small but mighty team.

Join the Riverfront Times Club for as little as $5 a month.