It's Saturday night at a strip club on the edge of East St. Louis and Stormy Daniels has just taken the stage. She struts confidently and swirls her sequined skirt to the prominent thump of Lenny Kravitz's "American Woman."
She's dressed up like a patriotic Wonder Woman and she looks amazing. Her red, white and blue costume has a cape, a spangled bustier and a flowing skirt that she wears for mere seconds before tossing it aside to reveal a sparkly thong. She glides across the catwalk to a second stage, not a hint of a wobble in her sashay. The crowd cheers and she flashes a big smile, seemingly aware that she has them under her spell.
This is what patrons have been waiting all night for and here she is right in front of us: the woman who might save America.
It might seem like an odd place to find the possible savior of the free world, but freedom is alive and on display here at this mid-sized gentlemen's club. It's called the
Country Rock Cabaret
, and it's one of a collection of nightclubs that light up this otherwise gloomy industrial area in Sauget, Illinois, just across the Mississippi River from St. Louis. The club has neon lights on the outside, but otherwise nothing that hints at the treasures within. It's set back off the street and patrons have to cross train tracks to get here, making it seem just a little extra "forbidden."
And while the exterior of the building is nothing special, on the inside it's a wonderland of debauchery. In addition to three stages, there are poles, dangling hula hoops and an array of ceiling-mounted spinners for the dancers to use in their acts. There are also two bars, slot machines, VIP areas, private rooms and a mechanical bull that's shaped like a giant penis.
JAIME LEES
Yes, really.
About 30 minutes before Daniels is due to perform, a garage door at the back of the main performance area opens and an actual Nascar vehicle rolls out onto the stage with a dancer on top of it, twerking and doing an updated version of
a Whitesnake video
. It's so gloriously over the top that, on any other evening, this would easily be the highlight of the night. Luckily, club manager Jason Anthony prepared me for the sight or I would've flipped my shit and started dropping all my money right then and there. He said the stage had to be specially reinforced to make the stunt happen and that the patrons love it.
The dancer on the car (named "Miley") then strips on top of the hood, and the pro hype man, DJ Shane Gieger, comes out of his booth to encourage patrons to play a round of "Cooter Ball." This is a game where people crumple up money and throw it at the dancer. Whoever comes the closest to hitting her directly on the labia wins a prize. By my calculations, Miley is the highest-grossing dancer of the night — by the time Cooter Ball is over, it looks like Country Rock Cabaret has endured a very localized indoor cash hailstorm.
The manager says that the club likes to "get guests involved as much as possible" and all night it's clear that this is the goal. Staffers freely hand out drinks, Cardinals tickets, prizes and merch, and all of this interaction loosens everybody up and creates a fun party atmosphere instead of that, like, weird quiet perv vibe at some other venues. Even before the main event, I'm having the best time I've ever had at a strip club.
But everybody here on Saturday night is here for one thing only: to check out Stormy Daniels. As the night goes on the club fills up and people start getting more hyped. I run into a super-excited friend who won a pair of tickets from a radio show and brought his 25-year-old son as a bonding experience. Patrons are even discussing politics with each other, checking to make sure everyone's fully updated on all of the
recent legal drama
.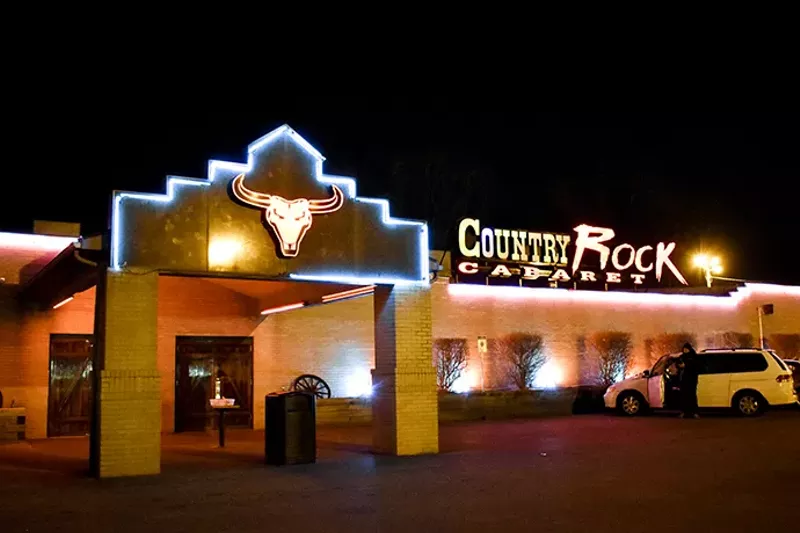 JAIME LEES
The bar used to be PT's.
It's clear just from the excitement in the room that this show is something extra special. Instead of just strip club regulars, the crowd seems to include quite a few groups of high-end clientele who decided to rent limos and make a night of it.
The Country Rock Cabaret seems designed to appeal to the general idea of what a red-blooded (and red-voting) American male is all about. The bar offers nude women, country music, sports playing on big-screen TVs and even urinals fashioned from beer kegs. It is, by design, aggressively "male." (Though it does have some excellent posters of topless cowboys in the ladies' restroom.) If this place's persona had a Facebook page, it would surely be posting about "Killary."
But Stormy Daniels dancing here neutralizes all of that. Tonight, everyone paid $50 just to be in the same room as her. That takes any advantage that the men might've had and flips the power balance upside-down. You're paying just to exist in her orbit and then you're going to pay even more if you want even 30 seconds of her personal attention. If you want a t-shirt, a photo or an autograph, you'll be paying again. It's $5 for an autograph, $20 for a photo .... all cash. Who has the power now?
And then the lights go low and there she is, the woman who might play a big part in saving us from the 24/7 shitshow that is the current administration. She's just about the only person that our "grab 'em by the pussy" leader won't publicly trash, which just proves her omnipotence. And it seems extra poetic that our savior could end up being a smart, take-no-shit sex worker and mother. The boss lady is walking right in front of us, where we can all hand her cash just for existing, bless her. (I'd like to hand Robert Muller some cash, too, but until he books his own strip tour, we'll just have to make it rain on Stormy.)
Stormy has a friendly way of interacting with the crowd and she seems happy to be performing. You would never know that this small woman might be carrying the future of the globe on her, well, globes. She gives her fans lots of individual attention and she is very nice about letting them motorboat her. She even grabs one gentleman's head and knocks it around between her breasts
right on beat to the drums
during Poison's "Something to Believe In."
In fact, the music she dances to in her sixteen-minute set feels purposefully chosen for its lyrical content. Kravitz's "American Woman" never sounded better. It's followed by the Sick Puppies' "Stick to Your Guns" and then the Poison jam.
Then, as the final song begins, tears spring to my eyes. It's Tom Petty's "
American Girl
." That familiar ringing guitar intro puts an instant lump in my throat. Maybe it's because of Petty's recent passing, or maybe that song is hitting a button somewhere deeper inside. I look at the friend who came with me to the show and he smiles and leans in close and says, "This is the most patriotic that I've felt in a year and a half."
As the song ends, we rush over to get in line to meet Daniels. She's greeting fans and taking pictures with them and signing autographs. As we wait, I wonder what she will be like. In her interviews she always seems really funny, smart and casual, but she's living in a newly serious world, and her strict, no-nonsense security team has me thinking this part of the night might not be fun at all. For a minute, I worry that she won't be as cool as I've hoped.
I shouldn't have worried. She's great. When it's my turn to talk to her, I ask if she would mind taking a photo with a prop that I've brought with me, and then I whip out a box of mini corn dogs. Responding to a fan who'd asked what they should snack on during her
60 Minutes
appearance, Stormy had recently
tweeted
in a way that implied the Presidential Pecker was the size of a mini corn dog:
When she sees the box she understands my intention instantly. She laughs and throws her head back and says, "You read my Twitter!" before raising an eyebrow in a mock "You know what I'm sayin'?" gesture. Doesn't she know everyone reads her Twitter?
JAIME LEES
The lady, the legend.
As I explain that yes, I
love her Twitter account
, she raises my hand and places a bracelet on my wrist that has #TeamStormy printed on it. I thank her and then she gamely poses with the box while I take photos. We talk a little while longer, and I leave there feeling like Stormy Daniels is my new best friend. She is either very, very good at her job or she's just truly friendly and chill. I'm going to guess that she's both, actually.
So if you were unsure if you want to make a point of seeing her on this tour, I'd say go for it. When we're all bowing at monuments to Stormy Daniels in future America, you'll be able to tell everybody that you once saw the real thing in person — and that she was magnificent.
Email the author at jaime.lees@riverfronttimes.com
Sign up for our weekly newsletters to get the lastest on the news, things to do and places to eat delivered right to your inbox.