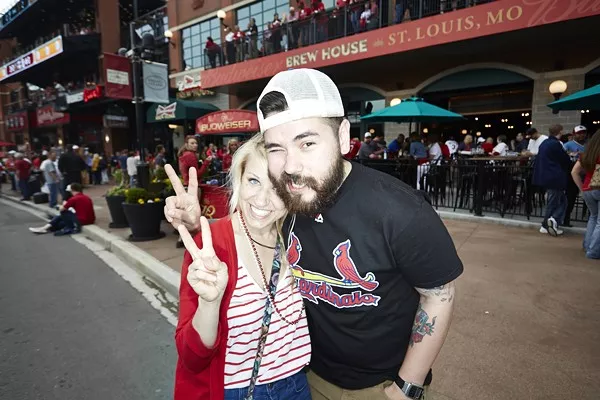 THEO WELLING
It's opening day, baby!
Baseball's back, which means things are looking up for most of the metro area. But maybe sports aren't your thing — that's OK, there's a lot going on this week. There are dance concerts, cabaret shows, several plays and even a documentary about a strange city at the top of the world.
1. The Cardinals come home

The slightly new-look
St. Louis Cardinals
had home-field advantage yesterday for the first time this season at Busch Stadium. What does 2018 hold for the team that last year missed the playoffs (again)? No one knows and, on opening day, no one really cares. Win today and it's a good omen for the rest of the year; lose and it's only the seventh game of a very long season. The Cardinals start a three-game series against the Arizona Diamondbacks at 6:15 p.m. (games two and three are at 1:15 p.m. Saturday and Sunday, April 7 and 8). Tickets for the home opener are scarce, while remaining tickets for Saturday and Sunday are $15 to $375.90.
2. Welcome spring with a dance concert about your favorite town

Spring's finally sprung and dancers are popping up everywhere. This weekend
Big Muddy Dance Company
celebrates a subject near and dear to most people reading this: St. Louis. The company's new concert
Meet Me in...
tells the stories of some of the region's heroes through the choreography of artistic director Brian Enos, company dancers Robert Poe and Thomas Jackson and internationally renowned choreographer Robyn Mineko Williams.
Meet Me in...
is performed at 8 p.m. Friday and 2 p.m. Saturday (April 6 and 7) at the Grandel Theatre (3610 Grandel Square;
www.thebigmuddydanceco.org
). Tickets are $25 to $35.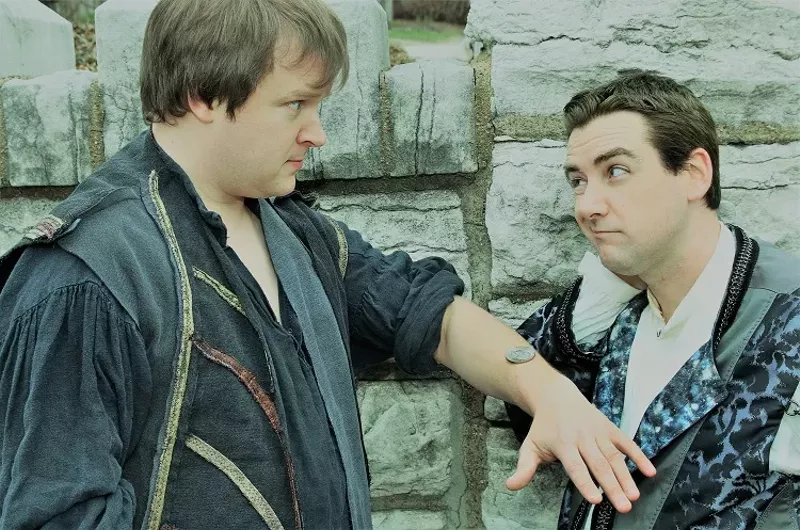 AUTUMN RINALDI
In Rosencrantz and Guildenstern Are Dead, two friends are faced with big questions.
3. Spoiler Alert: They die at the end
Hamlet
and Tom Stoppard's
Rosencrantz and Guildenstern Are Dead
fit together like a mortise and tenon joint. Bit players in
Hamlet
, Rosencrantz and Guildenstern are old friends of the melancholy Dane who show up to visit, but then agree to murder Hamlet at the behest of his stepfather. In their minds, a dead friend is worth being in the good graces of the new Danish king.
In Stoppard's play, these two terrible friends are less mercenary and more confused by what's going on around them. All of the action in
Hamlet
is repeated, but in this version Rosencrantz and Guildenstern are the stars, always on stage while the "supporting cast" of king, queen, acting troupe (and its mysterious leader, the Player) and various courtiers appear suddenly for a short interaction with the boys, and then disappear — often to die, because everybody dies in
Hamlet
, including our heroes. One play is a reflection of the other, but which is the real play?
St. Louis Shakespeare presents
Rosencrantz and Guildenstern Are Dead
at 8 p.m. Friday and Saturday and 2 p.m. Sunday (April 6 to 15) at the Ivory Theatre (7620 Michigan Avenue;
www.stlshakespeare.org
). There is a 7:30 p.m. show on Thursday, April 12. Tickets are $15 to $20.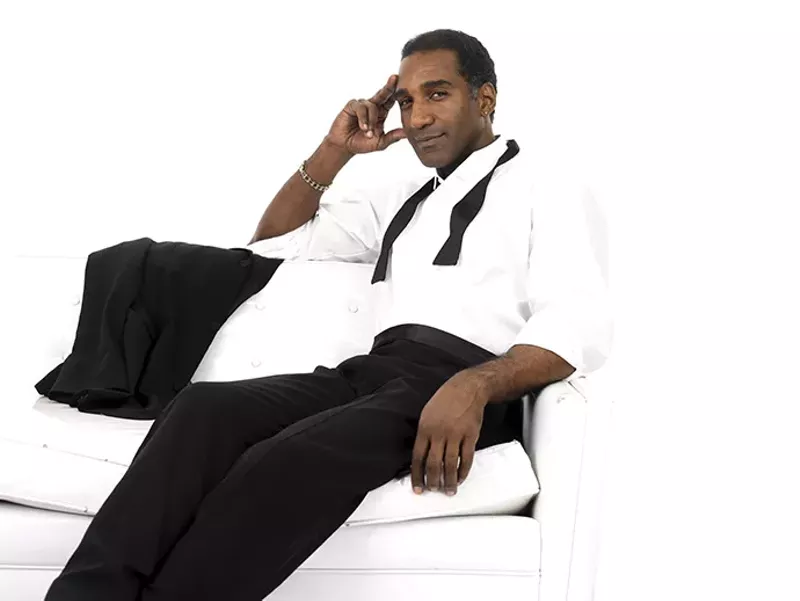 Norm Lewis plays the Sheldon on Saturday.
4. Experience one of cabaret's great talents

Singer/actor
Norm Lewis
moves comfortably from stage to big screen to small screen and back again. He's played the titular Phantom of the Opera on Broadway, Javert in
Les Miserables
(at the Muny in 2013), and he was just on your TV as Caiaphas in
Jesus Christ Superstar Live in Concert
. Even with all that, Lewis still makes time to perform his cabaret show, which he does at 8 p.m. Saturday, April 7, at the Sheldon (3648 Washington Boulevard;
www.thesheldon.org
). He has a powerful voice, and he knows how to marshal it in service of the song, singing with force and precision where others would belt. Tickets are $40 to $100.
5. Philosophy is a crime?

Baruch de Spinoza has been called "the prince of philosophers," but in his own time his thoughts about God (he believed the deity was indifferent to humanity) brought him nothing but trouble. In seventeenth-century Amsterdam, the Jews had an arrangement with the local government: They kept their own laws and guaranteed that all Jews were observant to their faith. By espousing radical ideas about God, the nature of good and evil, and the role of man in the universe, Spinoza was breaking that covenant, potentially putting his own community at risk. So his former congregation put him on trial, with expulsion being the penalty if he was found guilty of "monstrous deeds." David Ives' play
New Jerusalem
dramatizes this trial, which saw Spinoza's former teacher called to testify against his beloved student. The New Jewish Theatre presents the play at 7:30 p.m. Wednesday and Thursday, 8 p.m. Saturday and 2 p.m. Sunday (April 4 to 22) at the Jewish Community Center (2 Millstone Campus Drive, Creve Coeur;
www.newjewishtheatre.org
). Tickets are $41 to $44.
6. The piano is fake, but the love is real

Love can blossom in the unlikeliest places, even a war zone. Such is the case in Hansol Jung's play
Cardboard Piano
. The white daughter of a missionary falls in love with a local Ugandan woman, and they hope to get married and then escape Uganda's civil war for a happy life together. But during their secret ceremony, a wounded child soldier interrupts. The women's love may have grown among the bullets and kidnappings, but can it survive there?
Cardboard Pian
o is a story of love and forgiveness told by the West End Players Guild. The company performs the show at 8 p.m. Thursday through Saturday and 2 p.m. Sunday (April 6 to 15) at the Union Avenue Christian Church (733 North Union Boulevard;
www.westendplayers.org
). Tickets are $20 to $25.
7. It's cold, it's remote and it's running out of time

Longyearbyen is north of here; it's pretty much north of everywhere. The remote town is about 300 miles from the North Pole and has more polar bears than people. Those people are the subject of Darren Mann's documentary
This Cold Life
, which introduces you to some of the residents. Their lives include the coal mine (the main source of jobs and quickly going broke), depression, three months of total darkness every year and the lack of women. But the 2,200 hardy souls who call Longyearbyen home stay for some reason. Is it the isolation, or a side effect of the heavy drinking everyone seems to use as a coping mechanism?
This Cold Life
is shown for free at 7:30 p.m. Tuesday, April 10, at Webster University's Moore Auditorium (470 East Lockwood Avenue;
www.webster.edu/film-series
).