(C) JOAN MARCUS 2016
Men and women were dapper indeed in Alexander Hamilton's day.
Guys, I don't know if you've heard of it, but there's this new musical coming to town this week. It's called
Hamilton
— sound familiar? Supposed to be pretty good...
But if musicals aren't your thing, there are numerous other options. Take your pick from kitty-cat videos, Tommy Wiseau's new movie, or the return of QFest, the LGBTQA film festival. Not a bad way to start April.
1. 500 years of Buddhist art

Very rarely does an art exhibition include the actual wall an artist worked on, but the Saint Louis Art Museum does so for
Chinese Buddhist Art, 10th-15th Centuries
. A six-foot-by-four-foot section of a temple wall that has a painting of the Bodhisattva Akalokiteśvara (Guanyin) on one side is the focal point of the exhibition, and an exceptionally rare object. The show also includes four hanging scrolls, and a never-before-displayed painted, wooden sculpture of a seated
arhat
, the Buddhist term for a person who has achieved enlightenment.
Chinese Buddhist Art, 10th-15th Centuries
is open Tuesday through Sunday (March 30 to August 30) in gallery 225 of the Saint Louis Art Museum (1 Fine Arts Drive;
www.slam.org
). Admission is free.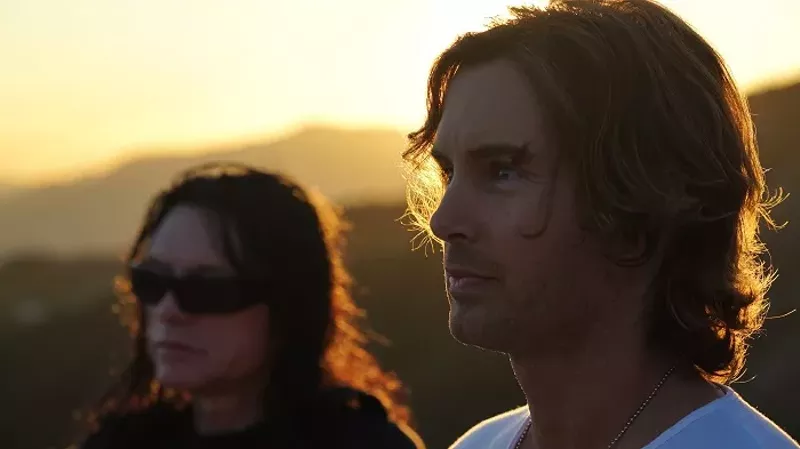 COURTESY SUMMIT PICTURES
Tommy Wiseau and Greg Sestero reunite in Best F(r)iends.
2. The rise and rise of Tommy Wiseau

Tommy Wiseau has had a hell of a year. The auteur has seen his peculiar film
The Room
become a critical darling thanks to a big-budget Hollywood recreation of it and of himself; he's also very compellingly auditioned to play the Joker in the next Batman film. Now he reunites with his
Room
co-star Greg Sestero in a new cinematic event,
Best F(r)iends
. Wiseau takes on the role he was born to play, a "peculiar mortician" who takes in a handsome drifter (Sestero). The pair hatch a scheme to make some extra money, which soon unravels thanks to greed and jealousy.
Best F(r)iends: Volume One
—the film is so epic it needs two movies to tell one story — screens locally at 8 p.m. Friday and Monday (March 30 and April 2) at the St. Louis Mills 18 (5555 St. Louis Mills Boulevard, Hazelwood;
www.fathomevents.com
). Tickets are $15. Volume 2 is scheduled for early June.
3. Experience the variety of the St. Louis dance scene

At the end of the last millennium, a group of local dance companies decided to band together for a one-night showcase. Nineteen years later the
St. Louis Dance Festival
continues to feature a broad sampling of the many styles of dance practiced in the metro area. This year's show has everything from traditional clogging to classical ballet, with Wei Dance Arts, Cecil Slaughter's The Slaughter Project, Dances of India and Final Veil all scheduled to perform. The show starts at 6:30 p.m. Saturday, March 31, at the Skip Viragh Center for the Arts (425 South Lindbergh Boulevard; 314-997-0911). Tickets are $15 to $20.
DAVID LANCASTER
MADCO performs something new at New Dance Horizons VI.
4. Nothing but new dance

Every iteration of Dance St. Louis'
New Dance Horizons
concert is different, because each installment features new works created by established choreographers for local dance companies. But New Dance Horizons VI is doubly different because it takes place for the first time in the intimate Grandel Theater (3610 Grandel Square;
www.dancestlouis.org
). Saint Louis Ballet, the Big Muddy Dance Company and MADCO debut new contemporary pieces created by Gregory Dolbashian, Robyn Mineko Williams and James Gregg, respectively. There are no bad seats in the Grandel, and with tickets only $20, those seats become even better. New Dance Horizons VI takes place at 2 and 7:30 p.m. Saturday, March 31.
5. The long wait is over — Hamilton is here

Who'd have thought a musical about one of the Founding Fathers would be a smash hit in an era when these august old men are used as ammunition for every sort of political argument? (Especially the one who was killed in a duel with the sitting vice president.) In
Hamilton
, Lin-Manuel Miranda tells the story of an orphan from the Caribbean who rises to the top of colonial American society and then fights for his young country in the Revolutionary War. Miranda cheekily casts people of color as his civilians, soldiers and statesmen and incorporates a soundtrack of hip-hop, R&B and traditional show tunes to transform our perception of these legends of the past, making them more human. And rather than present an anodyne version of Hamilton's life, Miranda depicts his title character as a brilliant, complex, self-made man — and then he hits the audience with the ultimate truth: No one gets to decide how they're remembered. The highly anticipated musical is performed Tuesday through Sunday (April 3 to 22) at the Fox Theatre (527 North Grand Boulevard;
www.fabulousfox.com
). Remaining tickets are $125 to $625.
COURTESY OF CINEMA ST. LOUIS
Alaska Is a Drag is part of this year's QFest.
6. Experience queer culture
Social progress moves very slowly in this country (currently, it's essentially frozen in place until the impeachment or the heart attack, whichever comes first), but things do get better as time goes by. Thirteen years ago gay marriage was only a dream and
QFest
, Cinema St. Louis' LGBTQA film festival, was just starting out. Now all of the letters in the acronym can marry and QFest is a highlight of the year, the latter thanks to curator and organizer Chris Clark. The only constants in QFest are Clark's guiding hand and the festival's commitment to promoting films that have something to say about the LGBTQA community. As Clark explains, illuminating the human spirit is part and parcel of the festival's grand vision.
"Part of our mission for Cinema St. Louis is that cinema is art, and film provides glimpses of the human experience," Clark explains. "QFest takes it farther and spotlights queer culture specifically." QFest takes place Wednesday through Sunday (April 4 to 8) at .ZACK (3224 Locust Street;
www.cinemastlouis.org
). Tickets are $10 to $13.
7. Cats, it's time for your close-up
Everyone is the star of their own life, unless they have a cat; in that case, the cat is the star and you're just a character actor. From 5 to 9 p.m. Wednesday, April 4, at Urban Chestnut (4465 Manchester Avenue;
www.stlcats.org
), the kitties once again hog the spotlight at
Cat Clips: A Competition in Cuteness
. This benefit for Animal House Cat Rescue and Adoption features short videos (two minutes maximum) of local cats being adorable. A group of celebrity judges — including chef Hana Chung, meteorologist Meghan Danahey and Cinema St. Louis' Cliff Froehlich — will select a winner, who will then receive $250 to lavish on his or her cat(s). Tickets for Cat Clips are $20 to $40.
8. Who dat ninja?
The Shaw Brothers' film
Five Element Ninjas
combines a Hong Kong setting with Japanese ninjas (it was 1982; everything had ninjas) to tell a wild tale of revenge and betrayal. Rival martial artists Chief Hong and Yuan Zeng fight for supremacy, and when Hong's samurai ringer doesn't win, a ninja clan gets involved to even the score. One of Zeng's students has some ninjitsu training of his own, and he returns to his old teacher to learn more. He picks up his own squad of ninja allies, who can perhaps help him defeat Hong's element-themed heavyweights — Gold, Wood, Earth, Water and Fire.
Five Element Ninjas
is an extravaganza of martial arts, acrobatics and wire-work stunts. The Strange Brew film series presents the classic flick at 8 p.m. Wednesday, April 4, at the Schlafly Bottleworks (7260 Southwest Avenue, Maplewood;
www.schlafly.com
). Tickets are $5.