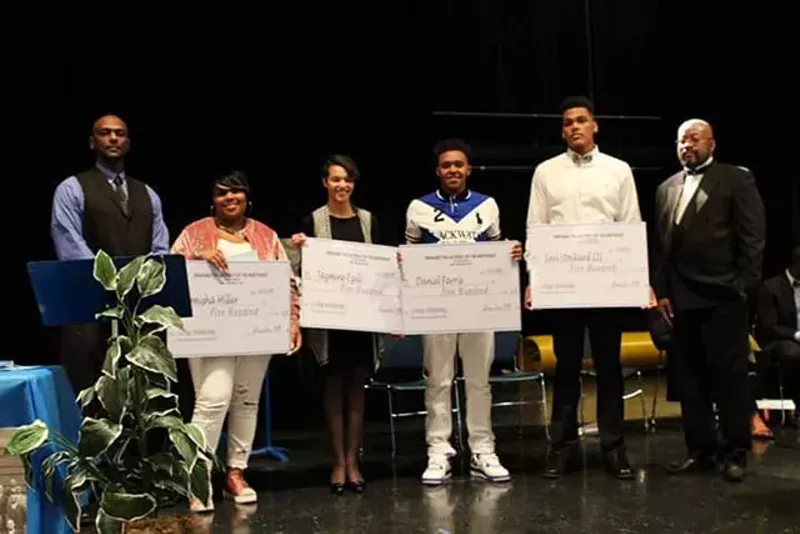 GORDON BOWERS
George Love, far right, stands with the four 2017 recipients of the Dorthy Mae Walker-Love Scholarship.
As a custodian at Vashon High School in north St. Louis, George Love makes less than $12 an hour. Laboring at a school with a graduation rate hovering around just 50 percent, he sees many students fall through the system. So Love decided he would "sow" his energy into the kids, saving up to set up a college scholarship.
"It's very fulfilling to know where you're investing your money," says Love, 54.
After working at Vashon for six years, Love says he's seen many things that "saddened his soul." Instead of continuing to be a bystander, he asked himself, "What can I do to fix the problem?"
The answer was the Dorthy Mae Walker-Love Scholarship, named after Love's mother, a Vashon alumnus. For the last two years, the $500 scholarship has been awarded to four seniors who show academic prowess and leadership qualities.
"I would just take $50 here, $100 there. My wife gave a few hundred," Love explains. He says he launched the first year's scholarships after receiving his tax return and seeing he'd saved $2,000 — enough to give each recipient $500. "I don't need $1 million to be a philanthropist. I just need an attitude of servitude."
Love has found ways to give back to the community across the U.S. Through his ministry work and a non-profit organization he runs called Prepared the Gateway of the Northwest, Love has served those in need in cities in Seattle and Chicago as well as now in St. Louis.
Originally, the organization focused on "feeding, clothing, caring, and education," says Love. (The IRS granted tax-exempt status last year.) Over the course of his years spent giving back, Love estimates he has handed out close 100,000 care packages.
"When they see a custodian doing this, it blows their minds," he says of the Vashon students with a chuckle. He adds, more seriously, "What I hope happens is a domino effect. That principals and teachers start doing the same thing."
Love describes the school as a sweaty, dark place — but says that's the kind of place that produces diamonds. "There are a lot of diamonds here. I find myself working in a diamond field," Love says, referring to the students.
The students who receive the scholarship are picked by a committee made up of two school counselors, as well as a baseball coach. Throughout the year, the committee observes the students and searches for those that meet the criteria.
While there is no minimum GPA requirement, they prefer the students have straight As. However, a less than stellar GPA can be outweighed by ambition and perseverance.
Currently, all of the 2017 recipients are in college. The example past recipients set for current students is the vision Love believes they need to succeed. "If you don't have vision, you perish," he explains.
This year, Love began accepting donations. By simply setting up a Facebook page and a GoFundMe, he was able to raise $900. Another $500 was donated by the International Labors Union Local 42. A man from Washington donated $200.
Next year, Love hopes to raise $10,000 so he can award even more students not only with the scholarship, but with the knowledge that someone in the community believes in them.
"We need to let these kids know they are loved. That's something you can't get with a degree," he says. "That's something you get from the inside, out."