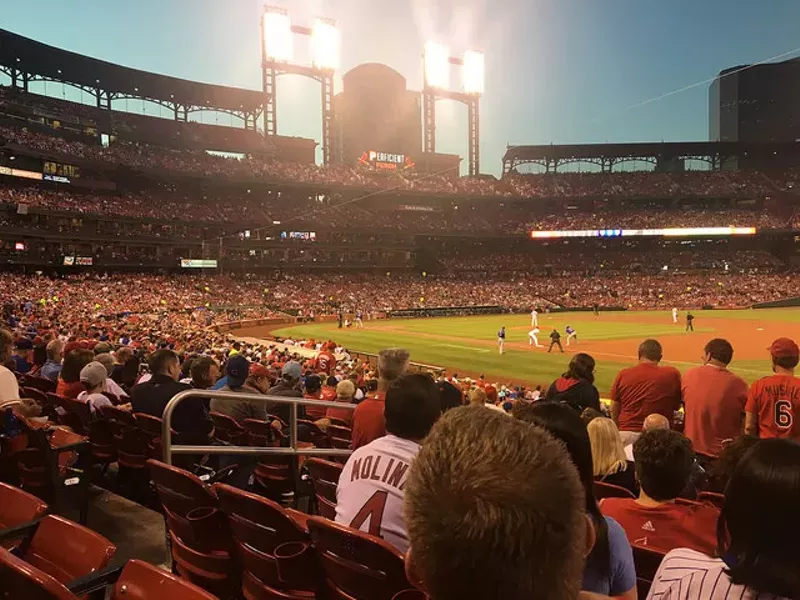 FLICKR/DAVID WILSON
The crack of the bat, the roar of the crowd...
Living well in St. Louis requires insider knowledge. It's not just the magical entry ticket that is a degree from the quote-unquote right high school, or the essential yet utterly baffling correct pronunciation for words like "Gravois" and "Schoemehl." It's all sorts of little things that make your life happier. For example: The national press
might steer you to Chesterfield
, but let's face it; you're going to be happier in Maplewood. And you might wonder where everybody's at after 11 p.m., but if you've got sources in the know, you can find the party at a secret basement ping-pong parlor (
you're welcome!
).
But one St. Louis Life Hack (TM) we recently heard about might just be the greatest of them all. Basically, you just need Pay the St. Cardinals a $29.99 monthly fee, and you can get unlimited access to every single home game you'd ever want to attend.
No, this is not a joke. You simply download Major League Baseball's Ballpark app and then sign up for the "
Budweiser Ballpark Pass
." After that, any night you want to go to Busch Stadium, no need to RSVP in advance. Just flash the ticket takers your smartphone, and you're in like flynn. No limits, and only one exclusion (opening day, sigh).
Now, there is a catch — this is for standing room only tickets, which are limited to certain parts of the park. But lest this sounds like a lot of wandering around trying to sneak past an usher, let us correct you. This year, the Cardinals are introducing Budweiser Terrace, a two-bar hotspot for fans who like to mingle (or, as our resident curmudgeon likes to call it,
a redbird meat market
). Watch the game! Hit on local singles! Then watch the game some more! It's a red-blooded redbird fan's dream come true.
OK, and there is another small catch: You have to have a smartphone. The Cardinals refuse to mess with paper tickets for this program, so your penny-pinching great-uncle is sadly out of luck, no matter how much he loves baseball.
As for the rest of us? Let's just say our summer is now completely solved. But if we could just figure out a way to score cheap tickets for opening day...

We welcome tips and feedback. Email the author at sarah.fenske@riverfronttimes.com