photo courtesy of Shutterstock / dezy
Get you a responsible-ass Good Boy like this guy.
Raising children is such a chore. You have to change their diapers and feed them and teach them how to act and even then you have no guarantee that they won't grow up to be a serial killer.
And the same goes for dogs! If you get a puppy you have to teach it the appropriate potty situation and how to not be a jerk when the doorbell rings and it still might turn into a forever-barking, house-crapping, psycho mess.
But when you adopt a grown-ass adult dog, you don't have any of these problems or uncertainties. Everything has already been sorted. That's why the
Animal Protective Association
of St. Louis is launching the "Grown-Ass Adult" campaign to promote the joys of adult dog ownership.
It's like skipping straight to the "let's be friends and share a bottle of wine" stage with your children without having to go through all of the parent-teacher conferences, grocery store meltdowns and "get your hand out of your pants" moments first. What's not to like about that?
This Friday, March 23, the APA is hosting a happy hour to introduce you to your future best friend. The public is invited to attend this soiree at APA headquarters
(1705 S. Hanley Road)
where you'll get an opportunity to meet some sophisticated adult pets available for adoption.
The event features complementary snacks and grown-ass adult beverages and is sponsored by Porano, Taste, Urban Chestnut Brewery and the Watering Bowl, so you know it's going to have nothin' but the good stuff. You can mingle with some singles (single dogs, that is) and be amazed as they agree with your views on millennials and are also very interested to hear about your recent roof repairs.
These dogs are grown and they ain't trying to mess with some triflin'-ass potty pad situation. They do their business outside, they don't want to chew on your couch all day and they already know how to act right. They also don't need to go to the doctor every damn week like the puppies do — they're ready to just jump into a home situation and hang out.
Each pet adopted at the APA is spayed/neutered, microchipped and fully vaccinated. They also come with 14-day wellness coverage, a leash/collar and a starter bag of Purina premium dog food.
The event is at the APA from 4-6 p.m. this Friday. Cocktails and dog tails? Don't mind if we do.
Call 314-645-4610 or see
this link
for more details.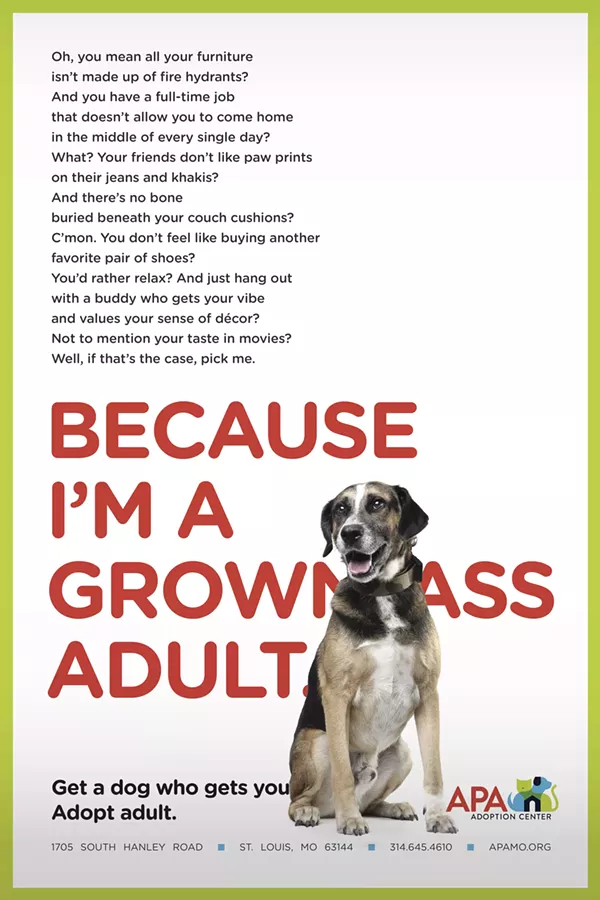 courtesy of the APA
Grown-Ass Adult campaign art
Email the author at jaime.lees@riverfronttimes.com
Sign up for our weekly newsletters to get the lastest on the news, things to do and places to eat delivered right to your inbox.