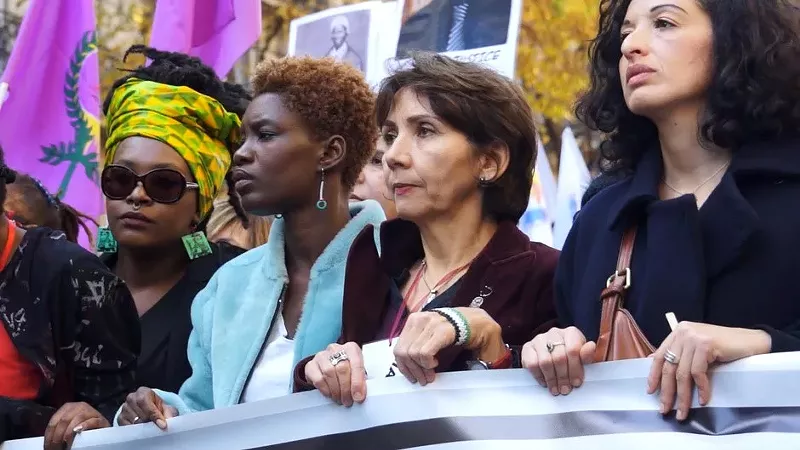 De Paris à Ferguson/Not Yo Mama's Movement shows a French woman examining Ferguson.
Now in its thirteenth year, Washington University's African Film Festival remains one of the highlights of the local cinematic year. It's a full weekend (March 23 to 25) of ambitious, culturally rich programming offered at no cost to the audience. This year's schedule features four features and three short films; all will be shown in Washington University's Brown Hall, room 100. For more information, go to
africanfilm.wustl.edu
.
Félicité
7 p.m. Sat., March 24
Shown with the short film "Farewell Meu Amor"
Set in the Congo's capital city of Kinshasa,
Félicité
begins with an energetic scene in a nightclub. Customers wander in, a few already drunk. The band begins to play, joined by singer Félicité (Véro Tshanda Beya Mputu). The crowd watches, some with interest, others with their own problems. Somewhere on the floor, a fight begins. This vivid opening establishes the setting, some of the lead characters and, most importantly, the strong, independent title character. The next day, she learns that her fourteen-year-old son has been badly injured, an event that turns her life upside down. As she nurses her catatonic son and navigates a possible relationship with a good-natured neighbor she enlists to repair her refrigerator, Félicité's life begins to unravel. We see her sing a few more times, and each performance seems to reveal more about her troubled life, her changing status in the community and her strength. Alain Gomis' film is a fine balance of street color and psychological detail, an honest portrait that brings to mind the unpretentious realism of a Cassavetes drama.
©ANDOLFI
Félicité stars Véro Tshanda Beya Mputu as a nightclub singer in Kinshasa, the Congo.
De Paris à Ferguson: Coupable d'etre Noirs/Not Yo Mama's Movement
7 p.m. Sun., March 25
Shown with the short film "Samedi Cinema"; director Rokhaya Diallo will be in attendance
Rokhaya Diallo is a French activist, journalist and producer who begins her film
De Paris à Ferguson/Not Yo Mama's Movement
by noting an increase in the number of young black men killed by police in France. She observes that while those deaths haven't stirred up a lot of interest there, the shootings of Trayvon Martin and Michael Brown in the U.S. have been noted with shock in Europe and throughout the world. Determined to discover how an American protest movement works, she comes to Ferguson on the first anniversary of Brown's death, talks to Traci Blackmon and other prominent social leaders and watches local residents as they continue to raise their voices against a largely indifferent political leadership. Although the film lacks the passion of other recent documentaries, such as
Whose Streets?
, Diallo offers solid and straightforward reporting. Local audiences won't find anything new here, but it may interest them to see how the events in Ferguson are seen by others, illustrating the old political maxim that "the whole world is watching."