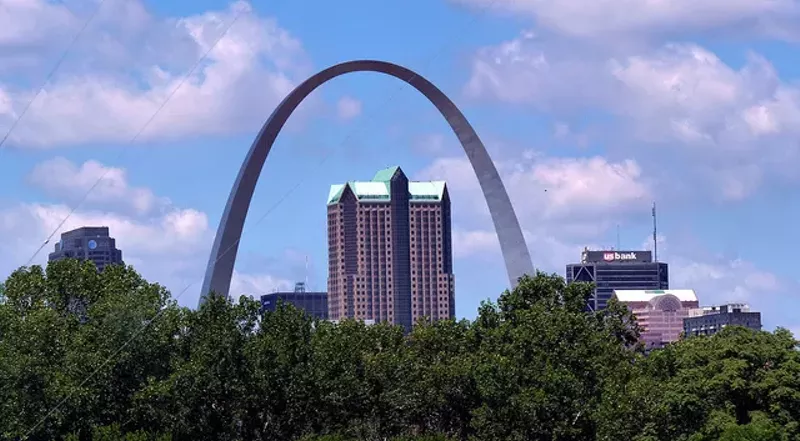 PHOTO VIA FLICKR / KAREN ROUSSEL
It looks even better from the ground than it does from a plane!
St. Louis got ourselves
a write-up
yesterday in the
New York Times
. Imagine that! Little ol' St. Lou, smack dab in the middle of flyover country, getting praise from the coastal elites! Golly gee, it's enough to make us simple God-fearing folk mighty proud.
"St. Louis has all you could want in a city — museums, green spaces, good music and exciting new restaurants — plus that distinct Midwestern sense that if you stop random people on the street, there's a very good chance they grew up nearby and are excited to share the name of their favorite bar with you," writes Lucas Peterson, the Frugal Traveler columnist for the
Times
.
Well shoot, I reckon if I
were
to get stopped by a
New York Times
reporter on the street I'd probably say something like, "Nice suit, Monsignor Moneybags" while resting my thumbs on the straps of my mud-stained overalls. But he's probably right; my salt-of-the-earth Midwestern charm would inevitably kick in and I'd soon be leading him straight to the bar where me and my nine siblings like to stage our brawls with our mortal enemies, the Hatfield family.
Sure enough, the Frugal Traveler tried Imo's Pizza, a decision he "simultaneously savored and regretted."​ Provel, he suggests, is an "acquired taste." Like some city slicker from New York would know anything about good pizza anyway.
Peterson has kind things to say about the Fox Theatre, the Dark Room, Broadway Oyster Bar, BB's, Thurman's and many more. He's especially into our music scene, firing off the names of joints in town that specialize in blues and jazz. I wouldn't know too much about all that though. I like music and all — both kinds:
Country and Western
. Never had much use for no blues though, dadgummit.
But wait, that's not the only attention we've gotten from a big-city publication in recent days! In fact, just a couple days ago
Vogue
published a fawning piece
from a writer who has lived in St. Louis for fifteen years. Shucks, my editor actually liked that one so much she
fawned right back,
publishing a story of her own praising her efforts. (That's even more Midwestern polite than excitedly telling you our favorite bar and life story, right?)
"Working in entertainment and media in both NYC and LA for over a decade, I would never have predicted I would abandon my dual-coast lifestyle for a fly-over city perched on a riverbank," writes Dawn Sturmon for
Vogue
. "But for nearly 15 years, St. Louis has been my adopted hometown."
Well, a belated welcome to the neighborhood, and thanks for the lovely piece, Dawn! Shoot, if I woulda known sooner I reckon I might've brought you over a slab of fat-back bacon from my ol' lady's aunt's friend Jim Bob's hog farm as a welcoming present.
All this praise from big city folk has kept us simple Midwesterners buzzing all week:
And I hear ya! I mean gosh darn it, when I saw my cousin Jethro post those links on his internet page yesterday I damn near spit my moonshine out onto the county library computer's keyboard. If our city is nice enough to impress even these high-falutin' New York City folk, with their cappuccino espresso machines and fancy skyscrapers, then by gum we must be doing something right!
In all the excitement, I almost forgot that entire cottage industries are built around writing about the cities in the heartland of America that would normally be passed over, in the hopes of enticing the citizens of said towns into sharing the stories online. Take Thrillist, for example, whose whole business model seems to be "write a positive story about some town in the sticks, wait for the rubes that live there to see it, then watch the pageviews roll in while said rubes share that story all across social media, just
tickled
that some national organization noticed them."
I
almost
forgot, yes. But then I didn't. By gum.
Daniel Hill is the RFT's music editor, and a joyless cynic. Argue with him about how wrong he is on Twitter at @rftmusic.
Sign up for our weekly newsletters to get the lastest on the news, things to do and places to eat delivered right to your inbox.