COURTESY OF NEW HONOR SOCIETY
Holly Aguirre, left, and Heidi Singleton of New Honor Society.
Remember how your grandma made you toss $1 in the swear jar every time you dropped an f-bomb? The St. Louis ad agency
New Honor Society
wants you to get back in the habit — only they're asking for your penance when you let out a mindless "sorry."
The #NotSorry campaign, which launches today, includes "Sorry Jars" being dropped at creative offices across the city. New Honor Society has also launched a website,
www.notsorry.com
, where anyone who wants to participate can download posters, jar placards and other materials, and created a video. "Every time we say 'sorry' when we have nothing to be sorry for, it robs us of our power," the women in the video intone.
Heidi Singleton, who serves as New Honor Society's chief creative officer, says the agency's staffers knew they wanted to do some sort of large-scale campaign for International Women's Day. When their team began to exchange ideas based on their own workplace experiences, someone brought up the overuse of the word, which had been the subject of a
Pantene campaign a few years ago
.
"They started talking about how much they apologized," Singleton says. "And after that, we all started noticing how many times we caught ourselves doing it. Once you notice it, you can't stop hearing it. That's true for women in every industry — and even women I bump into on the street. Literally. I bump into them, and they say 'sorry' to me."
The problem, they realized, was less awareness than helping women break the habit. From there, the team dreamed up the Sorry Jar, and a campaign was born.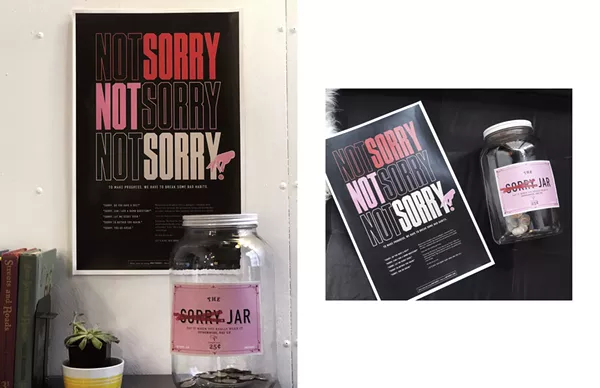 COURTESY OF NEW HONOR SOCIETY
New Honor Society formed four years ago, when longtime colleagues Singleton and Holly Aguirre relaunched the agency formerly known as Rivet, hoping to do a new sort of branding work. (Aguirre is now the president.) "We want to help brands behave less like brands and more like people," Singleton says. That, she explains, is not a matter of posturing. The real question they help companies explore: "How do I make my brand worthy of being liked?"
Today, they serve major national clients, including Microsoft and Logitech, and helped launch the FC2 female condom. Their all-female leadership makes them a rarity within the pantheon of ad agencies.
And it also led directly to where they intend to earmark the contents of their in-office Sorry Jar:
The Three Percent Movement
, which was formed to call attention to the fact that only three percent of creative directors at ad agencies were women. Thanks in part to its efforts, that number has grown to eleven percent.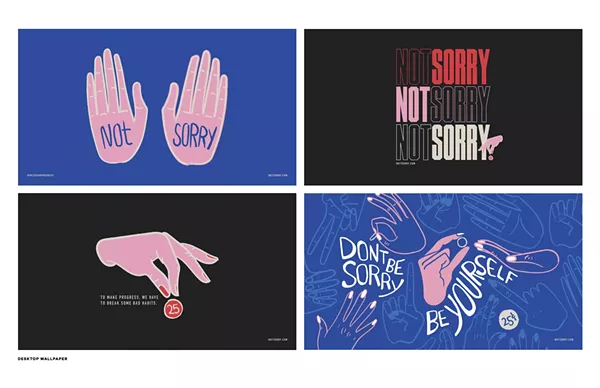 COURTESY OF NEW HONOR SOCIETY
You can donate your jar profits to wherever you'd like, Singleton hastens to add. And even men can kick in — after all, they may be misusing the word too. "It's about the unnecessary 'sorry,'" she says. "That's what we're trying to get rid of. It doesn't matter if it's a woman's mouth or a man's mouth."
For her, the campaign's success is less about the number of downloads or people actually instituting Sorry Jars and more about changing the paradigm. If women share their experiences on Twitter with the #notsorry hashtag or even think twice about apologizing all the time, she'll be happy.
"We just want people to stop doing that," she says.
See the #NotSorry video below.
We welcome tips and feedback. Email the author at sarah.fenske@riverfronttimes.com