JOEY RUMPELL
The writers, directors, lighting designer and stage manager for ​SATE's​ emerging artists' festival.
The Slightly Askew Theatre Ensemble, commonly known by the catchy acronym SATE, has established itself as a company devoted to producing unusual contemporary plays and innovative twists on the classics. Members of the collective have recast
As You Like It
as a bluegrass musical set in the Ozarks, crowd-sourced a genre-busting version of
Pride and Prejudice
and taken on off-beat shows such as Heiner Müller's
Hamletmachine
and Joseph Wilde's
Cuddles
.
This year, SATE looks closer to home for its season-opening production. This weekend's Aphra Behn Emerging Artists' Festival comprises four new, short plays written by local women. The festival draws its inspiration from the eponymous Restoration-era playwright, poet and novelist who made a living through writing — an unusual profession for a woman in the seventeenth century.
SATE's artistic director, Rachel Tibbetts, feels a sense of kinship with the mostly forgotten Behn. Those feelings became even keener when Tibbetts played Behn in the company's 2015 production of Liz Duffy Adams' comedy
Or
, which fictionalized one fraught night in her life.
"I knew a little bit about it at that point," Tibbetts says now. "Both [SATE managing director] Ellie Schwetye and I knew her play
The Rover
, probably Ellie more than I did. We were thinking of producing
Rover
, but then we read
Or
, and it seemed like we could honor Aphra and a living woman writer at the same time."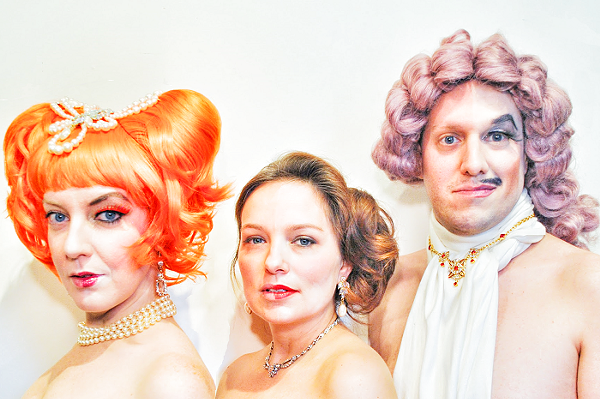 Rachel Tibbetts, center, with Nicole Angeli and John Wolbers in SATE's 2015 production of Or.
If you're curious why Behn is not as familiar as her contemporaries (Christopher Marlowe, Benjamin Jonson, Shakespeare), Tibbetts shares your curiosity.
"For Ellie and I, it gives us pause to think about why she's not better known. We do seem to end on the general subjugation of women as the most likely reason for her being buried. I wish there was another reason, and obviously we'll never know exactly why she disappeared," Tibbetts admits. "I feel like
The Rover
is up there in terms of storytelling and conception. A lot of devices used in it are still used today." The mystery behind Behn's slow fade from history, and the difficulty modern women still face in seeing their work produced, were enough for Schwetye and Tibbetts to choose Aphra Behn as their figurehead for a new play festival.
Unlike the inaugural event, which saw Tibbetts and Schwetye hand-selecting writers and directors, this year's festival was more open.
"We asked writers to submit works, we asked directors to describe their work and themselves, and then made decisions," Tibbetts explains. "Once we had all of the people in place, we all got together and read everything out loud and used the 'Liz Lerman critical response process,' which is something Ellie and I frequently use."
A means of empathic communication, the Lerman process deploys neutral listening and avoids making suggestions, all in service of opening a dialogue about the piece in question. "Directors were asked to pick which play they were most interested in," she continues, "and most of them ended up getting what they wanted."
The selected plays include Amanda Wales' "How to Be a Woman," which is an absurdist look at standards and double standards that every modern woman is asked to live by (and for, and under) and Lana Dvorak's "The Accident of Sex," which imagines a post-crash Amelia Earhart doing some soul-searching on a deserted island as the years fly by.
All four plays will be directed by women, which is a goal and a debt paid for Tibbetts. "One of the most important reasons we wanted to do this was that SATE allowed us to direct from a pretty young age," she says, for which she credits SATE's original artistic director Margeau Baue. "Margeau had the confidence to let us do it, and we wanted the company to keep that attitude, allowing young women to act, write, direct."
The 2018 Aphra Behn Emerging Artists' Festival takes place at 8 p.m. March 9 to 11 at the Centene Center for the Arts (3547 Olive Street; www.slightlyoff.org). Tickets are $15.