COURTESY OF SHINZO ZEN MEDITATION CENTER
Dr. William Holcomb (facing forward) leads a session at downtown's new center.
In the basement of Centenary Church, at the end of a narrow hallway in a bright room, sits the
Shinzo Zen Meditation Center
(
1610 Olive Street
) —
a Zen Buddhist organization seeking to bring peace to a hectic urban landscape.
Founded by teacher Reverend Kalen McAllister in 2005, the center has moved from McAllister's home to a carriage house to All Saints Catholic Church in University City. This year, it found its new home in Centenary Church, a historic Methodist church founded in 1839. The three-story church still holds services of its own, but began to rent out rooms to other organizations. Shinzo Zen Meditation center presides on the ground floor, in a room around the corner from a kitchen used by several area food trucks.
Upon entering the room, there is small sitting area where shoes are still allowed. But once you walk past the rows of chairs, you must either remove your shoes or use a pair of slippers provided by the center. The tiled floor is covered with various rugs and cushions for those who've come to meditate. Various Buddhist statues are spaced throughout the room.
The center claims to be the first of its kind in downtown St. Louis, and so far, they have co-existed peacefully with their neighboring religious denominations, including their Methodist landlords.
"There are no schisms of faith here," says the organization's president, Bill Reyland, "because we both have the same mission and that is to relieve suffering."
COURTESY OF SHINZO ZEN
Bill Reyland is the center's president.
Reyland, 51, was raised Catholic and McAllister, 66, was raised Lutheran. Both have traveled to places such as Japan and Thailand to study Zen Buddhism, bringing what they've learned back to their hometown of St. Louis to run the center.
The Shinzo Zen Meditation Center is not only an open meditation space, but is also a sponsor of its sister organization, Inside Dharma, also founded by McAllister.
Inside Dharma offers support to prisoners through meditation services and to ex-offenders through employment and access to resources to help them adjust to being in society.
McAllister became a prison chaplain around the same time she received her Dharma transmission, establishing her as a successor in a lineage traced back to the Buddha. Research has shown that practices such as meditation help reduce violence. McAllister believes that if meditation was used in elementary schools, without any religious context, the world would be a better place.
"If somebody offers you in insult and you don't accept it, where does it go? It goes back to the person who said it," she explains. "So if people meditating can see that and someone is yelling at them on the street, things become more peaceful." However, she says it's not always that easy for people who are in prison.
"They're quite weary of who they are, and this idea of who they are isn't working anymore," says Reyland, who is a volunteer in corrections under McAllister's guidance. "This is really about reality," he adds.
Both attest to the physical changes they've noticed in prisoners after meditation services. "They're relaxed, their face isn't as hard. Their whole energy level is different because it's a refuge," Reyland says.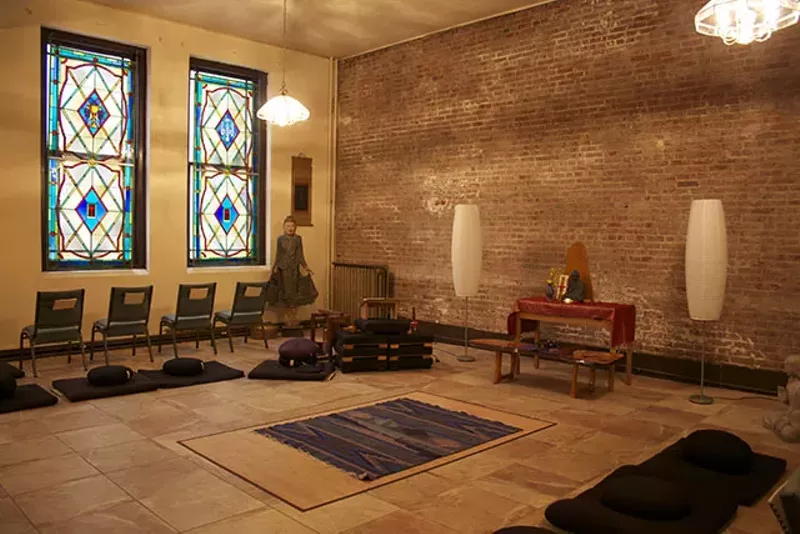 COURTESY OF SHINZO ZEN
The room offers rugs and cushions for those who've come to meditate.
Aside from offering meditation services, McAllister also founded
Laughing Bear Bakery
and will be running it from the kitchen space in Centenary Church. The bakery is a part of Inside Dharma's mission to help ex-offenders find employment. Their products are sold in Straub's and other locations.
The Shinzo Zen Center is a stark contrast to the environment that surrounds it. Peaceful and quiet, it is open to all, regardless of religion, race or background. "There's no goal in meditation," McAllister says.
The center offers free services on Saturdays from 11 a.m. to 1 p.m., Sundays from 10 a.m. to noon, and Thursdays from 6 to 8 p.m.
See also: Laughing Bear Bakery Is Helping Ex-Cons Turn Life Around — One Sweet Treat at a Time