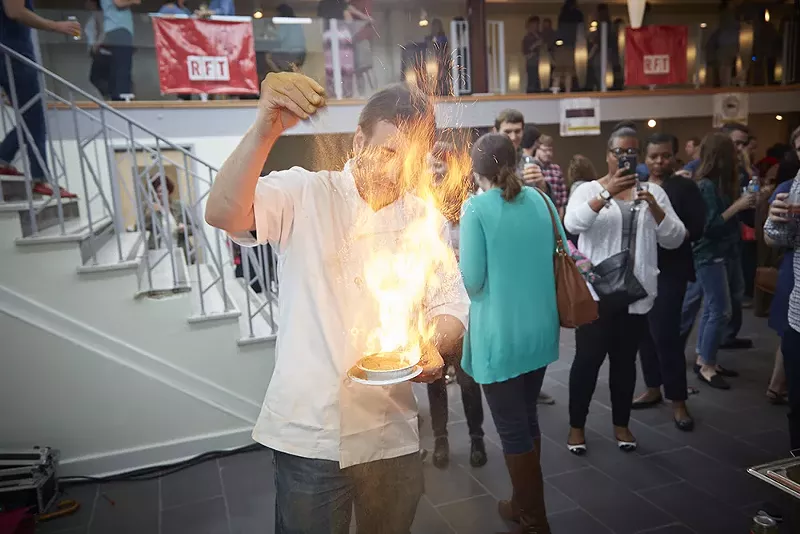 STEVE TRUESDELL
The RFT's United We Brunch event is back this weekend.
January is almost over, February is on deck and that means there are only two more months of regular-season hockey. Can the Blues finish strong heading in to the playoffs? The team welcomes Montreal this week, and there's no time like the present to rack up points. Watch hockey, eat a bunch and maybe enjoy some high culture — Mozart, Bizet and contemporary dance are all on this week's schedule.
1. Celebrate the Bard of Scotland with beer and song
It takes winter a long time to wend its way to spring some years. In Scotland, winter is longer, darker and a little more depressing than most people would like. That's why the January 25 birthday of Scottish poet Robert Burns is celebrated every year: It gives people a chance to gather in honor of poetry, camaraderie, drinks and song. Burns often wrote in the dialect of the Highland district, which became a source of pride for a people who hadn't had an easy go of it in the eighteenth century, and by extension, to the rest of Scotland. The "hometown boy made good" story always lifts spirits, especially when aided by the judicious imbibing of the Scotch spirit. From 5 to 9 p.m. Thursday, January 25, the Schlafly Tap Room (2100 Locust Street;
www.schlafly.com
) hosts its 27th
Burns' Night
. At 6 p.m. the pipers will escort Tom Schlafly and his haggis into the dining room in a skirl of bracing bagpipe music, after which he'll address the crowd in an attempt to summon the spirit of the Ploughman Poet. Duddy Breeks takes the stage at 7 p.m., and the Scotch Ale will be tapped for the first time this year. Admission is free, though you'll need money for food and drink. Kilt up if you have one.

2. See George "Carmen" Bizet's early opera

Georges Bizet's early opera
Les pêcheurs de perles
, or
The Pearl Fishers
, was initially not a great success. Bizet was only 25 when the opera premiered, and it was never revived in his lifetime. (He later composed
Carmen
, so it wasn't the end of the road for Georges.) Later audiences found much to like in the exotic tale of two Indian pearl fishers who fall in love with the same priestess, Leïla, yet promise to forget her and remain friends. But neither Zurga nor Nadir can forget Leïla, and Zurga has in fact pursued her to the pearl-fisher camp. When she appears, old passions are rekindled and a once-strong friendship is in peril. Winter Opera St. Louis presents Bizet's
The Pearl Fishers
in French with English supertitles at 7:30 p.m. Friday and 3 p.m. Sunday (January 26 and 28) at the Skip Viragh Center for the Arts (425 Lindbergh Boulevard;
www.winteroperastl.org
). Tickets are $35 to $55.



3. Enjoy brunch and beverages with the RFT

In a world in which the ever-expanding number of choices tends to paralyze people's ability to decide, it's nice to know brunch is out there making life easier. Do you want breakfast or lunch? Do you want something sweet or savory? It doesn't matter: Brunch has all bases covered. Come together to enjoy the magic meal with the
Riverfront Times
at the third installment of
United We Brunch
from 11 a.m. to 2:30 p.m. Saturday, January 27, at St. Louis Union Station (1820 Market Street;
www.rftbrunch.com
). BEAST Craft Barbecue, Das Bevo, the Dapper Donut and Piccione Pastry are among the 29 participating restaurants serving up brunchables including cinnamon-roll pancakes, Turkish mac 'n cheese, hot mini donuts and mini pork Saint Paul sandwiches (although the menu is subject to change). Tickets are $40, with VIP tickets priced at $55 (you get some extras with the VIP route; see the website for details).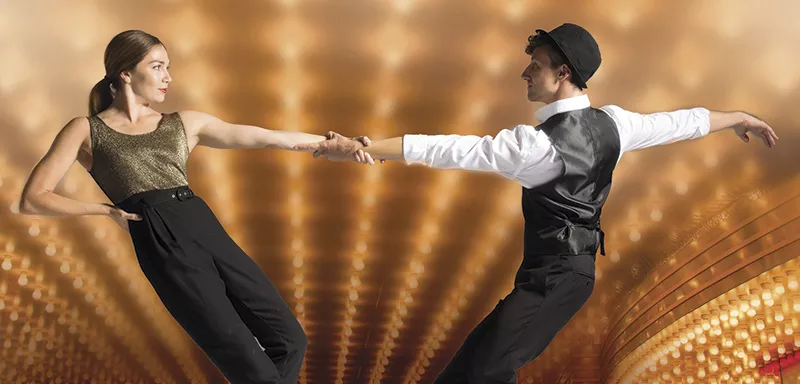 GERRY LOVE
Big Muddy Dance Co. takes you to La-La Land on Saturday.
4. Go to the movies with Big Muddy Dance Co.
A movie uses light, sound, color and motion to transport audiences to another world. The only other art form that can replicate that formula for success is dance, which is why the Big Muddy Dance Co. has created
Screen Shot: An Homage to the World of Film
. This dance concert features the return of Brian Enos' crowd-pleasing
Worlds of Wonder
, as well as three premieres: a Josh Manculich-choreographed dance for an all-male dance corps, another Brian Enos creation for the full company and a special performance choreographed by Dustin Crumbaugh expressly for the Convergence Training Company.
Screen Shot
is presented at 8 p.m. Saturday, January 27, at the Grandel Theatre (3610 Grandel Square;
www.thebigmuddydanceco.org
). Tickets are $40.75 to $286.

5. Enjoy a divertimento with Mozart

Wolfgang Amadeus Mozart was born 262 years ago, and yet his music is still played regularly throughout the world. The Chamber Music Society of St. Louis celebrates the life and music of Salzburg's greatest cultural export with two nights of music titled
Mozart's Magic
. The program includes Mozart's
Adagio for English Horn & Strings, K.580A
, and his
Divertimento in D Major, K.251
, a thoroughly bouncy musical confection.
Mozart's Magic
is performed at 7:30 p.m. Monday and Tuesday (January 29 and 30) at the Sheldon (3648 Washington Boulevard;
www.thesheldon.org
). Tickets are $38.

6. Catch Canada's last championship-caliber hockey team

The Montreal Canadiens have won the Stanley Cup a record 24 times. The Canadiens are also the last team from Canada to win a cup, which happened way back in the 1992-93 season. Things haven't really worked out for the team since then, and this year is no different. The Habs now sit six places out of the playoffs, with a long climb to make before respectability is achieved. The Blues are still in the thick of the playoff hunt in the hyper-competitive Western Conference, which means tonight's game,
the Blues vs. the Canadiens,
will likely be the last time they meet this season. The Blues take on the Canadiens at 7 p.m. tonight at Scottrade Center (1401 Clark Avenue;
www.scottradecenter.com
). Tickets are $22 to $129.


TARA ARSEVEN
Comedian Krish Mohan invites you to join him for some woke laughs.
7. Laugh with two American comedians
Krish Mohan hates lazy stereotypes, people who say they live in a "post-racial society" ("that means you have a black friend") and college students — which is to say, he's an American. But he's an American by choice, having gone through our bizarre immigration process and remained here anyway. At 8 p.m. Wednesday, January 31, he brings
the Anti-Imperialism Comedy Takeover
to the Heavy Anchor (5226 Gravois Avenue;
www.theheavyanchor.com
) with fellow comedian Andrew Frank. Tickets are $5.