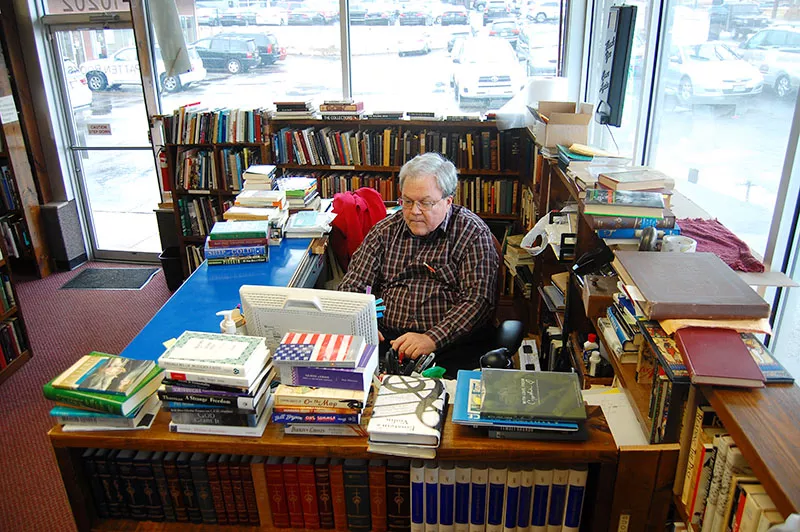 Harlan McCarthy
Keith Patten will close Patten Books on March 3 after nearly 25 years in business.
Another independent bookstore is ready to turn the page. On Saturday, March 3,
Patten Books
(10202 Manchester Road, Kirkwood; 314-822-3200)
will say goodbye to bibliophiles who have been picking out their favorite volumes for almost a quarter of a century.
Shoppers will notice the large banners hanging outside the building, urging readers to take advantage of selection and discounts before the store closes for good in just over a month. On January 22, the store's voicemail detailed those sale items:
March 3rd will be our last day of business. Books are 30 percent off. The discount will go up every two weeks. During our last two weeks, all remaining books will be 70 percent off.
The shop, tucked away in an unassuming Manchester Road strip mall in the eastern reaches of Kirkwood, has been a favorite among St. Louisans for years. With its maze of reference tomes, sci-fi novels and classic literature, Patten Books has been a go-to for those searching for something beyond trashy romances or Stephen King reissues (though the store has quite a few of those, too). That's because the Keith Patten and his knowledgeable staff buy as well as sell, offering readers cash or store credit for their castoffs and hawking used wares for more than half off cover prices. The system ensures that Patten Books always has unique volumes in its rotating stock.
Harlan McCarthy
Bibliophiles love to get lost among the stacks at Patten Books.
We haven't been able to resist the store's charm, either.
Riverfront Times
has bestowed Patten Books with several awards for best used bookstore in our annual "Best of St. Louis" issues,
writing in 2011
:
Owners Keith and Nancy Patten run an extremely tight ship. Shelves are massive and well dusted, there's nothing on the floor except for conveniently placed step stools, and the books — oh, the books. The vast bulk of them appear to have been read by a little old English professor from St. Louis Hills who never exceeded 50 words per minute. Spines are tight, covers are intact except in the case of something so rare that a little battering around the edges is to be expected, and the stench of mildew is nowhere to be found. The selection is similarly aces. You'll find no multitudes of airport bookshop bestsellers or heaving piles of moist-paged romance novels. Mr. Patten's a discriminating buyer, looking for the excellent and the unusual. The poetry section features reedy volumes of Ted Hughes, Donald Finkel and Mona Van Duyn; such pulpy authors as Clark Ashton Smith rub shoulders with cerebral brothers Arkady and Boris Strugatsky in the sci-fi/fantasy department; and every individual soldier's experience from both the Civil War and World War II is apparently documented in the history section.
There's a month left to shop before bidding Patten Books farewell, but don't resign yourself to shopping online after that. There are still quite a few indie bookstores left in the area — hopefully for a long time to come.
Patten Books is open 10:30 a.m. to 6:30 p.m. Tuesday-Saturday until March 3.