It's Ice, Ice Baby at the Loop Ice Carnival this weekend.
Our pleasant-weather reprieve is over, and now we're headed back to the ice mines for a few days. That's OK — there are a lotta indoor events to tide you over, and the lone outdoor one has beer. Nothing like a January beer alfresco. Stay safe, and live your lives. We're midwesterners, this weather is ours.
1. See a documentary about a lost and found street artist

In the early 1980s, Manhattan's Lower East Side became the epicenter of the art world. Keith Haring, Jean-Michel Basquiat and Richard Hambleton crashed the gallery scene with their street-inspired graffiti, changing the course of modern art. Both Haring and Basquiat died far too young (31 and 27, respectively), depriving the world of years of work — but what happened to Hambleton, whose stark silhouettes (dubbed "shadowmen") decorated the sides of New York buildings and both sides of the Berlin Wall? Filmmaker Oren Jacoby tracked down the artist, whose survival to see a second street art renaissance in the early 21st century is something of a miracle. Wracked by cancer and still dogged by addiction, Hambleton emerges from the past as one of his own youthful shadowmen, a creation of his own talent and almost destroyed by his excesses. Jacoby's documentary
Shadowman
uses archival footage of Hambleton's nocturnal painting missions from the '80s and contemporary deathbed interviews with him to revisit the career of a lost artist.
Shadowman
is presented by the Webster Film Series at 7:30 p.m. Friday through Sunday (January 12 to 14) at Webster University's Moore Auditorium (470 East Lockwood Avenue;
www.webster.edu/film-series
). Tickets are $5 to $7.
2. Consider the teapot
The humble teapot is a staple for ceramicists. They're functional and make good gifts (mothers love them), as well as allowing the artist to stretch creatively. A handle, a lid and a spout are the essential elements, but beyond that, anything goes. Identi-TEA: The Sixteenth Biennial Teapot exhibition at the Craft Alliance Center of Art + Design (6640 Delmar Boulevard, University City; www.craftalliance.org) features a wild and whimsical selection of teapots. The opening reception takes place from 6 to 8 p.m. Friday, January 12, and the show continues through March 18. The gallery is open 10 a.m. to 5 p.m. Monday through Thursday, 10 a.m. to 6 p.m. Friday and Saturday and 11 a.m. to 5 p.m. Sunday. Admission is free.
3. Get out there and sip some beers
As you're no doubt well aware, it's been ferociously cold these past few weeks. Schlafly's Cabin Fever invites you to thumb your nose at the weather and get outside for an afternoon of beer. From noon to 4 p.m. Saturday, January 13, at Schlafly Bottleworks (7260 Southwest Avenue, Maplewood; www.schlafly.com) you can sample more than 40 beers from Schlafly's portfolio and enjoy live music, as well as the Bottleworks' full food menu. Tickets are $30 to $35 and include a commemorative tasting glass.


COURTESY SCHLAFLY BEER
Schlafly's Cabin Fever is ready to serve.
4. See nine decades of circus history come alive
For their 2018 performance Legato, the young performers of Circus Harmony will pay tribute to American circus history from 1920 to 2010. Of special interest is their homage to the Bronx King Charles Troupe, the acrobatic unicycle/basketball act that appeared on dozens of TV shows in the 1970s. Longtime troupe member Kip Jones came to St. Louis to teach the students the tricks of his trade back in November, and now the kids get to show off what they've been practicing. Legato takes place at 2 and 7 p.m. Saturday and 2 p.m. Sunday (January 13 to 21) at the City Museum (750 North16th Street; www.circusharmony.org). Tickets are $20.
5. Chill your buns and have a little fun
The Loop Ice Carnival returns for another year of ice-and-snow-based fun as well as a few new surprises. All the best parts — the frozen turkey bowling (now with vegetarian turkeys), the ice slides and the ice breaker, in which you get two swings at a block of ice with a sledge hammer — are back again, while the new attractions include a 32-foot-high zipline on Leland Avenue that runs for 350 feet. Most of the local restaurants and businesses will have specials throughout the carnival, which takes place from 11 a.m. to 4 p.m. Saturday and Sunday (January 13 and 14) along the Delmar Loop (5900 to 6600 blocks of Delmar Boulevard, University City; www.visittheloop.com). Admission is free, but some events require a small fee.
6. Ponder how a 90-year-old film can be so prescient
Fritz Lang envisioned a chilling future in his 1927 sci-fi classic Metropolis. The vast majority of society slaves away underground while the cultural elite enjoys lives of privilege and luxury in high-rise towers. Freder is the son of the city's planner, and after following a beautiful woman underground, he discovers the awful plight of the workers. He seeks a way to aid the working class, while his father plots to stop him from throwing away his life. Maria, the beautiful woman, prophesies that someday someone will heal society's rifts — but she's also pursued by a deranged scientist who dreams of quelling the brewing revolt by transferring Maria's consciousness into a robot. Filled with amazing (for the time) special effects and gorgeous Art Deco sets, Metropolis still feels fresh and exciting 90 years later. The St. Louis Art Museum (www.bikeandoutdoorexpo.com) from 10 a.m. to 4 p.m. Sunday, January 14. There's a gear swap where you can sell your still serviceable equipment to other thrifty riders, a climbing wall and the return of the Spokes Virtual Bike Races. Admission is $10 to $12 (but free for kids younger than twelve), and part of the proceeds benefit the BWorks Earn-A-Bike program for children.
7. Check out these boots
If you had to build a creative team to write a musical about accepting people who are different, fabulous shoes and the transformative power incarnated in drag performers, you'd be hard pressed to better the one-two punch of Cyndi Lauper and Harvey Fierstein. The duo crafted the musical adaptation of the film Kinky Boots, packing it with big, brassy songs and a warm heart. Charlie is a would-be real estate agent who inherits the family shoe-manufacturing business, only to discover that the company is failing. A chance encounter with drag performer Lola helps him realize that a shift to high-quality fetish boots for drag queens might save the factory. But first the employees have to rethink the production line — and learn to work closely with Lola and her friends without sniggering or making cruel comments. Kinky Boots the Musical plays the Peabody Opera House (1400 Market Street; www.peabodyoperahouse.com) at 3 and 8 p.m. Saturday and 1:30 p.m. Sunday (January 13 and 14). Tickets are $30 to $82.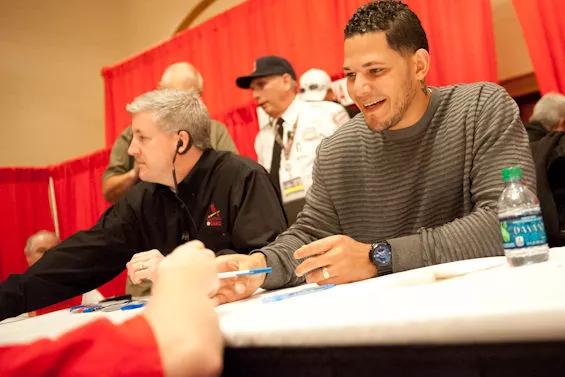 JON GITCHOFF
Meet some ball players at the Cardnials Care Winter Warm-Up.
8. Warm yourself around baseball's hot stove
It's gonna get cold again, but the hot stove is humming along. The Cardinals Care Winter Warm-Up is here to tide you over 'til Opening Day, with the slightly-new look Cardinals (they molted). Think of the Warm-Up as MLB's winter meeting for the fans. Players old and new (Marcell Ozuna is scheduled to attend), and there will be two silent auctions of memorabilia and two traditional auctions. There's also a Cardinals Care store, with discounted merch and "unique collectibles" with fixed prices. Players will sell you their autograph (some players require a charitable donation to the Cardinals Care fund; that's also where ticket funds go). There are scheduled times available on the event's website (www.mlb.com/cardinals/fans/winter-warm-up; some players' sessions are already sold-out), and the free autograph tickets have already been snapped-up. The Cardinals care takes place at the Hyatt Regency St. Louis at the Arch (315 Chestnut Street). Tickets are $40, children are $10, but kids younger than five get in free. Hours are 9 a.m to 5 p.m. Saturday, (January 13 & 14), and Monday, January 15, from 9 a.m. to 3 p.m.
9. Remember what it's like to be young and aching to rawk
Dewey Finn is having a rough week. His band kicked him out for upstaging the singer one too many times, his roommate's girlfriend is demanding he pay the rent or hit the bricks, and he has no job. What's a frustrated rocker to do? Salvation comes from an unlikely source: A tony private school offers him a job as a substitute teacher. Technically, the offer was extended to his roommate, Ned, but Dewey took the phone call, so he also takes the job. Once at the school, Dewey discovers that some of "his" pupils are quite talented as musicians. All they need is some coaching and they could win the upcoming battle of the bands. The only catch? They'll need to believe in themselves as much as Dewey believes in himself. Andrew Lloyd Webber, Glenn Slater and Downton Abbey creator Julian Fellowes translated the hit Jack Black film School of Rock into a big-budget musical, which plays the Fox Theatre (527 North Grand Boulevard; www.fabulousfox.com) in mid-January. School of Rock the Musical is performed Tuesday through Sunday (January 16 to 28), and tickets are $35 to $115.