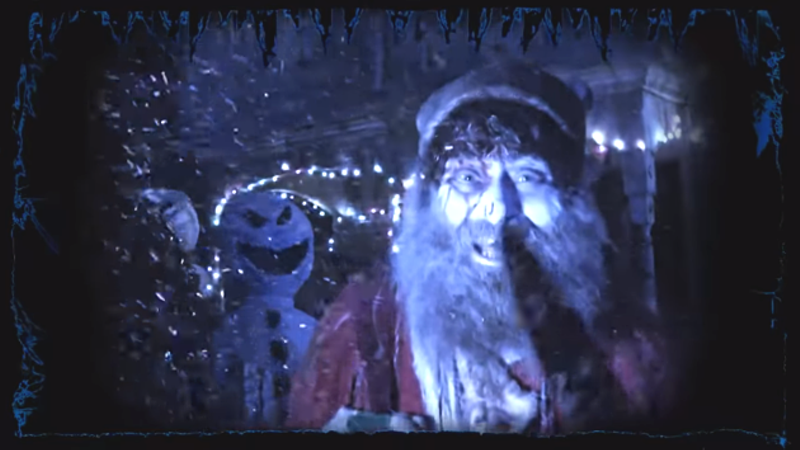 Screenshot from the video below
Just one of the characters you'll encounter at the Darkness' new Christmas event.
Christmas is far scarier than we give it credit for.
This is a holiday that involves the existence of an omnipotent bearded man with a penchant for overeating who watches children while they are unconscious and who has a massive army of elven slaves to do his bidding. Some of those elves sit on shelves in your home and move without your help, spying on you and reporting back to the bearded man, who has every intention of using that info to break into your house later and settle some scores. It's frankly unsettling.
It's possible we wouldn't have forgotten how creepy and weird this holiday is if only Santa's partner-in-crime, Krampus, had remained a part of it all. Krampus is the evil counterpart to the bearded man, whose origins stretch all the way back to pre-Christian times in the Alpine region. Rather than a fat guy doling out gifts to good kids and fossil fuel to bad kids, Krampus is a horned half-goat, half-demon who beats the shit out of children with sticks and carries a sack for the purposes of kidnapping.
While some areas in Europe still include Krampus in their yearly celebrations of the holidays, the child-abusing demon has fallen out of favor in North America, for whatever reason.
But if the minds behind
the Darkness
(1525 South Eighth St, 314-780-8944)
have anything to say about it, Krampus will be a key part of the holiday season in St. Louis going forward. This year the haunted house is hosting Krampus Returns: A Christmas Horror Story. For one night only — this Saturday, December 16, from 7 p.m. to 11 p.m. — the haunted house will be open for a Christmas-themed night of terror.
Organizers say attendees will come across evil elves, a terrifying Santa and, of course, Krampus himself. Guests are encouraged to bring cameras, suggesting you'll have the opportunity to capture some truly unique photos for this year's Christmas cards.
Admission tickets are $29.95 and include access to Zombie Laser Tag, Terror Visions 3D and the Darkness Haunted House. They are available at
scarefest.fearticket.com
.
Christmas will never be the same again.