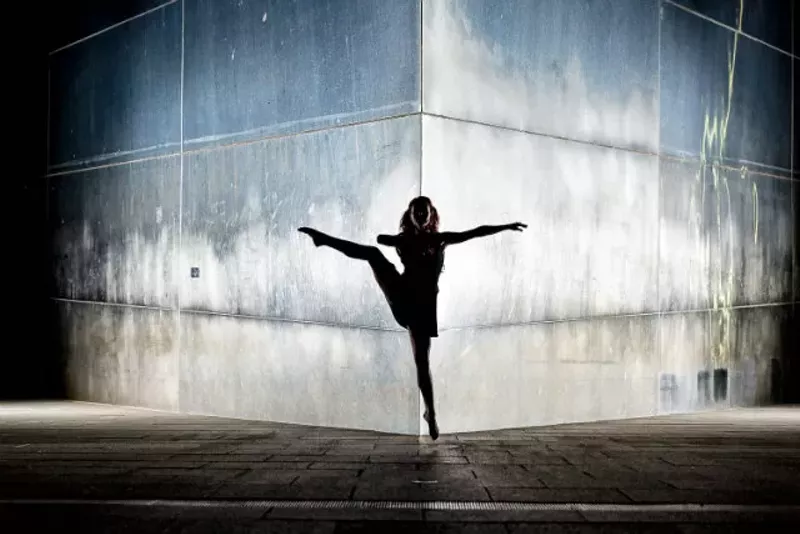 Photo by Jonathan Givens.
Sure, everyone from tourists to life-long locals has taken a picture with the Arch at some point. But few of us have ever taken anything as epic as the ones featuring these St. Louis dancers — much less had our photos published in a book.
Dance Across the USA
, a coffee table book released this month, features images of dancers of all ages and disciplines in significant parks, monuments and other locations across the country. Florida-based photographer Jonathan Givens traveled to all 50 states in the summer of 2016 to capture each shot, with one of those stops being St. Louis. Taken at Luther Ely Smith Park, the Old Courthouse and the Arch grounds, Givens' local shots have now been published for the world to see.
The St. Louis photos feature local dancers Sarah Svoboda, Lexi Lewis, Joselyn Green and Cora Tyler, who were selected from 2,800 applicants to participate. As explained in a press release, the book features male and female dancers, both amateur and professional, ranging in age from five to 61 years old. The release also stresses that everything about the book's photos is real, captured without digital compositing, trampolines, or "wire or strings attached."
"Although you can't tell in the photos, we had to work around the construction that was going on, down there," Svoboda explains in an email, referring to the construction taking place on the Arch grounds. "We basically set out the first night around the Arch, and we would all do different 'tricks' or jumps — some of which [Givens] suggested. He's worked with so many dancers, and he was a performer himself once, so that was really helpful."
Photo by Jonathan Givens.
Givens'
Dance Across the USA
journey was inspired by his desire to put a spotlight on the fabric of the U.S., the importance of dance and the diversity found in both the country's landscapes and dancers, the press release says. A portion of the sales from
Dance Across the USA
will go toward U.S. parks and and the National Endowment for the Arts.
You can read more about Dance Across the USA in our
interview with Svoboda
from before the St. Louis photoshoot, as well as on the book's
Facebook
,
Instagram
and
danceatusa.com
. You can purchase Dance Across the USA on Amazon, Barnes & Noble and
danceatusa.com
.
Photo courtesy of Sarah Svoboda.
St. Louis dancers Sarah Svoboda, Joselyn Green and Cora Tyler stand on "Mighty Buford," the van that photographer Jonathan Givens used in his cross-country travels.