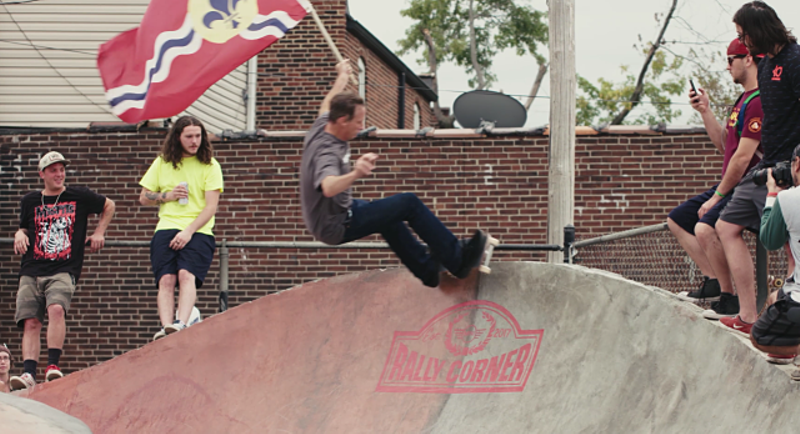 Famous skateboard man Tony Hawk took a break from landing 900s and lending his name to highly addictive video games to visit St. Louis back in September, resulting in a delightful bit of footage of the Hawkman skating one of our local parks while flying a St. Louis flag.
The Peter Mathews Memorial Skate Garden in the Bevo Mill neighborhood was the site of the scene,
where local skaters had labored for months on a set of upgrades
for which Hawk himself had been instrumental. The park, which was first built in 2014, was granted $25,000 in funds in 2017 by the Tony Hawk Foundation, in cooperation with car manufacturer Mini, in order to improve and expand.
See also:
St. Louis' Only Legal Outdoor Skate Park Prepares to Unveil a Huge Upgrade
Construction took place throughout the late summer, and on September 12 Hawk stopped by for the improved park's grand opening. His film crew, 900 Films, was also on hand and had been throughout the process, creating a short documentary for Mini to use as part of an advertising campaign.
That ten-minute film, titled "Turning Corners: A St. Louis Skatepark Project," was released on Monday. It features lots of shots of a Mini Cooper looking fly (naturally) as well as scenes at St. Louis' Sk8 Liborius (a.k.a. the Church of Skatin') and the new-and-improved Skate Garden.
It also, of course, shows Hawk skating the park with a St. Louis City flag in hand. Skip to the 9 minute mark for that footage — but honestly, the whole video is only 10 minutes long, and it's pretty damn cool. Why not watch the whole thing? Maybe buy a Mini Cooper too when you're done; all parties involved would probably like that.
Check the video out for yourself below: