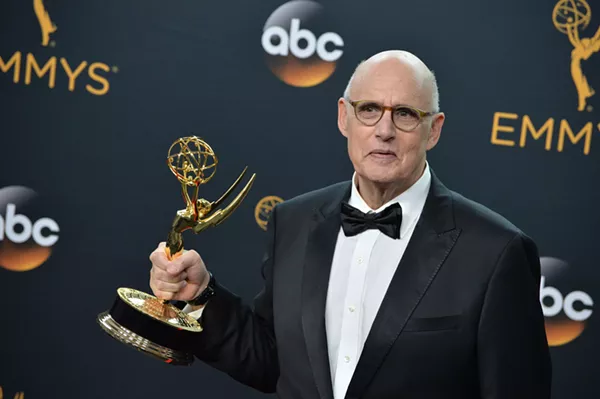 SHUTTERSTOCK/FEATUREFLASH PHOTO AGENCY
Jeffrey Tambor has won raves for his portrayal of transgender woman Moira on Transparent.
The wave of sexual harassment allegations rippling through Hollywood now involves a claim by a St. Louis-based transgender actress working on the show
Transparent
.
The show's star, actor Jeffrey Tambor, has been accused of behaving in a "sexually inappropriate manner" by his assistant, Van Barnes,
according to the Hollywood Reporter
.
Barnes, a bubbly blonde
best-known for her appearance on I Am Cait
, lives just outside the St. Louis area with her husband. The reality TV series documented Caitlyn Jenner's visit to Barnes' husband's motorcycle shop — as well as a trip to the Transgender Memorial Garden in the Grove,
as the Vital Voice reported
. "I wanted to propel St. Louis," she told the paper.
Barnes apparently made the comments about Tambor on her personal Facebook page a few weeks ago, just as the "#metoo" campaign was encouraging women to speak up about the harassment they'd experienced.
Amazon is investigating the claims, and Barnes has hired an attorney, who told
the Hollywood Reporter the actress would have no comment
.
The attorney, Alana Chazan, said that Barnes "stands by the statement she made on her private social media account as part of the #metoo movement."
Soloway told Deadline.com
that she took the allegations seriously, saying, "Anything that would diminish the level of respect, safety and inclusion so fundamental to our workplace is completely antithetical to our principles. We are cooperating with the investigation into this matter."
Tambor has pushed back, saying he firmly denies any misconduct. In a statement, he told the paper, "I am aware that a former disgruntled assistant of mine has made a private post implying that I had acted in an improper manner toward her.
"I adamantly and vehemently reject and deny any and all implication and allegation that I have ever engaged in any improper behavior toward this person or any other person I have ever worked with. I am appalled and distressed by this baseless allegation."
Barnes, now 42, took an unusual route to Hollywood.
In a 2011 profile in
the Vital Voice
, she explained that she always knew she was a woman, but was tormented for years — quitting her work as a call girl, and her treatment of hormone replacement therapy, to live as a man in corporate America. Finally, she gave up and returned to the Midwest.
"I had to find a way to be my own boss, so that I could not be fired for being transsexual," she told the paper. "So I began junking" — building a business where she scoured flea markets for finds that she later sold to dealers on the coasts.
In 2013, Barnes met Jill Soloway at a party in Los Angeles. When Soloway's
Transparent
premiered the next year, Barnes served as a consultant.
The Vital Voice
reported last year that
Barnes' own story inspired the character of Davina
, who helps Tambor's character Moira in her journey.
At some point after that,
the Hollywood Reporter
says, Barnes was hired as Tambor's assistant.

We welcome tips and feedback. Email the author at sarah.fenske@riverfronttimes.com