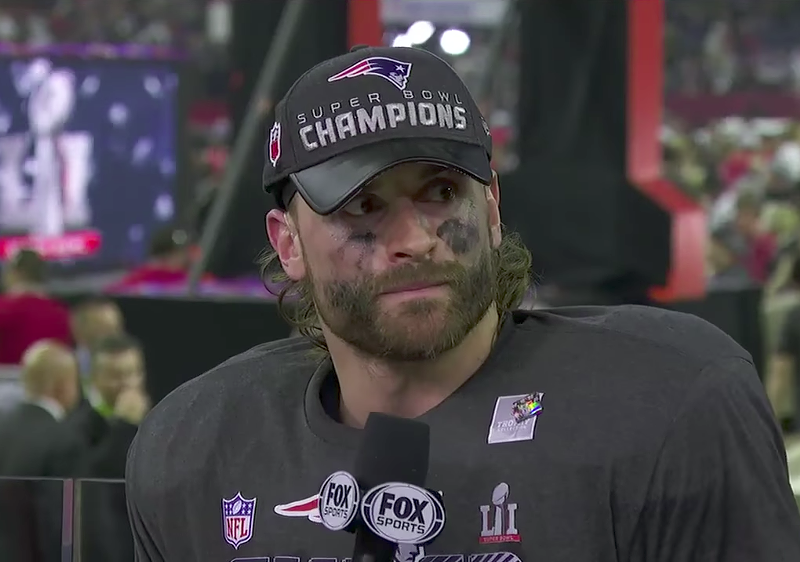 Defensive end Chris Long, who spent eight years with the St. Louis Rams before winning a Super Bowl with the New England Patriots, announced yesterday that he'll be giving away his entire $1 million salary in the 2017 season.
And the money's not just going to organizations in Philadelphia, where Long currently plays. He's also offering a great big cut to organizations in his previous two NFL homes, Boston and St. Louis.
"In my 10th year, I want to celebrate the awesome opportunity I've had to play football by giving back to the communities that have given me that gift," Long said in a statement,
according to NBC Sports
. "Educational opportunity and equity are the best gateway to a better tomorrow for everyone in America."
Long had pledged his first six game checks to organizations in his hometown of Charlottesville, Virginia. Now he says the money for his next ten paychecks will be split between Philly, Boston and St. Louis via a platform called
Pledge 10 for Tomorrow
. It's part of the
Pledge It platform
, which helps athletes raise money for good causes.
Of St. Louis, Long says,
Although I now take the field for the Eagles, the city of St. Louis and Rams fans will always have a special place in my heart. I was drafted by St. Louis and played eight years of football there; I will always be grateful for how St. Louis fans embraced me and supported my efforts throughout the years. St. Louis is and extremely generous city, and I'm excited to be able to team up with the community again with this new campaign.
The St. Louis money goes to two local organizations, Long says: the
Little Bit Foundation
and College Bound.
The Little Bit Foundation works one-on-one with students in St. Louis city and north county, meeting their "essential needs" so they can stay in (and focus on) school. The organization
has worked with 35,000 students since its founding
in 2001.
College Bound St. Louis works throughout a multi-year commitment to help economically disadvantaged youth get into (and stay in) college. It began helping students in 2006 and was on pace to help an estimated 1,700,
according to its website
.
Both organizations are based in the city.
And if St. Louis fans can match Long's donations, exceeding their counterparts in Boston and Philadelphia, Long promises to kick in another $50,000 for the St. Louis organizations. To make a pledge, or just get more info,
see the Pledge It page
.
Unless, of course, you think pro athletes should just stick to sports.
We welcome tips and feedback. Email the author at [email protected]