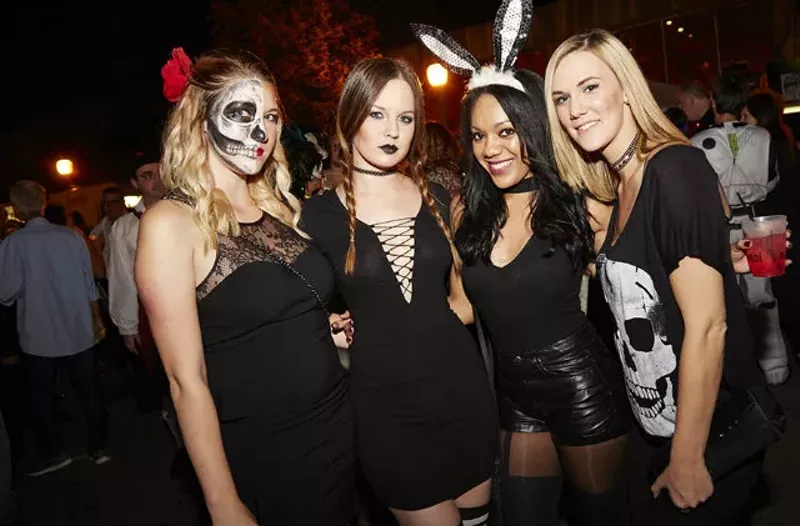 PHOTO BY STEVE TRUESDELL
The Central West End Halloween party is always one of the best in town.
It's definitely not too early to start making plans for Halloween. Because the holiday falls on a Tuesday this year, a whole lot of fun kicks off this weekend.
Whether you're looking for some pre-holiday chills or planning ahead to win a big costume prize, our list includes all of this year's highlights.
American Murder Song Presents: The Donner Party
During American Murder Song's debut year, Terrance Zdunich and Saar Hendelman led audiences back in time to 1816, to the infamous inn that served as the hunting ground for America's first female serial killer, pretty Lavinia Fisher. Now, inspired by 1960s television spook shows, they have imagined the one and only true retelling of the Donner Party experience via the lens of their own, fictional Twilight Zone-style show:
The Black Wagon
. Come check out a historical, musical reenactment of cannibalistic proportions at The Donner Party Reunion Tour.
Mon., Oct. 30, $30. The Crack Fox, 1114 Olive St., St. Louis, 314-621-6900.
Arika Parr's Costumes & Cocktails Halloween Parrty
Arika Parr's fifth annual Costumes & Cocktails Halloween Parrty is at the Jewel Event Center (formerly Yakovelli's in Florissant). Enjoy complimentary Remy Martin cocktails the first hour, not to mention prizes, surprises and a chance for you to create who you want to be. Proceeds help benefit the nonprofit Notes for Life Art & Technology.
Sat., Oct. 28, 8 p.m.-1 a.m., $20, www.CostumesAndCocktails.com. The Jewel Event Center, 407 Dunn Rd., Florissant, 314-395-3500.
Boo Bash
Boo Bash is a Halloween extravaganza. Join in the party in Strauss Park with the Cardinals Nation food truck, a bounce house, kid-friendly activities and, most importantly, trick-or-treating. Festivities begin at 4 p.m. and end at 8 p.m. Wear your scariest costume and get ready to say "boo!"
Tue., Oct. 31, 4-8 p.m., free, 314-289-15223, intern@grandcenter.org, www.grandcenter.org. Strauss Park, Washington and North Grand boulevards, St. Louis.

Central West End Halloween Party
Set in the vibrant and cosmopolitan Central West End, the annual Halloween in the CWE is the can't-miss celebration of the season. Festivities kick off with fun daytime activities for the whole family. Then, as the sun sets, the party continues with an adults-only bash and costume contest, featuring $6,000 in cash and prizes. Attendees must be at least eighteen to participate in the costume contest.
Sat., Oct. 28, 11 a.m.-midnight, free, 314-305-4012, cwescene.com. Central West End, Euclid and Maryland avenues, St. Louis.
Classic Horror Movie Marathon
Swing by the Collinsville Library on Halloween for a marathon of classic horror movies. Whether you want to drop by for one or catch the complete lineup, there will be free candy to get you through the frights. 9 a.m.:
The Old Dark House
(1932), 10:30 a.m.:
House on Haunted Hill
(1959), noon:
The Wolf-Man
(1941), 1:30 p.m.:
The Mummy
(1932), 3 p.m.:
Dracula
(1931), 4:30 p.m.:
Frankenstein
(1932), 6:30 p.m.:
Abbott and Costello Meet Frankenstein
(1948).
Tue., Oct. 31, 9 a.m.-8 p.m., free, 618-344-1112, mvlibdist.org/collinsville_calendar. Collinsville Memorial Public Library, 408 W. Main St., Collinsville, Illinois.
The Darkness
St. Louis' most terrifying haunted house returns for another Halloween season. All scanners, props, animations and FX are new this year, as is the interactive Horror Escape Room and Zombie Laser Tag (every Thursday).
Hours vary leading up to Halloween: Oct. 27-28, 6:30 p.m.-12:15 a.m.; 25, 26, 29 and 30, 7:30-10 p.m.; and Oct. 31, 7-11:30 p.m. $25, www.scarefest.com. The Darkness, 1525 S. Eighth St., St. Louis, 314-631-8000.

Fright Fest
Celebrate the season at Six Flags.
Fridays, 6-11 p.m.; Saturdays, noon-midnight; Sundays, 12-9 p.m.; Mon., Oct. 30, 6-10 p.m.; Tue., Oct. 31, 6-10 p.m. Continues through Oct. 31, $63.99-$78.99. Six Flags St Louis, 4900 Six Flags Rd., Pacific, 636-938-4800.
Halloween Spooktacular on Ice
This fun-filled event, presented by the St. Peters Figure Skating Association, offers ice skating, games, prizes, candy and a costume contest. Some costume restrictions apply, including no masks or facial coverings that may restrict your vision, no costumes or accessories that drag below your feet, no inappropriate or controversial costumes that may offend other guests, and no costumes that may prohibit the movement of your arms or legs. All participants must wear skates on the ice.
Fri., Oct. 27, 7-9 p.m., $10 (includes skate rental), 636-939-2386, ext. 1400, www.stpetersmo.net/rec-plex. St. Peters Rec-Plex, 5200 Mexico Rd., St. Peters.


PHOTO BY STEVE TRUESDELL
Go sexy or go silly — we won't judge.
Halloween/Anniversary Party
Planet Score Records is celebrating its second anniversary in Maplewood Oct 30. Since it coincides with Halloween, the store makes a spooky fun time of it, with free Schlafly beer and treats for kids and adults plus an array of discounts and prizes on its wheel of deals.
Sat., Oct. 28, 10 a.m.-9 p.m., free, 314-282-0777. Planet Score Records, 7421 Manchester Rd., Maplewood.
Haunted Mystery Maze and Escape Adventure
You are the detective in two live adventures at St. Jordan Creek Winery after dark. The first adventure is a haunted mystery maze. You look for clues in the corn maze to discover which pirate kidnapped the lovely maiden Buttercup, with what weapon and on what island in a sea of corn. The second adventure is a short escape game. You enter the Pirate's Lair to find enough evidence to bring the kidnapper to justice before your time runs out because Dead Men Tell No Tales. A stout heart, sturdy shoes, keen observation and a flashlight are required. Free parking.
Fridays and Saturdays, 6:30-9 p.m. through Oct. 28; Tue., Oct. 31, 6:30-9 p.m. $11 for one adventure, $20 for both, 314-609-5488, st.jordan.pj@gmail.com, www.stjordancreek.com. St. Jordan Creek Winery, 2829 US-50, Beaufort.
Lilliputian Film and Photography Festival
This is a short film screening of films perfect for Halloween as well as creepy photographic work., with costumes/cosplay encouraged. Screenings will be held in the Mini Moolah Lounge where there is comfy couch seating and bar access.
Sat., Oct. 28, 7-9 p.m., free, Hoogamedia@gmail.com, www.facebook.com/lilliputianFilmFest. Moolah Theatre & Lounge, 3821 Lindell Blvd., St. Louis, 314-446-6868.

Mollyween
Are you ready for one of the spookiest nights of the year? Mollyween is coming. Freaky drink specials, dance parties, shot girls, decorations of monstrous manifestations and a $1,000 cash costume contest., What goes bump in the night? Awesome people dancing in great costumes. No cover charge.
Sat., Oct. 28, 7 p.m.-1:15 a.m., free, 314-241-6200, www.facebook.com/events/133809077251364/. Molly's in Soulard, 816 Geyer Ave., St. Louis.


PHOTO BY STEVE TRUESDELL
Various costume contests offer prizes into the thousands of dollars.
The Rocky Horror Picture Show
The Tivoli Theatre's annual Halloween screening of
The Rocky Horror Picture Show
features a live shadow cast (the Samurai Electricians).
Fridays, Saturdays, 11:55 p.m. through Oct. 28, $10. Landmark Tivoli Theatre, 6350 Delmar Blvd., University City, 314-727-7271.
Slashed
3 Girls in the Dark Presents Slashed!, its third annual Halloween party. $10 gets you door prizes, one house drink ticket, costume contest, appetizers, drink specials and more. Tarot card readings are available by Eva Gehlert. Come as your favorite horror icon or dress to impress for the costume contest and dance your life away at Mad Art Gallery in Soulard.
Sat., Oct. 28, 8:30 p.m.-1 a.m., $10, www.facebook.com/events/1618407504899993/. Mad Art Gallery, 2727 S. 12th St., St. Louis, 314-771-8230.
Spooky Poochies Yappy Hour
The last (and our favorite) Yappy Hour of the year is coming up. Get out your best costume for Spooky Pooches. There will be prizes for best dog costumes, tastings of dog treats, drink specials and more. Help raise funds for Soulard's Frenchtown Dog Park Association; 20 percent of every Yappy Hour goes to them.
Thu., Oct. 26, 4-7 p.m., free, 314 241 6200, www.facebook.com/events/180545782506177/. Molly's in Soulard, 816 Geyer Ave., St. Louis.
Tails of the Night
This family-friendly celebration of Missouri's nocturnal animals lets you behind the scenes at a professional wildlife rehabilitation facility, visit with wild costumed characters on the nature trail, have an up-close critter encounter with a reptile ambassador, and relax and chat at the campfire with the volunteers and staff of the Wildlife Rescue Center.
Sat., Oct. 28, 5-9 p.m., $6 in advance, $8 at the door, 636-394-1880, education@mowildlife.org, www.mowildlife.org/tailsofthenight.html. Wildlife Rescue Center, 1128 New Ballwin Rd., Ballwin.


Terror on the Rooftop at 360
Three Sixty's Halloween party will include digital decorating and production, roaming performers, and other tricks and surprises. Providing the music will be DJ Steve Meier and DJ Jwin, with a $500 costume contest. VIP table packages are available.
Sat., Oct. 28, 9 p.m.-2 a.m., $10-20, 314-241-8439, 360halloween.eventbrite.com. Three Sixty St. Louis, 1 S. Broadway, St. Louis.

Halloween Dusk 5k/10k Run Walk Crawl
Run/walk for your favorite charity the Friday night before Halloween. Dress up with the family, zombie walk or run and enjoy the night time Halloween Dusk Run. Creep your way through the route with your Halloween attire or run with your comfy fitness clothes. Either way, be prepared for the Halloween after-party at Big Daddy's Soulard or the Landing.
Check-in and registration at Big Daddy's Soulard 4:30-6 p.m. Fri., Oct. 27, 6-8 p.m., $20 - $32, 312-600-9035. Big Daddy's Soulard, 1000 Sidney St., St. Louis.
Boolesque! A Halloween Revue
Every weekend in October, come to the Boom Boom Room for a show hosted by LuLu LaToosh. Feel free to dress in costume; there will shimmying, booty shaking and high kicks too. Now all they need is you.
Oct. 27-28, 7-9 p.m., from $21.99. Boom Boom Room, 500 N. 14th St., St. Louis.
Clowns on Clark
Special Halloween costume contest with live music from The Groove and DJ Ace in the Green Room. First prize is a VIP pass to the Tin Roof good for 20 people and an overnight stay for two at the Westin downtown. Second prize is two free St. Louis Blues tickets and a $50 post-game tab at the Tin Roof.
Sat., Oct. 28, 10 p.m., $10. 21+. Tin Roof St. Louis, 1000 Clark Ave., St. Louis, 314-240-5400.

Creepshow
The Webster Film series screens George Romero and Stephen King's 1982 film
Creepshow
, which was their tribute to the EC horror comics of the 1950s. Presented by Planet Score Records and Schlafly Bottleworks. W
ed., Nov. 1, 8 p.m., $5. Schlafly Bottleworks, 7260 Southwest Ave., Maplewood, 314-241-2337.
The Halloween Party That Shall Not Be Named
Johnnie Brock's Dungeon and Ballpark Village co-host this massive, magic-themed Halloween party that includes access to four restaurants and bars, video DJ entertainment, wizarding characters, specialty drinks and a costume contest with a $7,500 prize package.
Sat., Oct. 28, 7 p.m., $10-$20, VIP options available. Ballpark Village, 601 Clark Ave., St. Louis, 314-345-9481.
Paddy O's Halloween Bash
Halloween dance party/costume contest ($1,000 in prize money), music by DJ Mahf & DJ VTHOM, drink specials and photo booth.
Fri., Oct. 27, 10 p.m.-3 a.m., $10 in advance, $20 at the door. Paddy O's, 618 S. Seventh St., St. Louis, 314-588-7313.
RiffTrax: Night of the Living Dead
The RiffTrax team — Michael J. Nelson, Bill Corbett and Kevin Murphy — rebroadcast their 2013 takedown of George Romero's 1968 classic
Night of the Living Dead
.
Wed., Oct. 25, 7:30 p.m., $15. Wehrenberg Ronnies 20 Cine, 5320 S. Lindbergh Blvd., St. Louis, 314-843-4336.

Editor's note: We updated this list on October 25 to cull through some events that already took place and to change the intro.