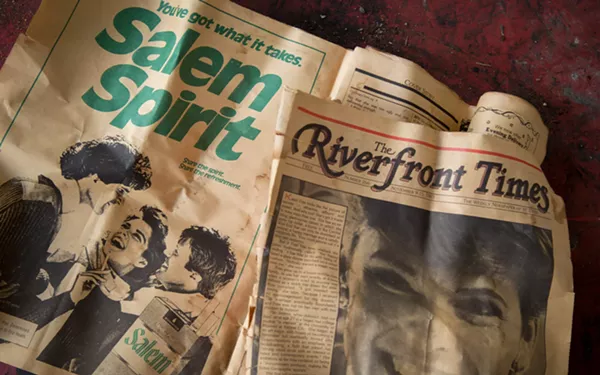 Back when Ray Hartmann founded the
Riverfront Times
in 1977, it wasn't yet an alt-weekly in any sense of the word — one of those anti-war, anti-establishment newspapers modeled on the
Village Voice
. It wasn't even a weekly. It was, rather, a community newspaper, one devoted to chronicling downtown St. Louis.
That it was based in Clayton — in the building that would later become the St. Louis County Jail, no less — was a detail that didn't seem to give anyone pause. It was perhaps a simpler time in the media world.
But what was never simple, and what seemed to capture the spirit of alt-weeklies long before the story selection caught up, were the paper's classified ads.
They started running on November 1, 1978, right around the time the publication went bi-weekly, and they rapidly became one of the most engrossing things in the paper. Page after page featured flirtation, enticement, encouragement, discouragement.
In their frisky adventuring, they were like Craigslist's Missed Connections section, only with the delayed gratification of having to wait a week to see a reply — and, yes, to do it publicly. Initially, there were no private boxes to communicate within; everyone who picked up the paper got to read everything. And we mean
everything
.
Hartmann himself captured the zeitgeist
perfectly in his 2002 farewell column
:
[T]he free personals ... would dominate the paper — consuming as much as 35 percent of its pages at one point — giving the RFT a wild (I mean wild), racy, raunchy, hilarious, fun-loving aura.

We never even suggested to our readers anything about what the content of the personals should be. I used to say that had downtown St. Louis been populated solely by religious zealots, the personals would have been a giant forum for evangelism. Or it could have been all about sports chat or politics. It wasn't.

It reflected St. Louis.

No, not the staid, stuffy, uptight, conservative heartland bastion of family values that many saw this Midwestern burg to be. This was a different St. Louis than the one in the visitors' brochures. The real one.
As astute readers know, we've been celebrating our 40th anniversary for months on end now, with a host of special issues paying tribute to the
40 Restaurants We Love
and the
77 Bands That Make St. Louis Sing
and even an entire anniversary-themed
Best of St. Louis issue
.
But as we gear up for our actual birthday — celebrating the very first issue, which hit the streets in November 1977 — we wanted to entertain the idea of one more potential celebration. One that's not about us; one that is about you.
Did you meet someone who changed your life via our personals section? Maybe a spouse. Maybe an ex-spouse. Maybe a one-night stand that changed your life.
If so, we want to know about it. Send us an email at tips@riverfronttimes.com giving us a little overview. Who did you meet, and what happened? And would you be willing to tell your story with your real name attached?
We've told you our stories — so many times. Now we want to hear yours. And if they're a little bit racy, well, is the
RFT
. We are no longer a community newspaper, and thank God for that.
So: Tell us what went down and what became of your love connection, and we'll see if we can maybe find a few anniversaries to celebrate in addition to our own. We don't play this card too frequently, but don't you owe us at least that?

Sarah Fenske is the editor in chief of the Riverfront Times. Email her at sarah.fenske@riverfronttimes.com or follow her on Twitter @sarahfenske.