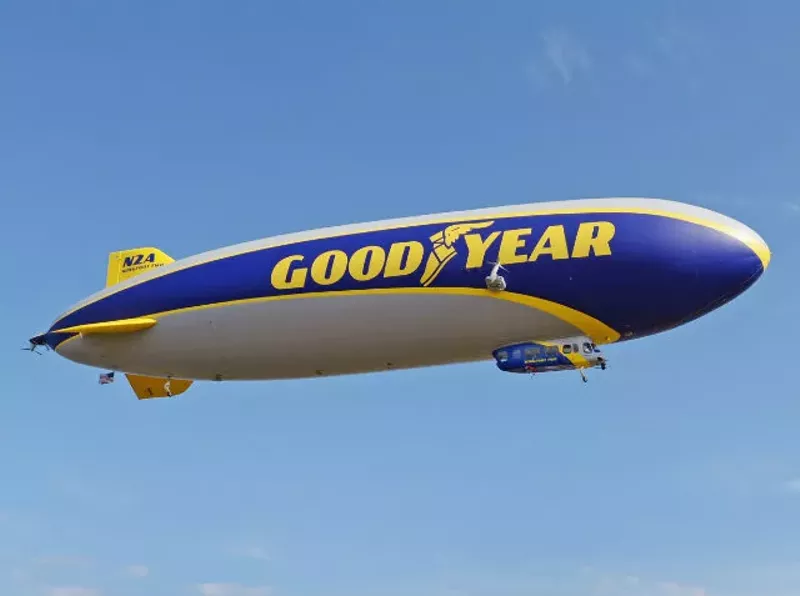 Photo courtesy of Goodyear.
You know the Goodyear blimp — the massive blue-and-yellow airship that has long been a high-flying advertisement for the tire company. But if you've never seen it in person, you're about to have your chance.
Goodyear's newest blimp, Wingfoot Two, is traveling from Akron, Ohio, to Los Angeles over the course of three weeks. The tour will take the Wingfoot Two over ten states and to numerous tour stops, including St. Louis today and tomorrow.
The Gateway City will be a layover for the blimp, which will spend the night at St. Louis Regional Airport in East Alton. Its arrival time is largely weather-dependent, but as of press time it is anticipated around 3 or 4 p.m. Before heading off tomorrow morning, the Goodyear team plans to capture some photos of the blimp flying over the Arch, as well as some aerial shots taken by the blimp's pilots.
Wingfoot Two is the second of three blimps created for Goodyear's latest fleet of airships, the third of which is under construction at Goodyear's Wingfoot Lake facility near Akron. Wingfoot Two measures at 246 feet long — only 18 yards shorter than a football field — and reaches up to 73 miles per hour, 23 miles per hour faster than the maximum speed of blimps in the previous fleet. Its cross-country trek is serious business, too, requiring a 26-person crew and nine ground vehicles.
In addition to St. Louis, the tour includes stops in Indianapolis; Fayetteville, Arkansas; Lawton, Oklahoma; Lubbock, Texas; Deming, New Mexico; Tucson, Arizona and Blythe, California. Wingfoot Two will ultimately complete its journey at its West Coast home in the LA County municipality of Carson, California. (Fun fact: Goodyear has been operating blimps in southern California for more than 90 years.)
If you want to get in on the fun on social media during Wingfoot Two's
St. Louis visit, you can use the hashtags #WelcomeWingfoot2 and #BlimpGoesWest.