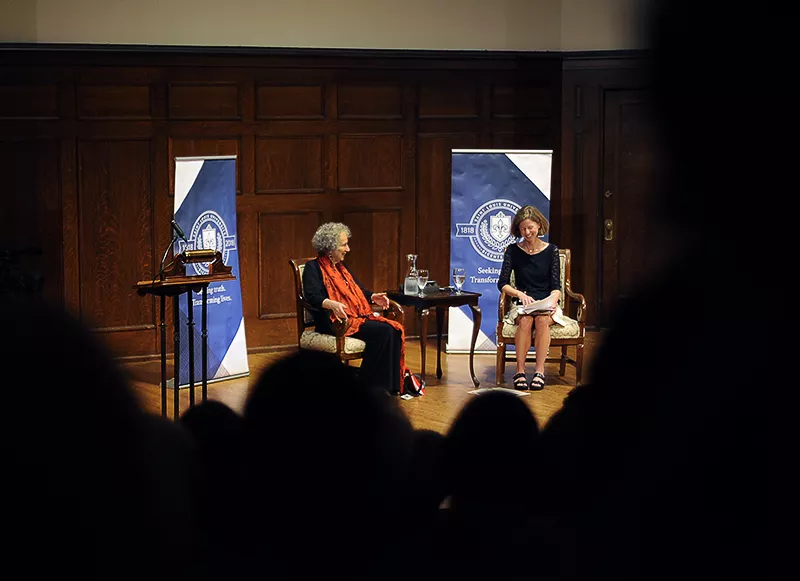 PHOTO BY KELLY GLUECK
Margaret Atwood, left, was in St. Louis on Tuesday, September 19, to receive a literary award.
On stage at the Sheldon in downtown St. Louis last night, Margaret Atwood didn't mince words on the dangers of a police state.
"Every country has police," the Canadian novelist stated. "They're supposed to serve, protect, arrest potential but not proven criminals, and turn them over to the justice system for trial. That's a hard job with a lot of pressure.
"But, a country in which police act as judge, as jury and executioner is a police state," she said.
Wild applause broke out before Atwood continued.
"I don't think you would want to live in a police state because there is no independent justice system as such. The police make the decisions, and if you make a fuss about that, you are likely to be on the wrong end of one of those decisions."
Atwood's dystopian 1985 novel,
A Handmaid's Tale
, was originally written as a critique of the left-wing police state that existed in Eastern Europe. But it's gained new resonance (along with a Hulu series) in the last year as
modern readers see parallels to America in 2017
.
The novelist was at the Sheldon to receive the 2017 St. Louis Literary Award, presented by the Saint Louis University Library Associates — and clearly knew exactly what city she was in when she made her remarks. (No doubt, she, like U2 and Ed Sheeran, had been given information that might lead some to cancel their visit.)
"Countries do not become police states overnight," she said. "They get there by steps. One step after another is tolerated and accepted, and soon the bridge between police state and democracy will be crossed, and then that bridge will be burned, and then you can't go back without an uprising or a war and even that may not work.
"So, America, please don't go there. Please honor your own pledge to the flag — liberty and justice for all. All means all. Justice doesn't mean merely the administration of laws. The Nuremberg laws were laws. The fugitive slave act was a set of laws. But just and fair laws administered without discrimination. Please don't settle for less. Live up to your own propaganda."
At that point, the audience laughed, and applauded.
The novelist continued, "You owe it to yourselves and to the world. There, that's what I think, for what it's worth."
Atwood then announced she would talk about the "literary part" — and did just that. You can read
more about Atwood and her visit here
.
The RFT's Kelly Glueck contributed to this story.

Editor's note: A previous version of this story gave the wrong streaming service for the miniseries of Atwood's classic novel. It's on Hulu, not Netflix. Thanks to all the commenters who pointed it out.

We welcome tips and feedback. Email the author at [email protected]