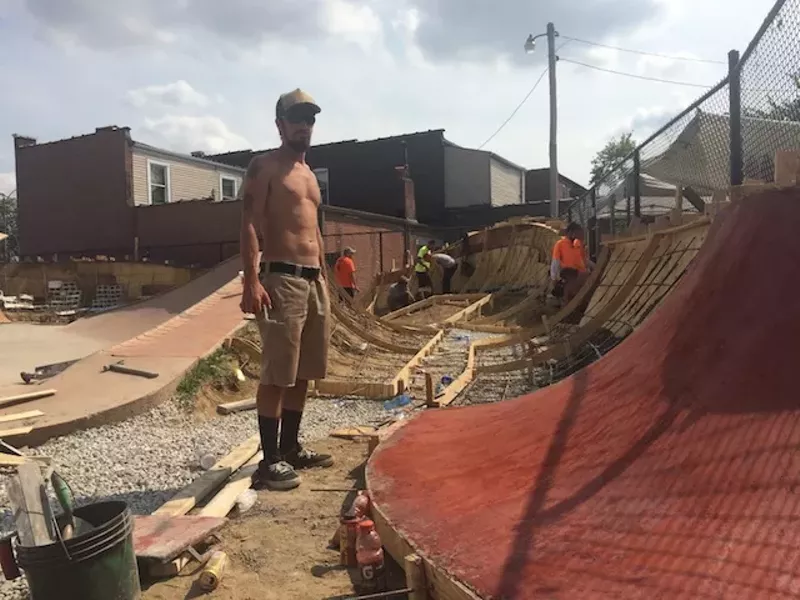 PHOTO BY DANIEL HILL
Brian Bedwell surveys the scene at the Peter Mathews Memorial Skate Garden, two weeks before its grand opening.
The moonshine comes as a complete surprise.
Bryan Bedwell has just sat down on the edge of the Peter Mathews Memorial Skate Garden, which is currently under major construction in the Bevo Mill neighborhood, when a colleague shows up with a clear glass mason jar. The man is proud of what he has wrought, explaining that it is good shit.
"If you take a spoonful of it and light it on fire it burns blue," he says, "and when you shake it up the frog-eye bubbles disappear pretty quickly." These are apparently desirable qualities in homemade liquor.
Bedwell unscrews the lid and takes a sip. It is just past 3 p.m. on a sunny Wednesday afternoon — but hey, its five o'clock somewhere, right?
If the midday consumption of home-distilled alcohol seems out of the ordinary for a work site, well, it probably is — but this is no ordinary work site. The group of men smoothing out concrete are here on an entirely volunteer basis, offering up their labor for no reason beside a love of skateboarding.
On this day they've already been at it for a few hours, though they didn't start too terribly early because, well...
"A lot of them don't wanna wake up until nine in the morning at the earliest," Bedwell says with a grin. "And I can't yell at them too hard or else they won't come back!" The project is an expansion of the Peter Mathews Memorial Skate Garden, St. Louis' first legal outdoor skate park. Initially constructed in 2014, the park was recently granted $25,000 by the Tony Hawk Foundation to expand and improve. Hawk himself — as big a name in skateboarding as one could possibly find — is slated to make an appearance at the grand opening celebration. The party will take place beginning at 4 p.m. on Tuesday, September 12, and will see a portion of the street blocked off, with DJ Mahf and VThom spinning tunes while Such and Such Farm provides a pig for roasting.
"It was the only time the Hawk man could get his schedule to fit us in," Bedwell explains of the midday soiree.
PHOTO BY DANIEL HILL
The park is a DIY effort, designed and crafted by volunteers.
Bedwell is chairman of the board of directors for Kingshighway Vigilante Transitions, better-known as KHVT, a 501c(3) nonprofit that takes its name from the now-demolished guerrilla skate park that was located beneath the Kingshighway Bridge. Renovations to that stretch of Kingshighway closed the park, which was technically not legal and constructed with no permits. (The city still allowed the operation because the skaters proved more diligent about picking up trash and painting over graffiti than the homeless folks who had previously dwelled there.)
About a year before the guerrilla park's closure, the Peter Mathews Memorial Skate Garden opened for business. The park was constructed on a 14,000-square-foot lot where a radiator shop had previously stood. Initially the city was going to lease the land to the group — they had been impressed with the plucky skaters' stewardship of the Kingshighway spot — but with the neighborhood supporting the effort, KHVT was able to raise $5,000 to purchase the lot outright. Another $35,000 was raised for the construction of the park; the project relied on a number of fundraisers, as well as GoFundMe and Kickstarter campaigns. The Tony Hawk Foundation even chipped in $5,000 at that time — and officially offered its support. Peter Whitley, the foundation's programs director, came to town last year as part of a parks and recreation conference held in St. Louis. While he was here, he decided to check in on the park.
"He was wondering how it was going here, and we picked him up from his hotel, took him around, showed him some of the spots we had going, showed him this place and a couple cool spots to hang out at," Bedwell says. "And he was all about it."
Six months ago Whitley called Bedwell again, this time with big news. Mini, the car company known for its Mini Coopers, wanted to get involved in skateboarding. The company hoped to make a documentary about a DIY spot as part of an advertising campaign, and it had $25,000 it was willing to throw at the cause. Mini had asked for the foundation's help in finding a worthy park. The St. Louis spot ended up being one of three finalists, alongside similar projects in New Orleans and Detroit.
Then St. Louis won, triggering more than a month of work. The renovations, which have been designed and constructed by Bedwell and his crew of volunteers, will include a new zone with a half-dozen new features and a couple of pockets. It will run along the backside of the park, facing an alley on the south edge.
"It's a snake run, kinda, but it's a street snake run I guess, right?" Bedwell asks JP Kraus, another worker on site.
"A snake run elbow with some street obstacles," Kraus confirms. "And if we have some money left over we're gonna repair some other things and add some other features." "I think we're gonna try to add a barbecue pit," Bedwell continues, "and, like, a little gazebo type thing, creekside cabana over there on the corner for the guys to hang out at and get some shade."
In addition to those amenities, volunteer Jennifer Russell persuaded Home Depot to fund and build a community bulletin board/food pantry just outside the park itself. The wood structure will have a neighborhood bulletin board on its front, with the back opening up to a small food pantry where people can drop off and pick up food as needed. "At first we thought we were gonna have to build it, but they're paying for it and building it," Bedwell says.
PHOTO BY DANIEL HILL
The park's curves are starting to take shape.
Predictably, many of the volunteers hard at work at the site spend their free time skateboarding as well. Jonathan Harms, who is also on KHVT's board of directors, shares his dreams for future projects during a break from tying rebar.
"After this I hope we can work on another project," he says. "My favorite kind of skateboarding is bigger. I want a bowl. Like a bigger bowl that's nine to ten feet deep, and it's wide open and super easy to skate. On the bigger stuff I can do a lot better." But not every volunteer pushes wood.
"There's at least one guy I can see right now, probably two or three other people here that don't even skate, that are here just helping out," Bedwell says. "It's something cool in the community that they wanna help out with, so they're doing it."
"Sometimes skateboarding involves not skateboarding," Kraus offers.
And it's true. Sometimes skateboarding involves smoothing concrete or tying rebar, or maybe barbecuing some eats for a hungry, all-volunteer crew.
And just sometimes, it involves a nip of some frog-eye free, blue-burning midday moonshine.

Peter Mathews Memorial Skate Garden Phase II Grand Opening
4 p.m.- 8 p.m. Tuesday, September 12. Peter Mathews Memorial Skate Garden, 4415 Morganford Road. Free.