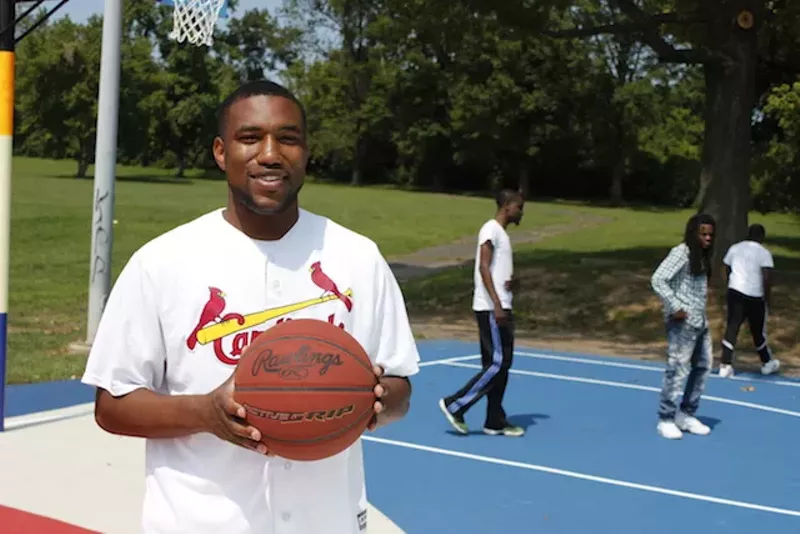 PHOTO BY KATIE HAYES
Keri Gilyard has been helping maintain the basketball courts at Kinloch Park for years.
For the past five years, the Sunday closest to Keri Gilyard's birthday has marked an annual basketball tournament for players across St. Louis. The tournament in Kinloch Park reunites not only Gilyard's friends but more than 200 people — including many who have been forced to move out of Kinloch.
But this past Sunday, for the first time, the game incorporated a piece of artwork: They played on a mural visible to anyone with a window seat flying into Lambert Airport.
Daniel Peterson
View of the basketball courts in Kinloch Park after Daniel Peterson, William LaChance and volunteers renovated them.
The new look for the Kinloch Park courts — which includes geometric swaths of color, courtesy of local artist William LaChance — was completed on August 25. From the sky, the courts now look like a bright spot in a sea of green and brown. Up close, they're positively dazzling.
Daniel Peterson is the founder and director of Project Backboard, an organization that improves basketball courts by incorporating art from local artists.
"The purpose of Project Backboard, and of putting art into parks, it's really about inspiring multi-generations and getting people back together," Peterson says.


COURTESY OF DANIEL PETERSON
A closer view of the Kinloch courts.
The project had humble beginnings. Peterson lives in Los Angeles now, but he was originally based in Memphis. He began by painting lines on basketball courts that didn't have them. The work soon grew to include full-court renovations — and the involvement of local artists in cities across the country.
Peterson notes that the paint jobs have a purpose beyond just aesthetics: "Basically the way you renovate is by using a specific type of resurfacing paint. So in a sense, the painting is the renovation itself."
Peterson reached out to St. Louis County Parks and Recreation about doing a project in St. Louis. The Parks Department identified Kinloch and, in April, Peterson began working with artist William LaChance.

An abstract artist, LaChance has pieces at the U.S. Federal Reserve, St. Louis Lambert International Airport and Nike headquarters, among others. He says he's done a few murals, but nothing like this.
"We intentionally designed the basketball courts to have these really enormous fields of color," LaChance says. "We were kind of thinking ahead to when people will be using the basketball courts and be playing ball on them. Potentially when the players or onlookers are [watching the game] they're actually completely surrounded by singular colors." When players in bright, athletic clothing take to the court, he says, they're actually completing the piece.


COURTESY OF DANIEL PETERSON
This photo shows the courts before their transformation. Just below is the finished artwork.
COURTESY OF DANIEL PETERSON


Peterson is pleased with the artist's vision for the project.
"The way he uses color and shape has a lot of energy," Peterson says. "It was very fortunate that he was willing to collaborate on this project. His approach works well when you're trying to cover a large surface like that and you can't step back and look back at your mural."
Peterson and LaChance didn't know each other before the project, but spent months emailing designs back and forth.

The court, Peterson notes, "was in pretty rough shape." Kinloch has famously suffered from years of neglect and corruption, even earning a profile in Vice titled "The City Next to Ferguson Is Even More Depressing." The majority black city, which used to have 10,0000 residents, now has fewer than 300.

People in the area gave the project a warm welcome, Peterson says.

"There's a lot of passion for that community from current and former residents. A lot of people came back to assist," he says. "We also had people just show up, wondering what was going on and asking if they could help. I had one guy who brought his own rollers."
Gilyard was one of the residents who took an interest. For the past 10 years, he and his family have been maintaining the courts — replacing old nets, mowing grass when the county was slow with upkeep.
"Keri was the first guy that came up to talk to us as we were painting," LaChance says. "I think the very first day he pulled up. After he started volunteering and working, he told us he has been maintaining the courts for the past however many years, and I believe on his own dime."
Gilyard says he was thankful when he saw the courts.
"It's more than just a basketball court," he says. "It's artwork. On Daniel's way out of town he showed us a picture. He showed us a picture from the airplane. Coming in and out of St. Louis everyone can see the court." And this time, Kinloch is on the map for something good.