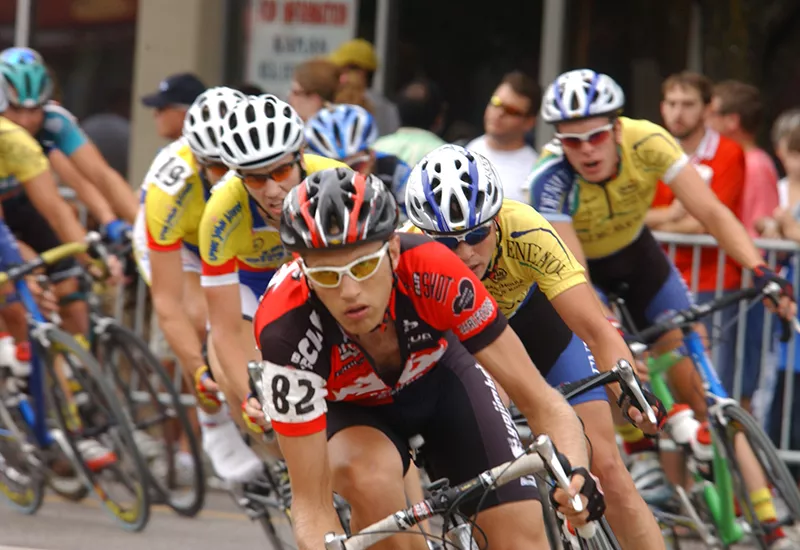 The Gateway Cup features professional cyclists in all four races.
And lo, another summer ends. Fall will be here soon enough, but first — a three-day weekend (three-and-a-half if you duck out of work early on Friday). Take advantage of this long weekend, because we don't get another one until Thanksgiving.

1. See two new plays by local playwrights
Stray Dog Theatre's season is over, but the company is not yet finished presenting shows. The Young Playwrights Showcase comprises two new plays, and the staging of them is very much a collaborative process. The audience is invited to discuss what they've seen with the playwrights, offering honest and constructive criticism about what works, what needs development and what could be cut without harming the show. It's a prime opportunity for the writers to get feedback from people who aren't family or friends, and a possible sneak peak at what might show up in a later Stray Dog season. This year's showcase features Robert M. Kapeller's First Chair, a drama that explores life after tragedy, and Meghan McLeroy's We Are Not Cured, which centers on two men who observe scenes of violence which they cannot forget. The Young Playwrights Showcase takes place at 8 p.m. Thursday to Saturday (August 31 to September 2) at the Tower Grove Abbey (2336 Tennessee Avenue; www.straydogtheatre.org). Admission is free, but reservations are requested.

2. The streets belong to the cyclists this weekend
Labor Day weekend is always a big event for competitive cyclists and their fans. The Gateway Cup brings one night and three days of pro/am bike racing to four St. Louis neighborhoods, and this year's race — the 25th installment — has a total cash purse of $70,000. The Gateway Cup takes place Friday through Monday (September 1 to 4), with the first race starting at 3 p.m. Friday in Lafayette Square (Park and Mississippi avenues; www.gatewaycup.com). This initial race is on a square course, and it wraps up at night, which always makes for a very dramatic finish. The next three races are at Francis Park (Saturday), the Hill (Sunday) and Benton Park (Monday). Admission is free for spectators.



3. See the history of St. Louis writ large
In a year in which the Missouri History Museum exhibition team has given us the stories of St. Louis' greatest civil rights freedom fighters and returned us to the glory days of Route 66, it would take something truly spectacular for the museum to outdo itself — and yet somehow it's done just that. The museum's new exhibition, Panoramas of the City, is as close to time travel as you can get without involving Morlocks. The show comprises seven floor-to-ceiling-size images of scenes such as Charles Lindbergh speaking to a crowd of 100,000 people on Art Hill at his "welcome home" party and a 1920 march on Olive Street by the League of Women Voters. These massive photographs are joined by props and interactive media displays that give viewers a better understanding of the historical context of each scene. More than 60 panoramas of various sizes round out the exhibit, which will be on display from September 2 to August 12, 2018, at the Missouri History Museum (Lindell Boulevard and DeBaliviere Avenue; www.mohistory.org). Admission is free.

4. The LA scene gets seen
The Los Angeles art scene doesn't get as much attention as New York's does (they're just not cool enough), but the West Coast scene is thriving. LA Painting: Formalism to Street Art, the new exhibition at Bruno David Gallery (7513 Forsyth Boulevard; www.brunodavidgallery.com), features contemporary work by 24 artists working in a broad range of styles. Some artists capture the unique LA sunlight, some work in Abstract Expressionism, others are more concerned with the narrative use of the figure or the uniquely Southern Californian school of Abstraction, Hard-Edge Geometry. LA Painting: Formalism to Street Art opens with a free reception 6 to 9 p.m. Saturday, September 2, and remains up through October 7. The gallery is open 10 a.m. to 5 p.m. Wednesday through Saturday.
5. Get all mashed up
We're living in the age of the mashup. Musicians, filmmakers and artists combine influences and styles to create something new out of two (or more) older genres, resulting in art that feels both new and familiar. Prime, the local theater company that specializes in writing, rehearsing and producing short plays in just 24 hours, adopts the mashup for its new show, Dramatic License. Six new short plays will debut at 8 p.m. Saturday, September 2, at the Gaslight Theater (358 North Boyle Avenue; www.primetheatre.org), each of them a combo platter of styles. While the actual mashups won't be known until the night of the show, Prime has a few planned: "fairytale documentary" and "slasher chick flick" are both possibilities. Tickets for Dramatic License are $15.

6. Okinawa comes to town
The 2017 Japanese Festival at the Missouri Botanical Garden (4344 Shaw Boulevard; www.mobot.org) has a strong Okinawan flavor this year. The island chain south of what westerners consider "Japan" has its own culture and languages, as well as its own unique folk arts. One of the most popular of the latter is Eisa, a folk dance that honors the cultural ancestors. Eisa features Taiko drums (always popular at the Japanese Festival), singing and accompaniment on the sanshin, a traditional three-stringed instrument. Luck Eisa, which performed at last year's fest, returns once again to perform for appreciative crowds. The group is joined by St. Louis Okinawa Eisa, a local company, for several joint performances throughout the holiday weekend. As always, there will be traditional Japanese food, fine art displays, martial arts demos and a marketplace in addition to the performers. The Japanese Festival takes place from 10 a.m. to 8 p.m. Saturday and Sunday and 10 a.m. to 5 p.m. Monday (September 2 to 4) at the Missouri Botanical Garden (4344 Shaw Boulevard; www.mobot.org). Admission is $7 to $15.

7. Celebrate 100 years of Greek culture
This is the big one, folks: The St. Louis Greek Festival marks its 100th year of feeding people this weekend. That's a full century of gyros, spanakopita and moussaka. If you laid all that food out end to end, you could build a bridge from St. Louis to Greece — and what a delectable bridge that would be. The centenary edition of the St. Louis Greek Festival takes place from 11 a.m. to 9 p.m. Saturday and Sunday and 11 a.m. to 8 p.m. Monday (September 2 to 4) at the St. Nicholas Greek Orthodox Church (4967 Forest Park Avenue; www.opastl.com). There will be food, folk dancers, Greek music and beverages, but it will all taste better, sound sweeter and be more satisfying this time around. Here's to 100 more years. Admission is free.

8. It's Tony Randall to the power of seven
If you like Tony Randall, there's a lot of him on display in George Pal's film, 7 Faces of Dr. Lao. Randall plays the titular Dr. Lao, a mysterious Chinese circus owner who arrives in an Arizona frontier town just as the town is about to be abandoned. But strange things happen when Dr. Lao shows up. His circus includes an abominable snowman, the god Pan, a wizard named Merlin and Medusa (all performed by Randall), and these monstrous acts teach morality lessons in addition to entertaining. Will the wealthiest man in town succeed in running everyone off, or will Dr. Lao convince them to appreciate what they really have? The Webster Film Series presents 7 Faces of Dr. Lao at 8 p.m. Wednesday, September 6, at the Schlafly Bottleworks (7260 Southwest Boulevard, Maplewood; www.webster.edu/film-series). Tickets are $5.