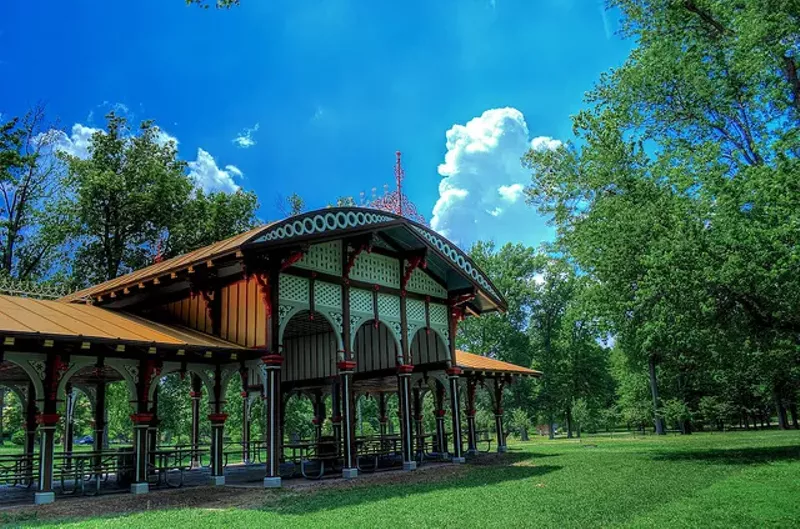 Photo courtesy of Flickr / Matt Ridings
Tower Grove Park.
Big things are coming to Tower Grove Park.
Today the park announced its preliminary
master plan
, which outlines developments slated for the next twenty years. Among the new amenities: basketball courts.
And that's not all. The park also plans to add five additional public restrooms, a 2.5-mile running track and spots for hanging a hammock. The restoration or expansion of gardens, fountains and the Roman Pavilion area are also on the agenda, according to the
St. Louis Post-Dispatch
.
The public is invited to an open house at 6 p.m. tonight at the Tower Grove Park Piper Palm House and can contribute input before the plan is finalized in September.
The first master plan open house
in January drew more than 250 attendees, and an online survey afterward was answered by more than 1,000 people.
Per public feedback, the park intends to preserve its history while expanding its recreational areas, according to the
Post-Dispatch
. Areas for sand volleyball, basketball and futsal, a variation of soccer, were all of strong interest. Other prospective improvements include expanding the Tower Grove Farmers Market area and building a nearby pavilion for market-goers to sit and eat, as well as improving access to spots like the lily ponds in the park.
In a press release, the nonprofit running the park stated that the master plan serves a few overall goals, including strengthening the park's role as a place for all communities, preserving its historic features, landscape and character, and upgrading the park's amenities, connectivity and security. The master plan is funded by grants from the William T. Kemper Foundation, Commerce Bank Trustee and the Crawford Taylor Foundation.
If you want to get your two cents in about the future of Tower Grove Park, you can contribute input by September 7 by emailing masterplan@towergrovepark.org.