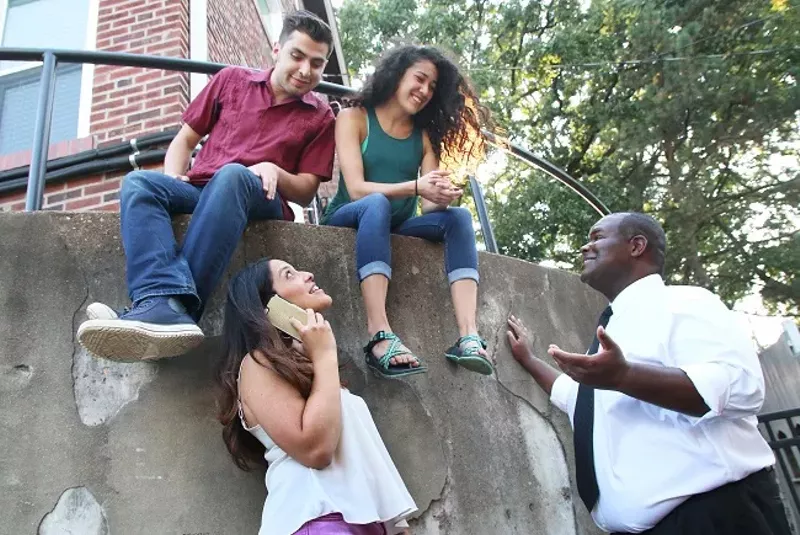 Autumn Rinaldi
R-S Theatrics performs In the Heights this weekend.
We thought it would never come, but the weekend is here — and that means a new list of events for your entertainment. From the St. Louis Fringe Festival to Black Pride Weekend, here are all the happenings you need to check out.

1. Learn how the Central West End went from rags to riches.
It wasn't that long ago that the Central West End — home to fine dining, hip bars and beautiful people — was a neighborhood on the skids. In the early '80s sidewalks were ruptured, storefronts were empty and broad daylight burglaries and car thefts were an everyday occurrence. How did the neighborhood, which began as a rural escape for the city's wealthy elite in the early 1900s, sink so far? And more importantly, how did it climb out of that 1980s hole? Candace O'Connor answers those questions in her new book, Renaissance: A History of the Central West End. It's a lavishly illustrated and thoroughly researched tome that charts the birth, growth, decline and resurrection of a neighborhood through interviews with long-time residents, historical records and numerous photographs. O'Connor discusses and signs copies of Renaissance at 7 p.m. tonight at Left Bank Books (399 North Euclid Avenue; www.left-bank.com). Admission is free, but only books purchased through Left Bank will be signed.

2. Get a taste of pre-Hamilton Lin-Manuel Miranda
Last year, R-S Theatrics included a short musical by Lin-Manuel Miranda in its season-opening salvo of short plays. This year, the company goes all-out with a production of Miranda's first big hit, In the Heights. The musical covers three days in New York City's Washington Heights neighborhood, which is home to a close-knit Latino community. People fall in love, they question what they're doing with their lives, and momentous decisions are made about the future, all set to a backdrop of rap and salsa music. R-S Theatrics presents In the Heights at 8 p.m. Friday and Saturday and 7 p.m. Sunday (August 18 to September 3) at .Zack (3224 Locust Street; www.r-stheatrics.com). Tickets are $20 to $25.



3. Take a trip to the Fringe
The fringe festival paradigm was established in Edinburgh, Scotland, in 1947, but the format continues to be relevant. The idea is that a disparate assemblage of performing artists — be they dancers, actors, storytellers or musicians — gather to present a number of rapid-fire performances in a short amount of time. It may just be the perfect entertainment for our modern, short-attention-span lifestyles. This year's St. Louis Fringe Festival takes place Friday to Sunday (August 18 to 20) and Thursday to Saturday (24 to 26) in Grand Center (North Grand and Lindell boulevards; www.stlouisfringe.com). Acts include headliners ERA Theatre, Ashleyliane Dance Company and A Song for Vanya (a musical adaptation of Anton Chekhov's drama Uncle Vanya), but don't sleep on the undercard. Matthew Marcum brings Pollock: A Frequency Parable ($15), his avant-operatic performance about painter Jackson Pollock, to St. Louis from the San Francisco N.E.W. Festival; Tesseract Theatre Company debuts its one-woman show Hot for T-Rex ($15), which is about a brash writer of Dino-Erotica; and Same Difference Productions offers its instructional guide to living a normal life, Stop Bein' Weird ($15). Admission varies per show. If you're considering attending more than one show, take a look at the many bundle passes available, good for everything from a three-show student pass ($35) to the All-You-Can-Fringe pass ($150), which gets you into every performance.

4. Revisit a classic fairy tale
Union Avenue Opera closes its 2017 season with Hänsel und Gretel, the fairy tale opera composed by Engelbert Humperdinck (the nineteenth century German composer, not the English pop singer of the 1970s). It's directly inspired by the well-known folk story collected by the Brothers Grimm, which means it includes starving children, weird magic, an evil witch and a touch of murder. Among its other sterling qualities are a Dew Fairy, a heavenly host of protective angels and Humperdinck's deft incorporation of German folk music in the score. Union Avenue Opera presents Hänsel und Gretel in the original German with English supertitles at 8 p.m. Friday and Saturday (August 18 to 26) at the Union Avenue Christian Church (733 North Union Avenue; www.unionavenueopera.org). Tickets are $30 to $55.

5. Watch the old 'Birds play ball again
If you have fond memories of former St. Louis Cardinals player Fernando Tatis (he once hit two grand slams in the same inning, the only MLBer to ever do so), or still get a thrill of excitement thinking about John Tudor's indomitable run during the 1985 pennant race, you're in luck. The STL Legends Game features almost a full team of Cards legends taking on local celebrities and media personalities in a seven-inning game at 1 p.m. Saturday at the River City Rascals' CarShield Field (T.R. Hughes Boulevard and Tom Ginnever Avenue, O'Fallon, Missouri; www.rivercityrascals). Scheduled to join Tatis and Tudor are Jim Edmonds, Rick Ankiel, Brad Thompson, Kerry Robinson, Skip Schumaker and Jason Isringhausen. Tickets for the game are $20, and they're going fast.

6. Eat well, then eat some more
Back for its fourth year, the St. Louis World's Fare Heritage Festival hopes to surpass last year's record crowd, which was more than 25,000-people strong. The fest has a good shot at succeeding on that front, with an expanded entertainment lineup on two stages, a mixology challenge, a small armada of food trucks and more than twenty eateries on Restaurant Row, a large ramp with bike and skateboard demos, Paint Louis' graffiti wall and a children's area. There are even plans for a Ferris wheel this year. The St. Louis World's Fare Heritage Festival takes place from 5 to 10 p.m. Friday, and 11 a.m. to 10 p.m. Saturday and Sunday (August 18 to 20) at the World's Fair Pavilion in Forest Park (www.stlworldsfare.com). Admission is free, but bring money for concessions.

7. Celebrate black pride
St. Louis Black Pride celebrates Black Pride Weekend with a host of events this Friday through Sunday (August 18 to 20) at multiple locations. The opening reception takes place at 6:30 p.m. Friday at the Missouri History Museum (Lindell Boulevard and DeBaliviere Avenue), during which inspirational figures within the black LGBTQ community will be honored for their efforts to further the cause. Saturday is also Black Pride Day at Six Flags (4900 Six Flags Road, Pacific), with the official All White After Party beginning at 9 p.m. at the Blue Pearl (2336 Cherokee Street). Sunday is the big day, with an 11 a.m. brunch at Atomic Cowboy (4140 Manchester Avenue), followed by the Black Pride Festival at 1 p.m. Sunday at the intersection of South Sarah Street and Manchester Avenue. This year's festival includes three-on-three basketball, a Greek show, a line dance hour and a drag show. For information on all events, visit www.blackpridestl.org.

8. Watch the celestial dance
For the ultimate in free entertainment, you can't beat a solar eclipse. The moon's perpetual voyage around the Earth will pass between us and the sun on August 21, blocking out the light for almost two-and-a-half minutes across a large swath of America, hence the informal title of the "great American eclipse." The path of this eclipse will slice right through Missouri from the Northwest down to the Southeast, but will not be fully visible from Downtown, Midtown or most of the central counties. You need to head southwest to Union, DeSoto or Festus to experience the daytime dimming of the sun (which is called "totality"). The closer you get to these cities, the longer you'll be in darkness, which should arrive around 1:15 to 1:17 p.m., depending on location. Of course, you can't look up at the sun during this time for fear of eye damage, but there's an app for that; local libraries, Schnucks stores and numerous civic groups have been giving away eclipse safety glasses throughout the summer.

9. Watch for cats in the outfield
Last week was a weird one for the St. Louis Cardinals. Mired in a season-long slog, a cat ran through the outfield, mauled a groundsman and escaped — and just like that, the Cards came alive. It makes sense, right? Birds always become more alert and sharper when a cat appears nearby, and these Redbirds are now playing sharper baseball than they have in months. The resurgent Cardinals take on the San Diego Padres in a three-game series this week. Can the hometown team continue to rally? Will the team add a little kitty patch to the uniforms under the familiar birds 'n' bats if the Cards go all the way this year? If they start to falter, will Mike Matheny have a cougar thrown into the dugout to get 'em going again? Baseball is a weird game. First pitch for the San Diego series is at 7:15 p.m. Tuesday and Wednesday and 6:15 p.m. Thursday (August 22 to 24). Tickets are $8.90 to $210.