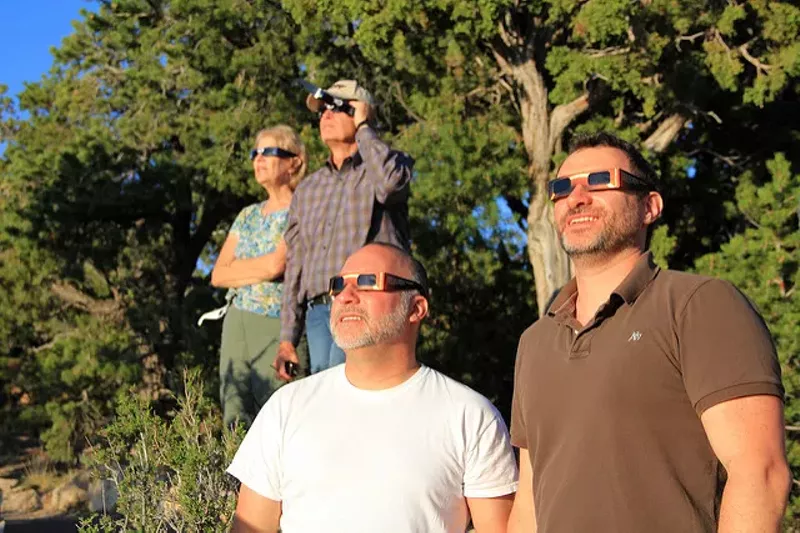 PHOTO COURTESY OF FLICKR/GRAND CANYON NATIONAL PARK
August 21's eclipse is a once-in-a-lifetime event for many Americans.
What are you doing next Monday, August 21, at 1:18 p.m.? If you answered "work," time to rethink that plan. The "Great American Eclipse" is a once-in-a-lifetime event — and the path of totality is only a short drive from St. Louis (see NASA's official maps for more detail).
Where to go? Depends on what you're looking for. Among the options below: A family-friendly music festival, an eclipse party with wolves, an eclipse party with wine and an eclipse party with birds. Unwilling to travel to the hinterlands, but still feel like a party? We've got options at Ballpark Village, Urban Chestnut and Three Sixty, among others.
Check out these twenty options, and then start working on your fake cough. Come next Monday, we have a feeling you're going to be way too sick to come to work.
Alton Eclipse Viewing Party
Live music from Mars Needs Guitars, live feed of the eclipse from NASA, telescope set up to safely see the big event, food trucks and other concessions and the Bubble Bus. Mon., Aug. 21, 11 a.m.-2 p.m., free admission. Alton Riverfront Amphitheater, 1 Henry St, Alton.
Darkening Of the Sun Festival
Three-night, four-day music Festival with more than 30 bands kicks off Friday, Saturday and Sunday leading up to the total solar eclipse on Monday. There will be food and drink vendors, swimming and many many more activities. Located in St. Clair, Missouri, this is a family-friendly event with the space and facilities to provide primitive camping spots for travelers from all over the Midwest. Darkening of the Sun gets two minutes and 40 seconds of totality (just two seconds less than the longest exposure in the entire country). Visit
www.facebook.com/DarkeningOfTheSun/
for more information. Hawk Arrow Springs, 479 Brush Creek Rd, St. Clair, Missouri. Mon., Aug. 21, 7 a.m.-6 p.m. $90 for Entire Weekend, includes camping, music, swimming, etc. 636-717-1747, www.DarkeningOfTheSun.com.
Eclipse Picnic & Play
Your organization/group is formally invited to experience nature's most amazing spectacle — a total eclipse of the sun — in a beautiful outdoor setting without leaving St. Louis County. Wyman Center's mission is to empower local teens towards successful lives supporting our communities. This once-in-a-lifetime natural viewing is a great opportunity to bring people together for a memorable experience at a scenic location. Don't wait to reserve your group. Space is limited. The property is private. Site visits by appointment only. Viewing includes glasses for viewing, lunch picnic or indoors. Mon., Aug. 21, 11 a.m. to 3 p.m., $30 per person, 636-549-1258, sales@experiencewyman.org, experiencewyman.org/quote/. The Wyman Center, 600 Kiwanis Drive, Eureka.
Endangered Eclipse
We know that wolves howl at the moon, but do they howl at a solar eclipse? Join us to find out on August 21 as we watch this phenomenon in the sky, listen for the wolves and then tour the Endangered Wolf Center for a peek at the animals and the facility. Special glasses will be given to each guest for safe viewing of the eclipse. Mon., Aug. 21, noon to 2 p.m., $15-$20. Endangered Wolf Center, 6750 Tyson Valley Road, Eureka, 636-938-5900.
Great American Eclipse Party at the Winery
Witness this once-in-a-lifetime total solar eclipse at the St. Jordan Creek Winery Eclipse Party. Its wine patio is in the middle of a fifteen-acre field with a beautiful view of the sky. The winery is on the Path of Totality on Monday, August 21 from 11:48 a.m. to 2:43 p.m. Total solar eclipse at 1:15 p.m. for an astonishing two minutes, 39.4 seconds. Monday, Aug. 21, 10:30 a.m. to 3:30 p.m., $35, 314-609-5488, www.stjordancreek.com. St. Jordan Creek Winery, 2829 US-50, Beaufort.
Magic House Solar Eclipse Viewing Party
Solar eclipse enthusiasts will have it made in the shade as they safely watch the moon pass between the sun and earth with a special pair of viewing glasses. The celebration will include a variety of sun-sational activities in the museum's front garden, including an out-of-this-world dance party. Mon., Aug. 21, 10 a.m.-2 p.m., free with regular admission. Magic House St Louis Children's Museum, 516 S. Kirkwood Road, Kirkwood, 314-822-8900.
Party in the Path - Eclipse Viewing
Don't wait another 488 years. The last total solar eclipse in the St. Louis area was in 1442, so reserve your spot at Innsbrook today for this once-in-a-lifetime event. Tables are available for groups of four or eight guests with prices ranging from $250 to $500. Make an afternoon of it and enjoy our Astronomer's Buffet while you view the eclipse lakeside (purchased separately). Viewing glasses included. Astronomer's Buffet served from 11:30 a.m. to 1:30 p.m. The buffet includes meal, eclipse-view seating and special viewing glasses. Adults $28, Kids ages four to eleven, $12. Mon., Aug. 21, 11 a.m.-2:30 p.m., 636-928-3366, www.innsbrook-resort.com/dining/events#eclipse. Innsbrook Resort, 1 Aspen Lake Dr, Wright City.
Solar Eclipse at World Bird Sanctuary
How will birds behave during this unusual solar event? Will the diurnal birds get sleepy? Will the owls get energized? This is a great opportunity to study the science of behavior in birds of prey, and also fabulous for a STEM project! Use the supplied 2017 Total Eclipse observation form to record both the sun and moon's interaction as well as the bird's reactions! Cost includes viewing glasses, live bird program, literature, a perfect view of the eclipse, photo ops with birds of prey and a STEM Worksheet to record your experience. Mon., Aug. 21, 9 a.m.-5 p.m. Free for WBS Members — $10 for adults, $5 for ages twelve and under, free for ages four and under, 636-225-4390, www.worldbirdsanctuary.org/events/eclipse2017/. World Bird Sanctuary, 125 Bald Eagle Ridge Road, Valley Park.
Solar Eclipse Camping and Viewing
The Fort Hill Ramrods are hosting a camping and viewing event for the August 21st solar eclipse. We're only four seconds off the maximum totality at 2min, 36sec. View the eclipse from your campsite while avoiding the traffic and city light pollution. Visit our website to reserve your spot today., Fort Hill Ramrods, 9401 Goldman Rd. Hillsboro, MO 63050 Mon., Aug. 21, 9 a.m., Campsite $45 per night Day pass $10 per person, 314-488-7928, www.hillsboroeclipse.com/.
Ballpark Village Solar Eclipse Party
Cardinals Nation, Budweiser Brew House and Fox Sports Midwest Live want you to see the eclipse and enjoy your lunch. $10 special gets you any burger and domestic draft. First 500 people get eclipse glasses. Fox Sports Midwest Live's roof will be open, weather permitting. Mon., Aug. 21, 12-3 p.m. Ballpark Village, 601 Clark Ave, St. Louis, 314-345-9481.
Solar Eclipse Rooftop Extravanganza
Watch the eclipse from the rooftop patio. Tickets include solar eclipse-themed buffet, lunar-themed cocktail, a commemorative enamel pin, photo booth and disposable viewing goggles. Must purchase tickets in advance. Mon., Aug. 21, 11:30 a.m.-2:30 p.m., $35. Moonrise Hotel, 6177 Delmar Blvd., St. Louis, 314-721-1111.
Solar Eclipse Party Weekend
Music Saturday, Sunday and Monday, food truck all weekend. Special concert Saturday night in the old barn. Ian Fisher will play from 7 to 10 p.m. Winery will be open for tastings and beer and wine purchase. Camping available. Watertower Winery, 11373 State Route M. Ste. Genevieve. Mon., Aug. 21, 12-6 p.m., 573-880-3887, watertowerwinery@gmail.com.
Waterloo Solarbration
On August 21, spectators from across the nation will gather to witness the Total Solar Eclipse. This rare and wondrous spectacle will be seen from coast to coast, but only if you are within the path of totality. We are having a viewing party so the community to come together and have an out-of-this-world celebration. You won't want to miss it., Monroe County Fairgrounds, 4177 Illinois Route 156 Mon., Aug. 21, 10 a.m.-3 p.m., 618-939-8600, sdeutch@waterloo.il.us, www.facebook.com/WaterlooILSolarbration.
360 Solar Eclipse Lunch
View day turn into night in seconds — 26 floors up. On Monday, August 21 starting at 11:30 a.m., Three Sixty will host a buffet lunch and swag bag complete with viewing glasses. Then at 1:18 p.m., view the first Eclipse in St. Louis since 1442. The next St. Louis Eclipse isn't until 2505 so don't miss out on this amazing event. (Note: Three Sixty does not fall into the line of the total eclipse.) Mon., Aug. 21, 11:30 a.m.-1:30 p.m., $25 Per Person plus tax and gratuity, 314-241-8439, abrda@360-stl.com, www.360-stl.com/events/. Three Sixty St. Louis, 1 S. Broadway, St. Louis.
Total Eclipse at the Arch
Schnucks and the Gateway Arch Park Foundation celebrate the solar eclipse with food trucks and special solar eclipse cookies at the Gateway Arch. Pick up your eclipse-safe viewing glasses at any neighborhood Schnucks before you head downtown. Mon., Aug. 21, 12-2 p.m., nourish.schnucks.com/totaleclipse/. Luther Ely Smith Square, N 4th St and Market St, St. Louis.
Total Eclipse of the Farm
Bring a picnic to the rooftop farm and watch the solar eclipse at this benefit for Urban Harvest STL. NASA-approved viewing glasses included in ticket price. Mon., Aug. 21, 12:30-2 p.m., $10. Food Roof Farm, 1335 Convention Plaza, St. Louis, 314-810-6770.
Total Solar Eclipse at the Cell
Total Coverage on this site lasts for two minutes, 1:16 to 1:18 p.m. Experience the total solar eclipse from the highest publicly accessible point in St. Charles County with 360 degree panoramic views. Registration guarantees parking and viewing from the top of the site's 41-acre disposal cell. Show up anytime to enjoy the eclipse with science, nature, and solar educational activities. Visitors are encouraged to bring a lunch (alcohol not permitted) to picnic indoor or outdoors. Mon., Aug. 21, 11 a.m.-3 p.m., Free, 636-300-2601, WSInterpretiveCenter@lm.doe.gov, www.lm.doe.gov/Weldon/Interpretive_Center. Weldon Spring Site, 7295 Highway 94 South.
Totality Solar Eclipse Viewing
Witness the Great American Solar Eclipse while listening to Eclipse, the ultimate Journey tribute band. Concessions available on food truck row, with a bar, vendors, games, a photo booth and more. Mon., Aug. 21, 10 a.m.-3 p.m., $20-$25, www.totalitymo2017.com/. Chesterfield Amphitheater, 631 Veterans Place Drive, Chesterfield.
Urban Chestnut's Solar Eclipse Party
Urban Chestnut will have the grills going, cold UCBC cans, live music and a limited number of viewing glasses. Arrive before 1 p.m. for the best view. Mon., Aug. 21, 12-3 p.m. Urban Chestnut Brewing Company, 4465 Manchester Ave, St. Louis, 314-222-0143.