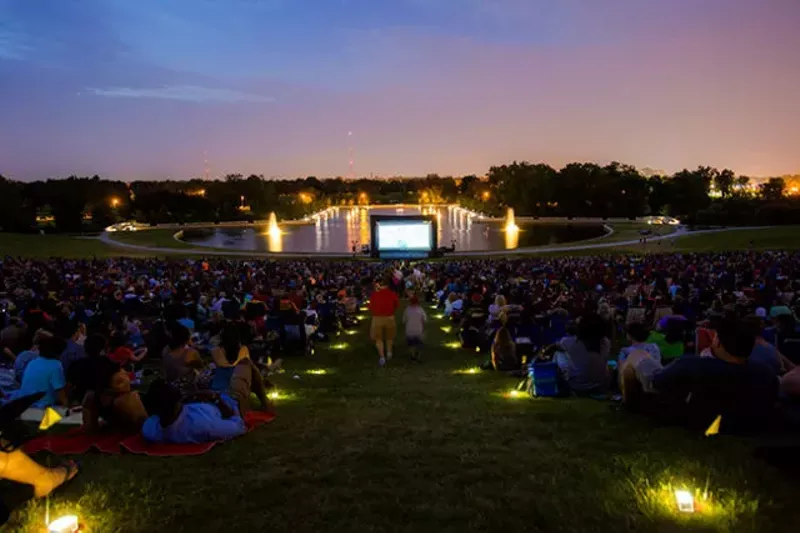 Photo courtesy of the Saint Louis Art Museum.
Another free movie is coming to Art Hill this weekend.
And just like
that
, it's August. Where did this summer go? It raced by so quickly I forgot to go outside. What's it like out there? Are people still the same, with their funny ways?
Wow, that was a weird personal crisis. It's fine. I'm fine. I'm certainly not losing my marbles.
Anyway, don't make my mistakes. Get out there and live this summer to its fullest, dammit, starting...
now
!
1. See a beautiful musical about love and human contact.
Billy and Julie are a star-crossed couple in small-town Maine. He works as a barker at the town's carousel, and she's a mill worker. But he's fired when he defends Julie and mocks his boss, and she loses her job for being on the streets late at night with Billy (1873 was tough on women). The two are soon married and expecting a child, but things aren't going well — Billy expresses his frustrations about being out of work as violence toward Julie. In desperate straits, he agrees to commit a robbery, even though murder is the likely outcome. Rodgers & Hammerstein's
Carousel
is a haunting musical in more ways than one. Its presentation of the afterlife, of a man who can't get along with anyone, and of the ramifications of closing yourself off from the human race will stick with you long after the show is over. Union Avenue Opera presents
Carousel
at 8 p.m. Friday and Saturday (July 28 to August 5) at the Union Avenue Christian Church (733 North Union Boulevard;
www.unionavenueopera.org
). Tickets are $32 to $55.



2. Enjoy a classic Hollywood film under the stars.

The Saint Louis Art Museum (
www.slam.org
) has gone mad for fashion — perhaps you've noticed. With an ongoing exhibition about the Paris millinery trade's influence on Degas and Mucha's art, and another that explores the work of modern haute couture hat designer Stephen Jones, the museum has clothing on the brain. That thread is further worked in this year's Art Hill Film Series, with four films that feature Academy Award-nominated and -winning fashion. At 8:30 p.m. Friday, July 28, you can see Alfred Hitchcock's
To Catch a Thief
. This 1955 classic stars Cary Grant as John Robie, a retired jewel thief who now lives peacefully on the French Riviera. Grace Kelly plays opposite Grant as Frances Stevens, a young beauty with a fabulous jewel collection. When a rash of high-profile thefts are pinned on Robie, he and Frances team up to trap the culprit in the act. Food trucks and concession stands will be set up at the top of the hill and ready for business from 6 to 8:30 p.m., and local bands will play while you eat. Admission is free.

3. Experience a smaller, friendlier kind of comic convention.
S
an Diego Comic Con is the big daddy of all cons, but that doesn't mean it's right for everyone. If you're looking for something a little bit more manageable (not to mention closer to home), the
Comic Con at Central Library
has what you need. From 10 a.m. to 4 p.m. Saturday, July 29, at the Central Branch of the St. Louis Public Library (1301 Olive Street;
www.slpl.org
) you can sample virtual reality, take pictures with Voltron, make pop-culture projects in Star Clipper's Craft Corner and even go to a con-within-the-con at PokéCon Central. Seoul Taco, Gioia's Deli and Kona Ice's food trucks will be parked near the Olive Street entrance to deal with your hunger pangs, and the Shake Ups perform music inspired by
Steven Universe
during the lunch hour. Comic Con at Central Library is an all-ages event, and admission is free.

4. Don't miss your last chance to see Mamma.

The Fox Theatre (527 North Grand Boulevard;
www.fabulousfox.com
) has apparently hosted Benny Andersson and Björn Ulvaeus'
Mamma Mia!
more times than any other city during the show's fifteen-year tour. But this weekend is the last time the touring production will play its home away from home — at least for the foreseeable future. Can you live happily without seeing the musical one last time? Could Sophie live happily ever after without knowing who her father was? Of course not. "Take a Chance" on
Mamma Mia!
one more time. Performances are at 7:30 p.m. Friday, 2 and 7:30 p.m. Saturday and 1 and 6:30 p.m. Sunday (July 28 to 30). Tickets are $39 to $115.

MAMMA MIA! Farewell Tour 2016 by Kevin Thomas Garcia
Mamma lived her life the way she wanted.
5. Watch two-wheeled warriors race along the knife edge of Fate.
We know, we know: You haven't watched a bicycle race since Lance Armstrong was exposed as a cheat. But hear us out. There's a huge difference between watching a bike race on TV and standing on a sidewalk as a knot of 41 hard-charging cyclists throw themselves into a sharp corner just inches away from you.
The Grove Criterium
is a challenging 1.2-mile course with six turns that takes cyclists through and around the Grove neighborhood. In fact, the race starts and ends in front of Urban Chestnut Brewing Company (4465 Manchester Avenue;
www.thegrovecrit.com
). Imagine spending a warm summer day observing athletes in peak physical condition compete for your amusement — while you drink beer and enjoy Urban Chestnut's amazing french fries. Nice, right? Races start with the Juniors division at 10 a.m. Sunday, July 30, and continue all day until the Men's Pro racers take the course at 3:45 p.m. Admission is free for spectators.

6. Understand that dancers gotta dance.

Seventeen dancers have survived the audition, but the toughest round — the final cut — is still to come. All of the remaining dancers are desperate to book this job, but the director's strange line of questioning gives them pause. He wants each of them to share something personal, even though they're all auditioning for the chorus line, where their individuality will be masked by identical costumes and dance steps.
A Chorus Line
reveals the people behind the sparkling costumes and shows the passion that drives them to be the best — even if it requires them to disappear into the ensemble.
A Chorus Line
returns to the Muny in Forest Park (
www.muny.org
) for a one-week run. Performances start at 8:15 p.m. Saturday through Friday (July 29 to August 4). Tickets are $15 to $95.

7. Appreciate the go-go insanity of Russ Meyer's directorial vision.

Writer/director Russ Meyer captured something primal in his 1965 flop-turned-cult-favorite,
Faster, Pussycat! Kill! Kill!
Three go-go dancers (Tura Satana, Haji and Lori Williams) commit crimes and race through the desert in a Porsche in search of thrills. When they encounter a young couple on a date, they kill the man and kidnap the girl, taking her deeper into the wasteland in search of a rumored hidden stash of cash. Local film fanatic Tom Stockman hosts the Webster Film Series' screening of
Faster, Pussycat!
at 8 p.m. Wednesday, August 2, at the Schlafly Bottleworks (7260 Southwest Avenue, Maplewood;
www.webster.edu/film-series
). After the film, Stockman will share his 2008 interview with Tura Satana, which he conducted on-stage at the Way Out Club shortly before her death. A selection of Stockman's Russ Meyer and Tura Satana memorabilia will also be on display. Tickets for this extravaganza of cleavage and carnage are $5.