Photo courtesy of Flickr / Aaron Carlson
Free admission to the Missouri Botanical Gardens? Yes, please.
We doubt we're the only ones who aren't enjoying St. Louis' visit to the surface of the sun this week. But while it's tempting to hide in your basement until more desirable weather comes, you'd miss out on all the fine events coming up in St. Louis.
Here's everything that should be on your radar when you venture out of the house this week.
1. We could learn about the first mugshots, a St. Louis invention
Photography was in its infancy in the middle years of the nineteenth century when the St. Louis Police Department started making portraits of suspected criminals. But these were not the front and side shots we know today; they were carefully posed photos that often showed people sitting in chairs or standing. Captivated by these images, author Shayne Davidson began tracking down information about the suspects and their history. The result is
Captured and Exposed: The First Police Rogues' Gallery in America
, an interactive eBook produced with the Missouri History Museum Press. Davidson visits the Missouri History Museum (Lindell Boulevard and DeBaliviere Avenue;
www.mohistory.org
) at 7 p.m. Thursday, July 20, to discuss the book and its fascinating subjects. Admission is free.
2. Catch a free play
Will Eno's play Title and Deed is about a man who isn't from around here. A wanderer who keeps moving on in hope of changing his outlook, he's a philosopher who raises more questions than he answers. Midnight Company recently wrapped up a stellar version of the show with Joe Hanrahan in the lead (and only) role. Hanrahan steps into the character one more time at 7:30 p.m. Thursday, July 20, at Strauss Park (Washington Avenue and North Grand Boulevard; www.midnightcompany.com) as part of the ongoing Arts Alive series. If you missed it, or if you saw it and wanted to see it again, now's your chance. Admission is free, so bring a friend.
3. Go enjoy a musical with songs by Dolly Parton
Violet is the sort of hard-working employee most bosses would love to have. Unfortunately she works directly under Franklin Hart, a chauvinist who is never going to appreciate her skills or promote her. Meanwhile, newly divorced Judy has rejoined the workforce after a lengthy gap. She learns that the technology has outpaced her, even with excellent mentoring from colleague Violet. And then there's Doralee, Hart's busty personal secretary and, according to him, devoted love slave. These three working gals quickly realize that many of their problems would be solved if the boss was out of the way — and so they hatch a scheme to get him out of the picture. The 1980 film 9 to 5 was a surprise hit thanks to its fizzy feminist approach and wish fulfillment plot. Original star Dolly Parton adapted it into a musical with screenwriter Patricia Resnick (she co-wrote the film); Parton handles the music and lyrics, and Resnick the book. Stages St. Louis continues its season with 9 to 5 The Musical. Performances take place Tuesday through Sunday (July 21 to August 20) at the Robert G. Reim Theatre (111 South Geyer Road, Kirkwood; www.stagesstlouis.org). Tickets are $47 to $63.
4. Might we consider talking 'bout Shaft?
There's a mob war brewing between the white Mafia and the black gang headed by Bumpy Jonas, and no one in Manhattan knows why — except for private eye John Shaft. He's been hired by Bumpy to find the gang boss' kidnapped daughter, and now the police and the mob are on Shaft's case. What they didn't count on is that Shaft is a man who can take care of himself. Gordon Park's seminal 1971 blaxploitation film Shaft has a solid story, a terrific leading man in Richard Roundtree and that pulsating soundtrack by Isaac Hayes. Set all that against the grimy backdrop of '70s New York, and you have the perfect crime flick. The Tivoli's Reel Late film series presents Shaft at 11:55 p.m. Friday and Saturday (July 21 and 22) at the Landmark Tivoli Theatre (6350 Delmar Boulevard, University City; www.landmarktheatres.com). Tickets are $8.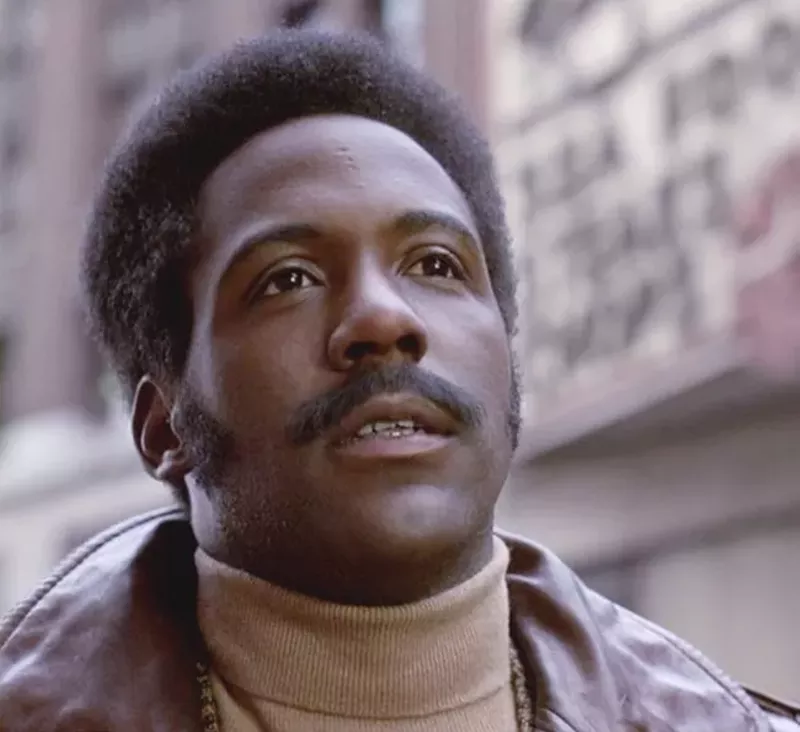 (c) Metro-Goldwyn-Mayer
John Shaft (Richard Roundtree) is the hero we need.
5. The Titanic will sink again, but not a hardscrabble Missouri gal
Meredith Willson's The Unsinkable Molly Brown has been a crowd pleaser since its debut in 1960. Margaret "Molly" Brown comes from humble beginnings in Hannibal, Missouri, but pledges to find a rich husband and live the high life. Her quest takes her to a Colorado boom town, the palaces of Europe and a fateful trip on the Titanic, but she won't be dissuaded. The Muny's new production of the show combines songs of both stage and film versions, and the plot has been "significantly" altered, with other Willson songs added as needed. The result is a new take on an old favorite, but no matter the changes, Molly is still going to refuse to give up or give in. The Muny presents The Unsinkable Molly Brown at 8:15 p.m. Friday through Thursday (July 21 to 27) at the Muny in Forest Park (www.muny.org). Tickets are $15 to $95.
6. Celebrate like magical nerd-wizards
Harry Potter is a foreign national who belongs to a secret society that believes in magic — and trains its students at an insanely dangerous institution that fosters warring factions within its walls. And yet somehow J.K. Rowling's blockbuster book series is filed under "young adult." Regardless of genre, the books remain wildly popular with the young and the young at heart. It's the latter who will get dressed up in their Hogwarts best for A Very Potter Party. The Budweiser Brew House in Ballpark Village (601 Clark Avenue; www.stlballparkvillage.com) offers drink specials on Unicorn Blood, Butterbeer and themed shots, as well as the chance to win HP swag (drop your name in the "goblet of fire" to enter). The party starts 8 p.m. Friday, July 21, and admission is free. This is a 21-and-older event.
7. Think about tomorrow, today
French director Mélanie Laurent began thinking more and more about the future after the birth of her first child. With scientists predicting various ecological calamities in the not-so-distant future, what sort of world will tomorrow's children inherit? Joining friend and fellow activist Cyril Dion, Laurent sought out groups of people attempting to make small-scale changes in their communities. Their journey took them to ten countries from India to Finland, where they met people making real-world advances in food production, education and democracy. Their resulting film, Tomorrow, offers hope for the future and a reminder that the power to change will always rest with the people, not their governments. The Webster Film Series presents Tomorrow at 8 p.m. Friday through Tuesday (July 21 to 25) at Webster University's Moore Auditorium (470 East Lockwood Avenue; www.webster.edu/film-series). Tickets are $5 to $7.
8. Remember that immigrants built America
Englishman Henry Shaw arrived in St. Louis in 1819, hoping to go into the hardware business. The rapid economic growth of the city during those years helped him amass a small fortune and more than 1,000 acres of land. Today Shaw's country home is the renowned Missouri Botanical Garden (4344 Shaw Boulevard; www.mobot.org), a public garden and scientific institute. On Monday, July 24, the garden celebrates the 217th birthday of its illustrious founder with free admission and festivities from 10 a.m. to 3 p.m. There will be stilt walkers, a silhouette artist and marionette shows. Guests can also tour Tower Grove House, which was once Shaw's remote country home.
9. Combine St. Louis' passion with the passion of the Darth
The St. Louis Cardinals are hovering around .500, and nobody can snap them out of it. Maybe they should try using the Force? The Wednesday, July 26, game against the Colorado Rockies is also Star Wars Night at the ballpark, so perhaps some helpful Jedi will pull some strings. Various characters from the Star Wars universe will be hanging around the stadium, and fans who buy the special promotional ticket will get a voucher good for a unique Star Wars/Cardinals t-shirt. Those promotional tickets are $22.90 to $127.90, with a portion of the price going to Stand Up 2 Cancer. First pitch is scheduled for 7:15 p.m., and the game is, as always, at Busch Stadium (Broadway and Poplar Street; www.stlcardinals.com).