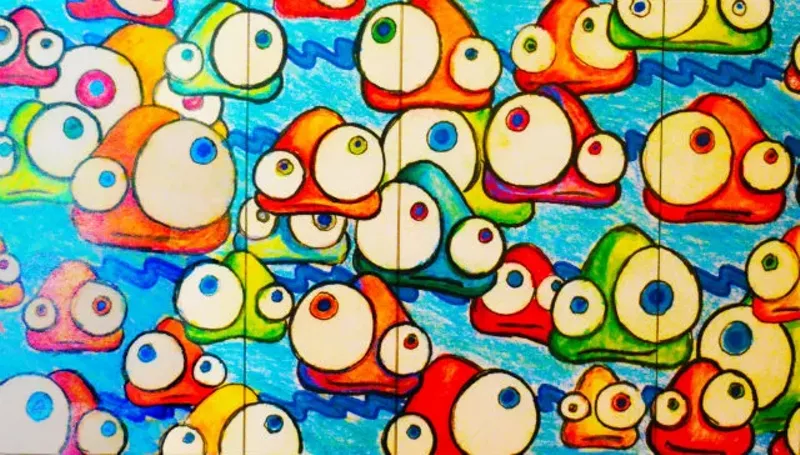 Photo courtesy of Liz Sharpe-Taylor
Nelson Perez's submission will adorn a utility box at Olive and Hanley. The artist wanted to make "faces of different colors creating an image that is joyful and humorous."
University City hopes that driving down Olive Boulevard will be like "driving through an art gallery," thanks in part to a new public art project.
Judy Prange, executive director for the nonprofit
U City in Bloom
, uses that phrase to describe her group's ongoing efforts — and particularly a project commissioning ten artists to paint utility boxes on the street, which will begin in the coming weeks.
Prange got the idea after speaking with the community development office of the city of Manchester, which had completed a similar project.
"They're almost like canvases waiting to be painted," Prange says of the utility boxes. "They're these great big boxes out there that are pretty ugly, so this seemed like a good idea."'
Prange knew she wanted the boxes to have art, but she wasn't sure what theme the art should take. Upon consulting the rest of the Olive Beautification Committee, they came up with a theme that was, she says, "so perfect for the area": diversity.
Photo courtesy of Liz Sharpe-Taylor
Stephanie Gobby Thomas' submission will be painted on a utility box at Olive and Kingsland.
"That particular part of University City has a tremendous amount of range when it comes to diversity in businesses," says Liz Sharpe-Taylor, the public relations representative for University City. "This project is one of those ways to capture people's eyes so they see, 'Oh there is a Ugandan restaurant here, there is a Vietnamese restaurant here, there is a Japanese restaurant here.' It's one of those ways to pull in people so they can see that there's a lot of great places to shop and eat on Olive Boulevard and there's a lot of culture there."
Artists sent in more than 60 submissions of diversity-themed work. Then, a panel of judges comprised of city officials, organization representatives and businesses owners selected the winners.
In addition, the gallery of submissions was open to the public, which voted on a "people's choice" submission.
Photo courtesy of Liz Sharpe-Taylor
"People's Choice" winner Kim Kissinger Marino will see her art displayed at Olive and 82nd Street.
Eventually, ten artists were commissioned to start painting their work by the end of this month, thanks to a $10,000 budget dedicated to the beautification of the area. Each artist will receive $800 for his or her piece; another $200 per box goes to priming it and sealing the paint.
The new installation echoes similar projects like the placement of cakes around city locations to
celebrate St. Louis' 250th birthday
and
colorful pianos
throughout the Loop as part of Make Music Day. However, unlike those temporary installments, the painted utility boxes on Olive are here to stay.
"This is along the same efforts to use unique, diversity-minded pieces that can capture all of the different kinds of ethnicities and ethnic businesses in the area," Sharpe-Taylor says.
The area known within U. City as the Olive Link has drawn concern from city officials lately. One reason the project was chosen for the street is that U. City officials felt the area had been neglected. Though it features unique restaurants, stores and businesses, Sharpe-Taylor doesn't believe enough people stop to enjoy them.
"It gets overlooked because Olive is not as developed, and it doesn't gain as much attention as the Loop," Sharpe-Taylor says. "I think the business community wanted something that really made their real estate area pop and draw attention because Olive Boulevard gets a lot of traffic."
Brand-new planters and beautified bus shelters have also been part of U. City in Bloom's efforts for the street.
Sharpe-Taylor agrees that the paintings will speak to the community in a new way. She believes the art represents the true values of the city.
"This part of St. Louis, specifically this part of U. City, is doing a lot to make sure that people know you can come here and you can have a business," Sharpe-Taylor says. "We're here to support you and we welcome all, and that's what the artwork is supposed to tie into – that kind of effort."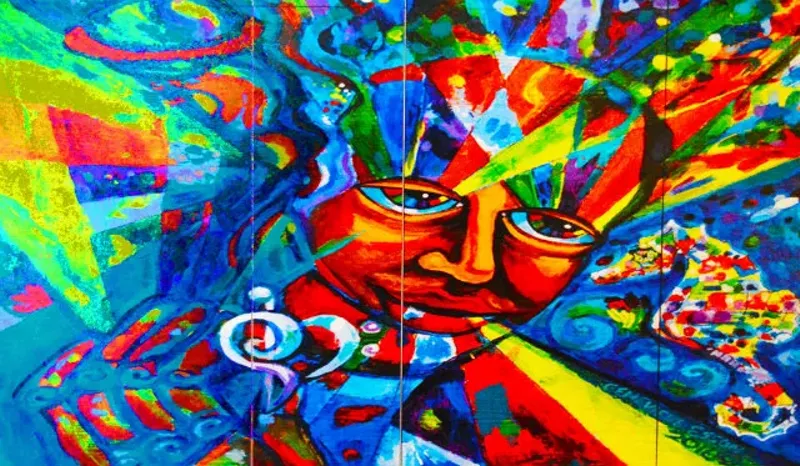 Photo courtesy of Liz Sharpe-Taylor
This piece by Genevieve Esson will be displayed on a box at Olive and Ferguson.