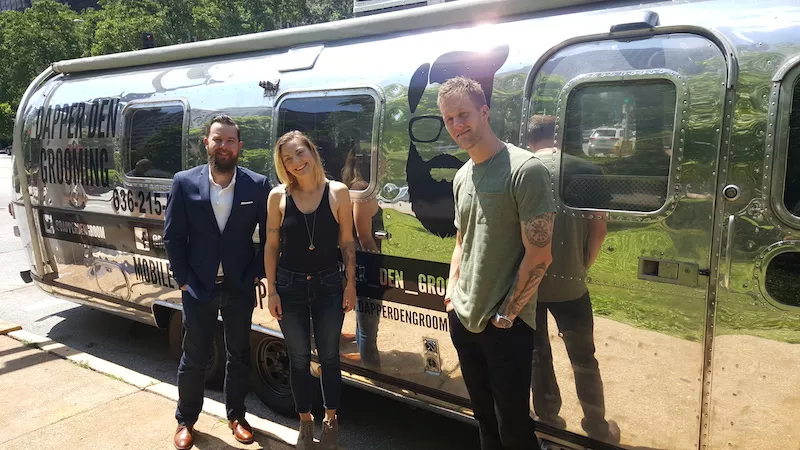 Allison Babka
From left, Dapper Den's co-owner and product developer Jesse Goins, stylist Cali Spencer and co-owner and barber Frankie Petrillo.
St. Louis boasts plenty of mobile services these days — food trucks, clothing stores, even
luxury restrooms
. But neither the city nor the state of Missouri has had a full-service barber shop on wheels ... until now.
"I'll have my windows down and just hear people talk about it as we drive through. It's really neat," laughs Jesse Goins, 35, who co-owns Dapper Den Grooming with his cousin Frankie Petrillo. "As we sit here, we can watch people stop and take photos all day long."
A gleaming 1977 Airstream certainly stands out. Over almost two years, owners Goins and Petrillo completely refurbished the vehicle into Dapper Den's grooming space, which feels simultaneously modern and classic. Dark hand-cut wood lines the shop from floor to ceiling, and crank chairs that are 75 to 100 years old sit next to a counter fashioned from the walnut of a turn-of-the-century Kentucky church.
Outside, Goins and Petrillo transformed the Airstream's dull aluminum into the shiny, futuristic surface from its glory days, thanks to heavy-duty polishing and tips from a few airline experts.
Those experts came with serious pedigrees.
"They even polished Jimmy Buffett's and Ellen DeGeneres' Airstreams! They really knew what they were doing," says Petrillo, 27. "We were surprised at the time they took out of their day. For hours, they would FaceTime with [Jesse] telling him what to do and how to do it."
The Airstream isn't only for kicks, though. The business it houses offers classic haircuts, beard shaping, straight-razor shaves, full-head shaves and more — although only when the vehicle is parked. Goins also has developed a line of organic beard oils and balms, and Dapper Den sells lathering brushes that are handmade by Goins' father.
Allison Babka
Jesse Goins, Frankie Petrillo and Cali Spencer relax in Dapper Den Grooming's barber chairs that are nearly 100 years old.

"We wanted to bring back the feel of the old-time barber shop. There's a lot of barber shops that just get you in, cut your hair, and then get you out," Goins says. "I remember going to the barber with my father, and there was a line of older gentlemen there. You felt proud to get up in the chair and get your hair cut. You hopped down and you felt like a million bucks. With the modern-day chains, that's been lost, and we wanted to bring that back."

Pulling off Missouri's first-ever barber shop on wheels was far from easy. First, Petrillo, who had previously owned a landscape architecture business, went back to school to become licensed as a barber. Next, rules about where mobile businesses can park or operate vary throughout the St. Louis region, so the co-owners talked to leaders of multiple municipalities about how they might legally serve clients. Finally, they had to involve the Missouri State Board of Cosmetology and Barber examiners to ensure that Dapper Den was following proper regulations — something they couldn't prove until the shop was built because nobody had attempted it before.

"We would have to completely renovate it and meet all the requirements for an everyday, brick-and-mortar barber shop. After we did that, they would inspect it and tell us whether or not we passed," Goins says. "But then they definitely got it once they could physically come see it, look at it and experience it. They were just blown away."

The result is a mobile business that literally stops traffic. Goins and Petrillo say that police officers recently were so startled by the sight of an Airstream advertising barber services that the patrol halted two lanes of traffic to learn more about Dapper Den.


"They kept inching me over and inching me over, and finally I just stopped in the middle of the road because I didn't know what to do," Petrillo laughs. "They pulled up and were like, 'Hey this is awesome! What do you do? Can we have some cards? What services do you guys provide?' It was kind of funny."

Dapper Den Grooming makes frequent stops in downtown St. Louis and throughout south county, and Goins and Petrillo expect to offer more locations soon. The Airstream is available for regular services as well as groom's parties and special events. Learn more at dapperdengrooming.com or on Facebook.


COURTESY OF DAPPER DEN GROOMING