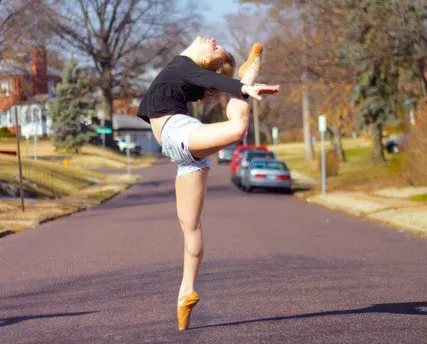 MEAGAN LEIGH PHOTOGRAPHY
Rain Stippec is now walking again, friend say, after a February shooting in Soulard.
In the early morning hours of February 6, Rain Stippec was sitting with a 30-year-old fire department captain in his car in Soulard when a gunman open fire on them. The ambush attack left the 26-year-old Stippec, a talented dancer and Webster University graduate, in critical condition. She's been fighting her way back ever since.
Now the St. Louis arts community is stepping in to raise money to support Stippec's recovery — and spread awareness through art about violence in St. Louis — with a brand-new arts festival.
Known as the CommUNITY Arts Festival, the event will take place from Thursday to Sunday over two weekends, from August 31 through September 10. Intended to be annual, the festival will feature speakers, performances and classes across various disciplines, including dance, theater, poetry, yoga and more at Satori Theater
(3003 Locust St., 314-652-3003)
in Midtown, as well as Webster University.
The CommUNITY Arts Festival is the brainchild of Paige Walden-Johnson, who is also a dancer and friends with Stippec. She and her husband, Marcus, already had approval earlier this year from Satori Theater for a dance performance, which they intended to do as a couple. But when Stippec was shot, things changed.
"We said, 'Well, we have the space, let's use it for something more than just ourselves,'" says Johnson. Initially, they intended just to bring a couple friends together for a performance — but it eventually grew into a full-blown festival, spearheaded by a group of six local artists.
"Most of what Paige has kind of coined as the 'dream team' working behind the scenes to coordinate a lot of this are mostly classmates of Rain's from Webster University where she was a dance major and a lot of us were dance and theater majors as well," says Carly Niehaus, one of the festival coordinators, who is herself a dancer and friends with Stippec. "So this is kind of like the perfect venue and way for us to come to together and benefit our dance classmate and friend through this artistry, this way of feeling, and kind of bringing everyone together through that medium."
"Even though it's a very sad event, it has brought a lot of people back together," Walden-Johnson adds. And that's how she wanted the festival to be — not its own entity, but a collaboration.
The group is in the process of solidifying all the activities and official schedule. However, the festival will include a drum circle with
the Angel Band Project
, which uses music as a source of healing for rape victims; a workshop based on Theater of the Oppressed, a technique that uses theater exercises to address social justice issues; classes with
Dandelion Yoga
; and a banner painting workshop. A speaker from UMSL is also slated to address the topic of stress management.
In addition, four instructors, including Marcus Walden-Johnson, will be teaching contemporary, jazz, musical theater and hip hop dance classes at a Young Artists Workshop at the Loretto-Hilton Center, Jean and Wells Hobler Center for Dance and Gary Hubler Dance Lounge at Webster University. Various live performances are also planned throughout each weekend.
The CommUNITY Arts Festival aims to give the St. Louis arts community a platform to address violent crime in the city, which the organization notes in its mission statement as a barrier to obtaining and keeping audience members. Walden-Johnson wants the festival to be an opportunity to educate the community on violence and its prevalence in St. Louis, as well as to break stereotypes.
"After Rain was shot, I definitely was more hyper-aware of what is going on in the community, and getting to know all the organizations and listening to some of their talk backs, and I learned a lot," she says. She notes, for example, how she learned that domestic violence victims are often treated as if they were asking for it. Walden-Johnson says she wants the festival to educate the public about such issues "so they are able to know and really take action instead of just going through their daily lives and not really understanding that it is a constant battle every day for some communities here."
As for Stippec, a pair of brothers — James and Ryan Hartman, both of St. Louis —
have been charged in the attack against her
. Charges are still pending in circuit court.
Stippec still has ups and downs, Walden-Johnson says, but she is home and she is walking. She also recently made an appearance at her dance students' recital.
"She is one of the strongest people I have ever met," Walden-Johnson says.
All proceeds from the performances and Young Artists Workshops will go toward Stippec's recovery. Tickets are $20 for performances, and registration for the Young Artists Workshop includes four classes, a t-shirt, lunch and a Q&A with the instructors for $147. For tickets and more information, visit
communityartsfestival.com
and
facebook.com/commUnityArtsFestivalSTL
.