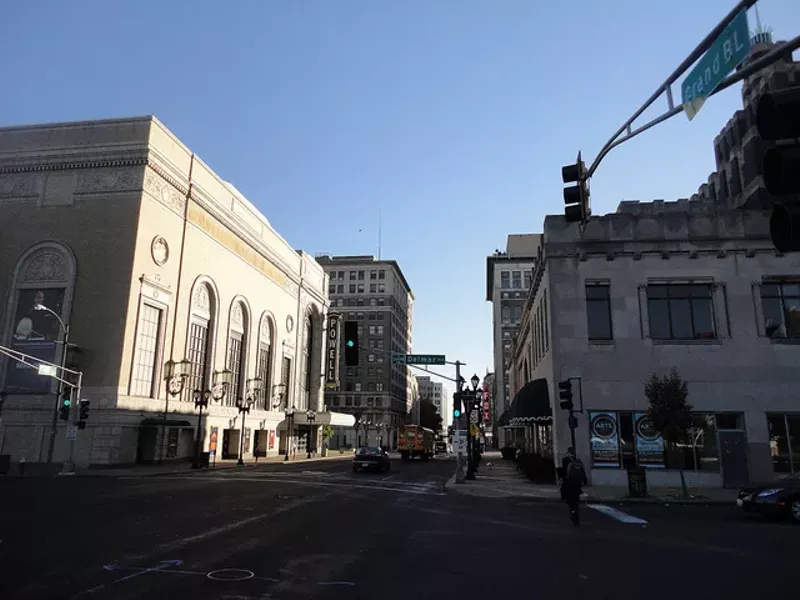 PHOTO COURTESY OF FLICKR/PAUL SABLEMAN
Grand Center recently hosted a theatre crawl — but most of the city missed it.
A few months ago, I saw a production of
Hamlet
as part of Shake38, a St. Louis-only fest of Shakespeare's 38 plays performed all over the city. The organizers don't tell you much going in, so all I knew that night was to go to Wash Ave's Urban Chestnut at 10 p.m. Even though the bartender didn't know what I was talking about, I got a beer and went outside. Sitting at three of those long, Oktoberfest-style tables were a whole bunch of theatre people.
If you know theatre people, you know what I mean when I call them that. If you don't, then you're missing out. They're gay, in the happy sense. Sometimes they smoke cigarettes. Mostly, they're very enthusiastic. I did a few plays in high school and once stayed up all night with the new friends I'd made, listening to Belle and Sebastian and waiting for a donut shop to open (with them, this didn't seem unusual). Theatre people will approach you. They'll remember your name. They'll get together and read a 400 (+) year-old play, on a spring night, at a bar on the edge of downtown, with no charge, for your viewing pleasure.
Except you weren't there. Not many people were. There were twenty or so characters in this
Hamlet
, making the cast larger than the audience. A great play plus beer minus any sort of ticket price should not equal an audience that could fit into my tiny apartment. But that's what happened.
It happened again at last weekend's Grand Center Theatre Crawl. Between Spring and Compton, along Washington and Olive, 24 local theatre companies put on 24 short plays, and I didn't see 'em all, but I probably saw more than you. Afterward, one of the event's organizers reported that attendance hovered right above 1,000, and though she left me with the impression that she was pleased with the number, there should have been more. We're talking about a free event on a holiday weekend with great weather. For a major American city, 1,000 seems low.
Most of what I saw was special to the fest, but guess what? All of it was put on by local theatre companies, and you can see what they're up to, even if you can't see the specific show you missed last weekend.
Theatre Nuevo
put on a time-flying history of Mexico that was funny, insightful and wall-shattering in a way only contemporary art can touch.
TLT Productions
performed a rap/dance/beautifully sung musical, which had a mostly old/white audience moving in their seats, clapping real loud, and (believe it or not, possibly) thinking about race.
STL Opera Collectiv
e did its take on
A Streetcar Named Desire
and took advantage of every opportunity to belt out Mrs. Kowalski's name with full operatic gusto. And Joe Hanrahan, a guy who should have his name on one of those stars in the Loop, killed in a self-penned, marathon piece he performed (with another actor) six times in three hours for two days.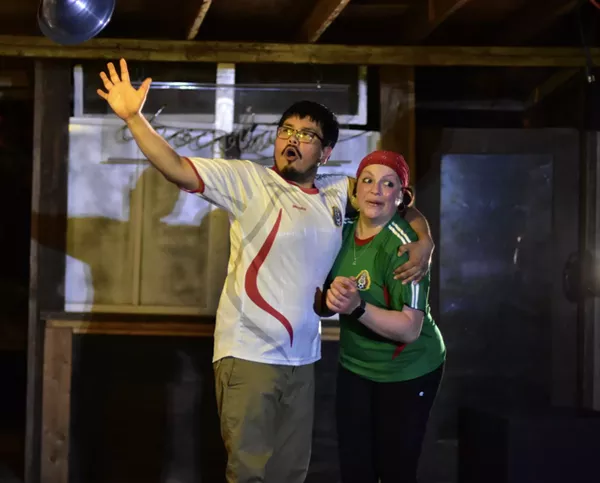 MIKE SNODDERLY
Theatre Nuevo's show last weekend suggested they are a company to watch.
But then, also, and holy bejesus, there was a company called
ERA
. I don't even want to tell you about their play, because maybe it sounds dumb.
Snow White
. But it's far from Disney, and closer to Godard. With a live soundtrack from a keyboard and guitar, they were dangerously good. It was the youngest production I saw (and that includes a one act performed by high schoolers), the hippest (without being disingenuously repulsive), and the only one I liked enough to see twice. I'll see it again when they next perform August 18 at the Grandel Theatre.
Their Saturday afternoon show was at the Barnett, and afterward, I went next door to the Urban Chestnut where a lot of people were sitting around having a good time, some of them throwing little circular things into other circular things, and the sight of all of them 50 feet away from something they probably would have enjoyed just sort of bummed me out. I went over and talked to an actor whose play I'd seen earlier that day, and we talked for a while about how great this city is, its beauty and its potential, and then he said, "The worst part about St. Louis is St. Louisans."
I laughed, but what he was getting at was an inferiority complex that keeps people from realizing how great we've got it. He talked about county people driving in for the Cards, or the Blues, for the Muny, or the Fox, or
The Winter's Tale
in the park, and how people who live in this city go to that stuff, too, without realizing that, within this little leaf of ours, there is world-class theatre, almost every week of the year. (There's great music and all sorts of other jazz too, but let's just talk about theatre for now.) St. Louis has an embarrassment of riches, and it's embarrassing to see so many empty seats.
At that same bar, way back in April, watching those young actors read one of English's greatest works made the future in some ways right there in front of us. But if the future of theatre in this city continues to include audiences as small as the one that night — well, actually, those actors will probably keep doing it. That's another thing I like about theatre people.
You may be thinking
I've got kids
, or
I'm tired
, or
I'm broke
, or
I've got world-class entertainment on my phone
, and to all that I'll say,
Fine
. But I'll also say this: Sitting in a theatre, or wherever, and watching a play, or whatever, is a pretty good use of your time. Funny, sad, thought-provoking, all that and more, it'll strengthen your imagination, the most human of muscles capable of drawing forth the ghost of a king and building just a little more empathy between you and everyone else outside your head. Some people commit their lives to this, and all they want to do is give you something special.
You should consider taking it.
Chris Colgin is a writer who didn't go to high school in St. Louis. This is his second year in town, and you can reach him at chriscolgin@gmail.com.