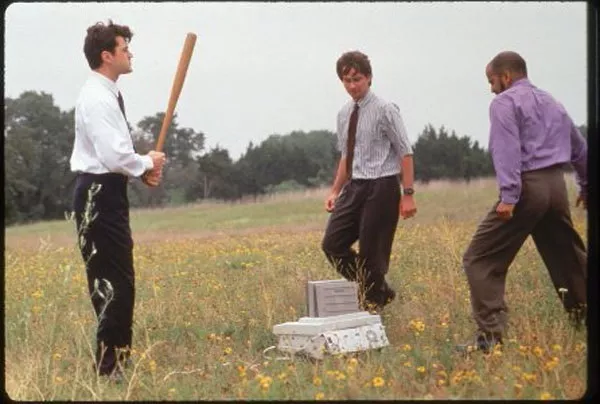 © 1999 Twentieth Century Fox
The office boys execute their enemy.
It's Fourth of July weekend, which means some of you lucky people are heading into a four-day weekend. I don't understand why we don't celebrate Independence Day with a quad-weekend every year — it's what the founding fathers would have wanted. Let's work on establishing "four for the Fourth" in time for next year. This year, however, you have lots of options to fill the upcoming days. If you're looking for fireworks — 'tis the season —
head over here
.
1. Hang out with the Lady Parts Justice League
It's no secret that Missouri's legislators enjoy rescinding the rights of women, minorities and the poor. That's why the Lady Parts Justice League has leaped into action. The collective gathers comics and writers and sends them out on the road to help raise awareness of attacks on reproductive rights and other social injustices in cities hard-hit by repressive laws, through stand-up comedy and improv. The group then goes one step beyond by inviting health clinic workers and community activists to the show, giving them the opportunity to speak directly with a crowd of people who want to help but may not know how best to do so. The Lady Parts Justice League brings their
Vagical History Tour
to Blueberry Hill's Duck Room (6504 Delmar Boulevard, University City;
www.blueberryhill.com
) for a 7:30 p.m. show Thursday, June 29. Performers include Lizz Winstead (co-founder of the LPJL and co-creator of
The Daily Show
), Joyelle Johnson, Leah Bonnema and the Upright Citizens Brigade company Buzz Off, Lucille. Tickets are $15 to $20.
2. Sample the bounty of St. Louis' theatrical community
St. Louis' theater scene is strong enough that you can see thought-provoking and entertaining work almost every weekend of the year. But only one weekend offers three months' worth of shows in a single shot. The
Grand Center Theatre Crawl
gathers 24 companies and then lets you loose on them. Each company will perform a short work from 6:30 to 9:30 p.m. Friday and 1 to 4 p.m. Saturday (June 30 to July 1) at various venues in Grand Center. To ensure everybody doesn't lump up at the same show, you need to register through
www.stlpublicradio.org
. You'll then be emailed a starting venue; once the first show ends, you're free to ramble through Grand Center, catching plays as you can. Admission is free; participating companies include Upstream Theater, That Uppity Theatre Company and Theatre Nuevo, which will be performing "The History of Mexicans in 10 Minutes."
3. Rage against the machines with Michael Bolton
Mike Judge struck a nerve with his second film,
Office Space
. The 1999 film captures the mind-numbing insanity of the middle management chain of command, the button-down thinking of corporate problem solvers and the annoying habits of testy office equipment. Pete Gibbons is an office drone who's being killed by his job. He goes to a hypnotherapist to assuage some of his stress, but the doctor dies halfway through the session, leaving him in a state of permanent relaxation. His new casual attitude allows him to blow off work so well that he's bumped up to management. When he learns his friends Samir and Michael Bolton are marked for downsizing, he hatches a scheme to get rich before cashing out. Who weeps for the office drones?
Office Space
weeps for thee. The cult classic screens at 11:55 p.m. Friday and Saturday (June 30 and July 1) at the Landmark Tivoli Theatre (6350 Delmar Boulevard, University City;
www.landmarktheatres.com
) as part of the Reel Late movie series. Tickets are $8.
4. Never get asked "What are those?" again
Sneakerheads and the shoe-curious will descend on the Old Post Office (815 Olive Street) from noon to 5 p.m. Saturday, July 1, for the third installment of the
Show Me Kicks Expo
. This sneaker conference brings together dealers and collectors to buy, sell and trade high performance and higher style athletic shoes. If there's a pair of vintage Jordans that you outgrew and wish you could get back, this might be your best chance to find them. Tickets for the Show Me Kicks Expo are $12 to $20; visit
www.showmekicks.com
for advance tickets and more information.
5. Gorge yourself on baseball
Have you ever wanted to undertake a baseball road trip, traveling from stadium to stadium and making summer memories? The only thing holding you back is the expense and your own lack of time. Well, in St. Louis you can live out your dream of fields without breaking the bank or bankrupting your vacation days. Every summer the River City Rascals and the Gateway Grizzlies play a home-and-home series, and since they're minor league teams, tickets are affordable enough that you can bring the family. The Rascals host the Grizzlies at 6:35 p.m. Friday and Saturday (June 30 and July 1) at CarShield Field (TR Hughes Boulevard and Tom Ginnever Avenue, O'Fallon;
www.rivercityrascals.com
), and Friday just so happens to be Rick Ankiel bobblehead night. The two teams face off again at 6:35 p.m. Sunday, July 2, at the Grizzlies' GCS Ballpark (2301 Grizzlie Bear Boulevard, Sauget, Illinois;
www.gatewaygrizzlies.com
). That Sunday night in Sauget is All-American Weekend, so the kids get to run the bases after the game, and there will be fireworks. Tickets for Rascals' home games are $5 to $25; Grizzlies' tickets are $6 to $45. Those higher-end prices are for multiple people to attend, by the way. If you want to go for the trifecta, you could hit Busch Stadium on Monday and Tuesday (July 3 and 4), and see the St. Louis Cardinals take on the Florida Marlins; tickets start at $10.90. Do you have it in you to visit three ballparks in four days? You're a St. Louisan; you probably do.
Corey Woodruff
The Heritage and Freedom Fest is in full swing this Sunday to Tuesday.
6. Head over to the big birthday bash
Like a mighty red, white and blue phoenix,
Fair St. Louis
rises once again from the heart of Forest Park (
www.fairsaintlouis.org
) to thrill the city and celebrate Independence Day. This year's Fair St. Louis takes advantage of the holiday weekend to spread over four days. The 135th VP Parade starts at 9:30 a.m. at the intersection of Broadway and Market streets in downtown St. Louis. The Fair proper starts at 1 p.m. Sunday, 4 p.m. Monday and 1 p.m. Tuesday (July 2 to 4), with family-friendly entertainment in the Purina/Ameren Festival Zone, zip lines and human slingshot rides, a fairway and an interactive zone. Music headliners are Akon (Sunday), 3 Doors Down (Monday) and Jake Owen (Tuesday), with fireworks starting at 9:35 p.m. Sunday and Tuesday and at 10 p.m. sharp Monday. As always, admission to Fair St. Louis is free.
7. Party at the other big birthday bash
Are you Fourth-of-July'd out yet? You'd better not be, because O'Fallon's
Heritage & Freedom Fest
is going strong. The annual celebration of America's birthday, rock & roll and fireworks takes place from 2 to 10 p.m. Sunday, 2 to 11 p.m. Monday and noon to 10 p.m. Tuesday (July 2 to 4) at the Ozzie Smith Sports Complex (900 T.R. Hughes Boulevard, O'Fallon;
www.heritageandfreedomfest.com
), and it is jam-packed with patriotic fun. Sunday is family night, with no concerts or fireworks but plenty of entertainment in the form of carnival rides, a Midway full of games, a bungee trampoline and the Bubble Bus. Monday and Tuesday bring everything Sunday had plus fireworks (at 10:15 and 9:30 p.m., respectively), and concerts by Creedence Clearwater Revisited and World Classic Rockers, which features former members of Steppenwolf, Santana and Journey. Admission is free, although there is a nominal fee for the carnival ride tickets.
8. Take in a comedy classic
The Muny has been a tradition for 99 years, outlasting such previous St. Louis favorites as the jitterbug, the horse-drawn carriage and American League baseball (sorry, Brownies fans). The last of its double-digit seasons features seven musicals, and the cream of the crop just might be
A Funny Thing Happened on the Way to the Forum
. This modern take on ancient Roman farces has music and lyrics by Stephen Sondheim (he's pretty good) and a book by Burt Shevelove and Larry Gelbart (both quite talented themselves). It's a fast-paced and quick-witted show about Pseudolus, a slave who wishes to buy his freedom, and his young master Hero, a love-struck youth. The pair set off on a quest to fulfill each other's dreams, only to get entangled in a never-ending series of mistaken identities and bungled schemes. It's the perfect entertainment for a night under the stars, in the much-cooler-than-you think Muny (those newish fans make a huge difference).
A Funny Thing Happened on the Way to the Forum
takes place at 8:15 p.m. Wednesday through Tuesday (July 5 to 11) at the Muny in Forest Park (1 Theatre Drive,
www.muny.org
). Tickets are $15 to $95, but you can also watch the show for free from select seats.
9. Plumb the depths of cinema
The 1993 film
Super Mario Bros.
is reviled by its stars and critics. And yet because of the profound love people have for the video game that inspired it, the live-action film still maintains a devoted following. Bob Hoskins and John Leguizamo star as brothers Mario and Luigi, who are New York-based plumbers. When they uncover a parallel world populated by highly-evolved dinosaurs, they get sucked into a fight to defend their world from a saurian incursion masterminded by the evil King Koopa (Dennis Hopper). It's kind of a mess, but a lovable mess. Keep your eyes open for psychobilly rocker Mojo Nixon as Toad, a protest singer, and Sonic Youth's original drummer Richard Edson as one of King Koopa's henchmen, Spike. The Webster Film Series presents
Super Mario Bros.
as this month's Strange Brew offering. You can catch it at 8 p.m. tonight at the Schlafly Bottleworks (7260 Southwest Boulevard, Maplewood;
www.webster.edu/film-series
). Tickets are $5.