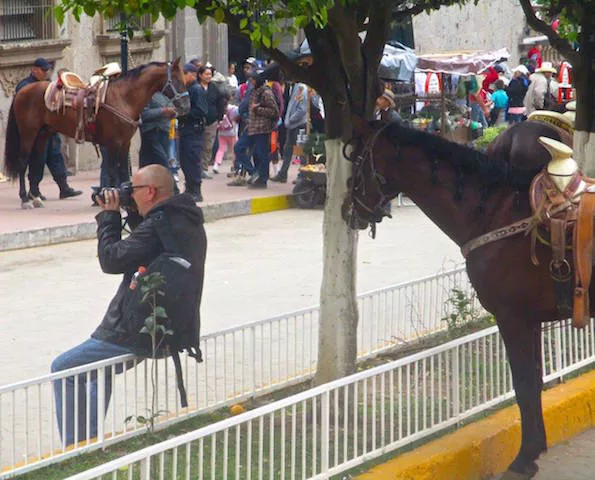 PHOTO BY CRAIG DOWNS
Steve Truesdell getting his shot in March 2016 in Talpa de Allende, Mexico.
Steve Truesdell died on Saturday. He was 55 years old and had suffered a stroke in the early hours of the morning. In the late afternoon, following surgery to remove a massive blood clot, he died at St. Anthony's Medical Center.
For years, Steve was the
RFT
's go-to photographer, the guy who covered everything from police tear-gassing protesters in Ferguson to portraits of rising political stars to gritty burlesque shows. Just three weeks ago, he shot
our cover story about Cherokee Street's attempt to grapple with crime
— and scored the cover with a striking, unposed image of a local rehabber wielding a giant mallet. Any other photographer assigned to shoot the neighborhood's power players might have glimpsed that D.I.Y. construction effort out of the corner of his eye and kept walking. Steve knew to slow down.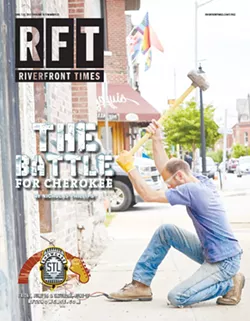 Everyone at the
RFT
has a Steve Truesdell story — but the bizarre thing about these stories is that, even in a profession that by nature is gossipy and hypercritical, not one includes the slightest hint of unpleasantness. He was kind to everyone — story subjects, editors and interns alike — and never less than 100 percent professional.
His commercial work paid the bills, but he took on many
RFT
assignments because he loved the work and loved connecting with people. Allison Babka, the
RFT
's then-digital editor, recalls that she already had a few photographers lined up to cover the unrest in Ferguson in its early days, but Steve decided to go anyway. He wanted to be there — and then he sent her hundreds of photos, with no concern for whether the paper could pay him. He'd go back again, he told her.
And in November, he did, returning to chronicle the night of Darren Wilson's grand jury decision. The result was
a series of gripping images of a community at war
.
PHOTO BY STEVE TRUESDELL
Truesdell captured this image on the ground in Ferguson.
Steve's enthusiasm shone through even on low-profile shoots. He'd regularly send us a zip file of photos of Circus Flora. "Use them if you want," he'd say, his polite way of saying he knew we couldn't afford to pay for the gallery. And they were
always, unfailingly, gorgeous
.
Unlike a lot of great shooters, he didn't hide behind his lens. Many photographers hate event coverage (or consider themselves too good for it). Never Steve. He loved shooting
concerts
,
raves
,
crazy hippie festivals in the middle of nowhere
. "The more weird people, the happier Steve was," Babka says.
But even stiff people didn't bother him. We knew we could put him on any story and he'd break through his subjects' hostility or discomfort with unflagging good humor. We all loved him.
PHOTO BY STEVE TRUESDELL
Only Steve Truesdell could shoot a rave in a cave and have it not suck — as in this 2014 photo from the Crystal City Underground.
And of course we weren't the only ones. A native of Webster Groves (class of 1980), Steve left behind a beloved wife, Krystal Phillips, and a family — her three grown children, whom he adored as his own, and six grandchildren, whom he doted on. He also had two sisters, a brother, countless friends and a daughter from his first marriage, Mae, who lives in Canada.
One of his closest bonds was with Erika Johnson. When they met through mutual friends in the late 1990s, Johnson, who is adopted, was struggling to deal with rejection from her biological brother. When Steve first saw her, she recalls, she was sitting in a hot tub by herself, crying.
Of course he asked what was wrong. She told him the whole story, finishing, "All I wanted was a big brother who was proud of me."
"I'll be your big brother," Steve promised. And from that point on, he was — in the best sense of the word. They even lived on different floors of the same building for six years, sharing meals, confidences, video games and endless horror movies. He was a punk rock guy and she was jazz, but they learned from each other.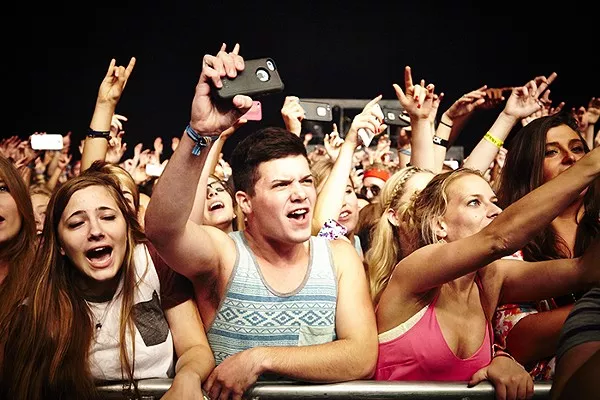 PHOTO BY STEVE TRUESDELL
LouFest. Of course he loved to shoot LouFest.
"He was the best big brother ever," Johnson says. "If a little girl ever dreamed of what a big brother would be — someone who was strong, who was talented, who was brave — it would be Steve."
When the pair met, Steve had been grappling with the fallout from a nasty divorce. He dated, Johnson says, but he wasn't sure he could ever love again. Then he met Phillips, a language arts teacher at Eureka High School. "That's when I saw a different side of my big brother," Johnson says. "I was like, 'Oh my God, my big brother loves somebody, finally!'"
Phillips' children — Tony Riley, Aly Shead and Hannah Wheeler — loved him right back.
PHOTO BY STEVE TRUESDELL
Steve took this shot at the Contemporary Art Museum in 2014 during what could have been a routine event slideshow.
"Steve saw beauty in the unique," says Riley. "He understood that there is no 'black and white' and lived in the gray. He believed in the freedom of speech. He fought the establishment. And he said 'fuck the man.' He loved us dearly for who we are. We love him for who he was."
The only lingering sadness in his life, Johnson recalls, was related to his biological daughter. He tried to write to her, but she returned his letters unsent. He'd send gifts, but she wouldn't accept them. "It hurt him," Johnson says. "He always wanted to fix that .... I need to make sure she knows how much he loved her from the depth of his soul."
It is Johnson who took the stark black and white image of Truesdell smoking that was circulated widely on social media after his passing. It is an unusual image — strikingly glamorous for a man who didn't like to have his photograph taken, and a brooding pose from a man who was always wonderfully warm.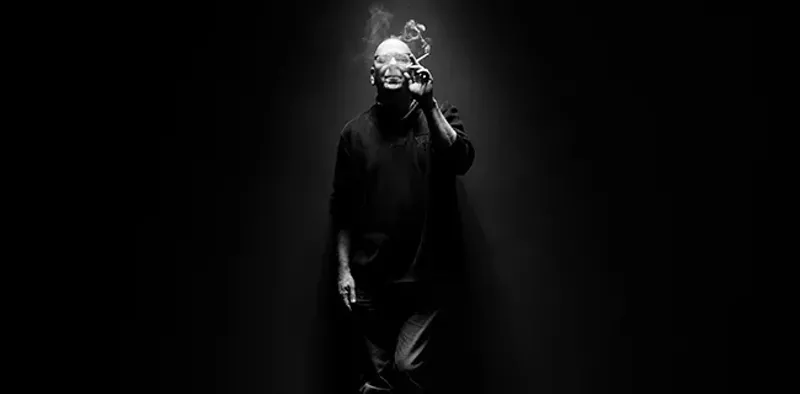 PHOTO COURTESY OF ERIKA JOHNSON
A rare shot of Steve in front of the camera, as he showed his "little sister" how to pose.
But Johnson says there is a simple explanation for the shot. He was photographing her, and he struck the pose to demonstrate what he wanted her to do. She snapped a few photos, and then it was her turn.
Johnson jokes about how Steve left this earth in "true punk rock fashion" — "fuck that, I'm out of here!" Still, there is some comfort for his family and friends in knowing that he didn't suffer long, even if the speed of his departure has shaken them.
"He was there and present and his best self before the collapse, and then almost instantly he was gone," his brother Jeff, a fellow journalist, wrote on Facebook.
Those who know him best probably won't remember Steve as the smoky, intense figure in the stunning portrait that resulted from his session with Johnson. They will instead remember him by the photos he took.
"All of us look out on the world, and we see whatever we see," recalls Jeff Truesdell. "But we can see what Steve saw. He left us with this vast archive of the world as he saw it. And now we can look at the world through his lens. There's still that element of having him present. And I find that moving."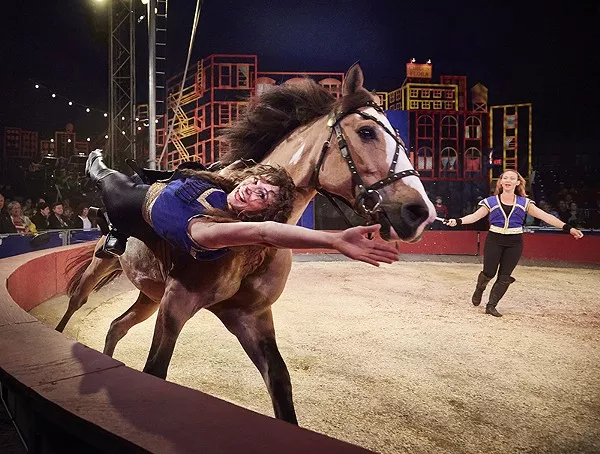 PHOTO BY STEVE TRUESDELL
Steve was at his finest at Circus Flora.
Sarah Fenske is the editor in chief of the Riverfront Times. You can reach her by email at sarah.fenske@riverfronttimes.com