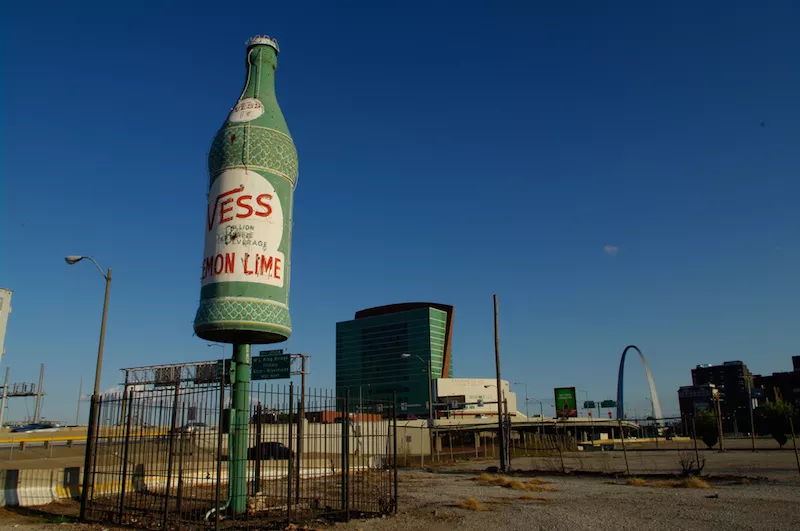 There's nothing like an ice-cold Vess Whistle Orange — or any of the brand's nearly twenty other flavors — on a warm summer day. For many St. Louisans who grew up drinking the stuff, popping that soda can tab and hearing the fizz evokes hardcore nostalgia.
But some folks now are worried that their favorite soda is tainted with the taste of racism, misogyny and homophobia, thanks to an unfortunate association with a controversial Vess fan — a man with a history that includes defending the use of racial and homophobic slurs and making jokes about rape.
On Instagram, local comedian Anthony Rogers recently posted a photo of himself holding a can of Black Cherry Vess. Rogers tells the
RFT
that Vess is his favorite soda, and he's been drinking the brand "since I was a little kid."
"My grandfather used to buy them for me," Rogers says.
The Vess brand, which is manufactured in St. Louis and was locally owned until 1994, when it was purchased by Cott Beverages, frequently uses its own social media accounts to repost photos of fans enjoying its beverages. On June 5, Vess did just that, sharing Rogers' photo on its Facebook and Instagram properties, as shown in the screenshot below:
"This was just one of many pieces of repurposed user-generated content that we use to connect with communities," says Jason Sorvillo, vice president of marketing at Cott Beverages. "Fans share their photos with our brands, and we get their permission to post them."
But Rogers is no ordinary Vess fan. The comedian generated national controversy in August 2014 for a piece he wrote for Thought Catalog,
"Ferguson, Missouri Looks Like A Rap Video"
— an article
Gawker dubbed
"the dumbest thing that's been written about Michael Brown and the aftermath of his death so far." Rogers kicked off the piece by observing "Michael Brown was doing hood rat shit with his friends" and continued in that vein long enough for Gawker to conclude, "Thought Catalog is now a white supremacist publication."
Writing for Funnyordie.com in 2015, Rogers fantasized about
the first things he'd do as a time traveler
: Tell the Nazis where Anne Frank was hiding and "hit Marilyn Monroe with a shovel and drag her back to 2015 and rape her behind a tree."
In addition, a number of Rogers' social media posts — some of which have since been deleted — are insensitive at best, if not flat-out offensive. One example is the screenshot below, taken from Rogers' fan page on Facebook last year.
Warning: coarse language ahead.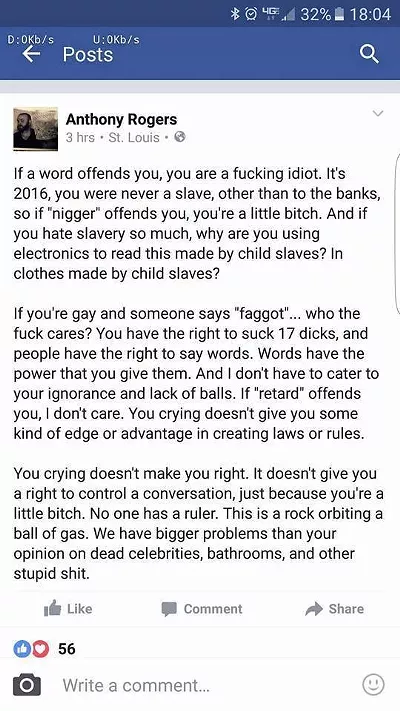 Rogers tells the
RFT
that he doesn't agree with the notion that comedians — or anyone — should watch their words, no matter the topic.
"I think if you can get past the 'naughty' buzzwords, it's a great argument," Rogers says of his post in the screenshot above. "Whoever submitted that took that screenshot within the few hours that was online and has had that for a while. Which shows the power of words, and maybe they'll one day understand the message beneath words that offended them."
A number of regional and national venues have declined or canceled Rogers' shows over the years because of controversial posts and language, as shown in the next screenshot featuring a Facebook conversation between Rogers and a venue in Columbia, Missouri:
The RFT obtained the screenshots from sources who wish to remain anonymous. Rogers confirmed that they are legitimate.
Sorvillo says that Vess' owner, Cott Beverages, did not have an official partnership with Rogers, and the brand has since removed photos of him from Vess' Facebook and Instagram accounts. Sorvillo also tells the
RFT
that Cott is working with its agency marketing partners to formalize a vetting process that social media managers will use before sharing fan photos in the future.
"Consumers also have alerted us to things Rogers has said," Sorvillo says. "The things he has posted do not align in any way with what Cott Beverages values."
Will St. Louis soda fans care about what's happened between Vess and the comedian? For some brands, a situation like this one might not grab the attention of consumers; for other brands, they could develop into a crisis situation. Cathy Dunkin, a lecturer in management communication at Washington University's Olin Business School, tells the
RFT
that preparing well is often the key to avoiding such controversies in the first place.
"The most important thing when you're going to do any campaign whether traditional or social is to plan carefully, think about who the spokespeople are going to be — the ones designated by the company as well as fans — and be ready for things that might happen where you would have to respond to protect the reputation of your brand," says Dunkin, who has spent 30 years in reputation management. "That would include the messaging as well as what kind of response you would use, where you would use it and who would speak for you online and in person."
But despite the controversy surrounding his Vess endorsement, Rogers says that venues don't back out of his comedy shows these days. He insists that he is not racist, misogynistic or anti-LGBT.
"I think race, religion, sexual preference, gender and even down to sports teams are just used as methods to divide the human race and oneness of God," Rogers says.
Vess recently celebrated its 100th anniversary and has been featuring its "St. Louis Made" video series on its social media accounts. The company frequently shares photos of its products alongside other popular local brands like STL Style and Old Vienna's Red Hot Riplets — which on May 23 posted a photo of Rogers eating the spicy potato chips to Facebook, shown below. And as with Vess, Rogers' Riplets photo has been deleted.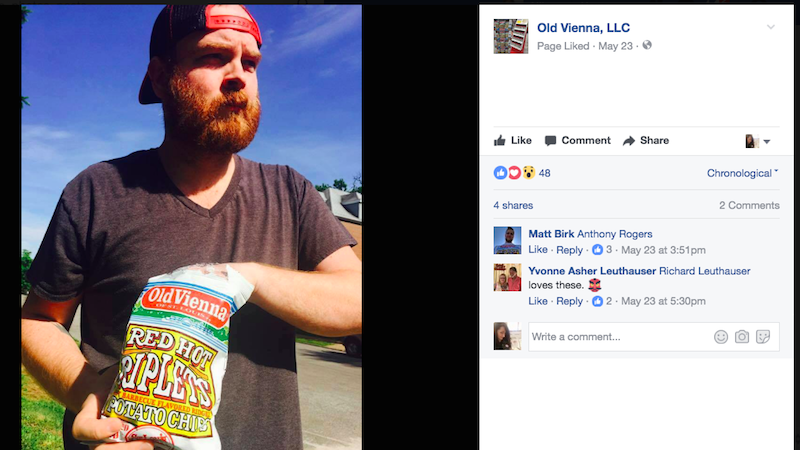 Old Vienna LLC, via Facebook
Email Allison Babka at allison.babka@gmail.com or follow her on Twitter @AMBabka.