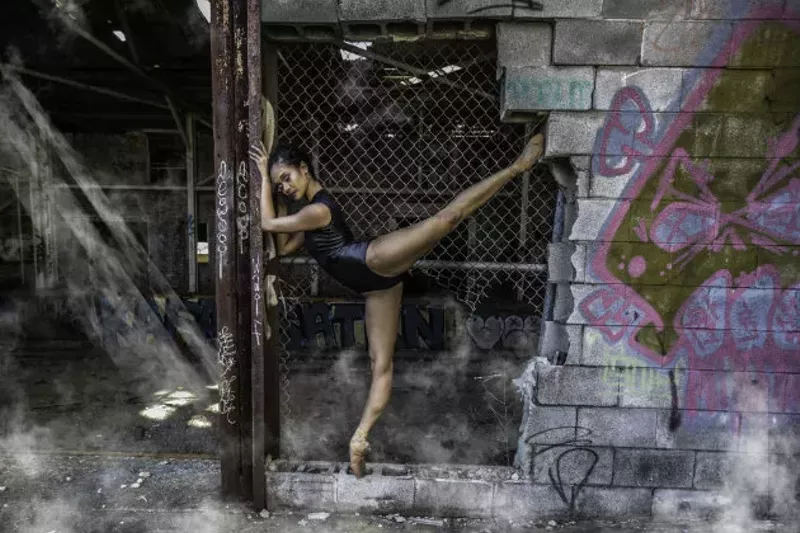 PHOTO BY BILL SIMMERS
Kimberley Ho-Tsai of Collage Dance Collective.
Dance lovers, this is your weekend.
Dance St. Louis is presenting three days full of dance this Memorial Day weekend as part of its annual Spring to Dance Festival. More than 30 companies are gathering at the Touhill Performing Arts Center
(1 University Blvd., 866-516-4949)
to perform everything from ballet, tap and jazz to contemporary, African and aerial dance.
This weekend also marks a significant milestone for Spring to Dance — the festival's tenth year. It will include some performers of note, including Joffrey Ballet's Fabrice Camels, the tallest ballet dancer in the world, as well as Emmy Award-winning tap dancer Jason Samuels. The lineup is noticeably diverse, featuring an even mix of premiere and emerging companies from St. Louis and around the country.
One of those companies is Memphis-based Collage Dance Collective, which has made headlines for breaking barriers in the dance world. The predominantly black company aims to make ballet accessible to everyone, both by providing opportunities for classically trained dancers of color on a professional stage and providing dance education to all students regardless of background. Nearly 50 percent of the people who attend Collage Dance Collective shows have never previously been to a ballet performance.
For its first-ever performance at Spring to Dance, scheduled for Friday, Collage Dance Collective is performing "Lineage," a contemporary ballet piece with a hint of hip-hop inspiration. You'll see the mood and music start out slow with dim lighting, then gradually build up to a fast, upbeat, bright climax. It is a true crowd-pleaser that embraces dance for its own sake, though rehearsal director and dancer Brandye Lee notes that Collage Dance Collective also creates dance that follows a storyline — and always strives to incorporate African culture and history in its work.
"With our company, we seek to present works that are relevant to our community, and so a lot of our work is narrative-driven, but we really seek to touch our audiences with emotionally charged work at times," says Lee. "And then we also have pieces like 'Lineage,' which are just bright and fun and just tap into the way that we move as people of African descent."
The company's eight members have backgrounds that vary greatly: they range in age from 19 to 38, some are biracial and some are native French speakers.
"I think it's important when we're talking about black people, especially in this day in age, people love to put everyone in the same box. But the reality is, even within our small group, we have a lot of diversity," Lee says. "And if it weren't for the company, we wouldn't necessarily cross paths because we're each very different from each other, and I think that's what makes it such a beautiful representation of what black people look like, which is not what you would necessarily expect."
Photo by Sarah Ruth Bernhardt.
Leverage Dance Theater.
Spring to Dance also features St. Louis dance companies that are no less thrilling. One such company is Leverage Dance Theater, which creates contemporary modern pieces for particular environments — an art gallery, say, or a storefront or an empty school. In this weekend's case, the Touhill will be the setting — but rather than keep audience members in their seats, Leverage plans to lead them out of the Lee Theater. Dance will progress amid the crowd along the hall and down the grand staircase.
"Just by changing the rules by which the audience is watching the show, I think it causes your perspective to shift, and we invite [audience members] to physically move during the performance, to literally shift their perspective at any point," artistic director Diana Barrios says. "And just where you stand, you'll suddenly realize like, 'Oh, I've never seen dance from this particular perspective,' and it really changes your whole experience of it."
This Saturday the company will perform "Strangeland," a never-before-seen work commissioned especially for Spring to Dance. Choreographer Jenny Battenberg says that the piece explores the ideas of stepping into the unknown, the uncertainty of the future and letting go of the past. You'll see this concept of moving forward and back in the way the dancers inhabit the space, as well as how their movement begins timidly and then progresses to more fluid, emotional movement. The costumes have a futuristic vibe, with bits of silver, white and purple.
Whatever your tastes, Spring to Dance has something to suit them. It's the perfect way to see a wide array of performances in a single space — and experience something new.
Says Barrios, "You go to Spring to Dance for the same reason that you go to a buffet. You know, you want to take in a lot of different things and want to try a lot of different things... The dance world is so vast and so wide, and it's a good way of getting kind of connected to that."
Lee agrees.
"Come to Spring to Dance to be inspired, to see something fresh, to learn something new and to expand," she says. "Life is about expansion and new growth. It's never a bad time to step outside the box and see something new."

Spring to Dance takes place the evening of May 26, 27 and 28 at the Touhill Performing Arts Center. For tickets and each evening's schedule, visit dancestlouis.org.