COURTESY OF DANCE ST. LOUIS
Dancing Wheels is one of the many companies performing at this weekend's Spring to Dance Festival
It's a three-day weekend, which means one-third more the fun and frivolity — and one extra day to make plans outside your normal routine. See an art show at Schlafly Bottleworks, say "Opa!" with the revelers at Greek Fest, or just catch one of the many, many options for theater, including a timely opera production. It's all happening right here in ST. Louis.
Here are our picks for the three-day weekend.
1. Listen to bands and look at art
It's Memorial Day weekend, which means you have a bevy of festival options. One of the best is
Schlafly's Art Outside
, the long-running juried art show that takes over the front parking lot at Schlafly Bottleworks (7260 Southwest Avenue, Maplewood;
www.schlafly.com
). More than 60 local artists will be set up selling their hand-made art direct to the people. There are some familiar names among that group (Eric Woods and Firecracker Press, Jay Thompson and his magical CatWorks digital photographs and paintings) as well as emerging artists, selling everything from jewelry to textiles. Art Outside runs from 5 to 10 p.m. Friday, 10 a.m. to 10 p.m. Saturday and noon to 4 p.m. Sunday (May 26 to 28). Local bands will perform all three days, and Schlafly's kitchen will offer some new takes on festival food (chorizo nachos) and beverages (a sticky toffee pudding milkshake). This year's artist series beer is Dr. Kentucky's Concoction from His Curious Cabinet: Batch 40004, with a label designed by Noah McMillan. Admission to Art Outside is free.

2. Catch some short films at Citygarden
It's been a little while since this town has hosted a film festival, but just like that, Cinema St. Louis and Gateway Foundation plug the gap with Cinema at Citygarden. The biennial program invites filmmakers to create new works on a single theme to enter in a juried competition. This year's theme is Nature, and the winning entrants are David Rocco ("Summer Louis"), Natalie Rainer ("Hypervide") and Yihuang Lu ("Ocean Breathes"). Their films, along with entries from Zlatko Cosic, Yuhan Zhang and Cole Hieronymus, and a handful of other filmmakers, will screen from 5 to 10 p.m. daily (Friday, May 26 to Friday, June 30) on Citygarden's video wall (801 Market Street; www.citygardenstl.org). Admission is free.

3. Enjoy a weekend of dance at UMSL
Dance lovers have many opportunities and even more choices to make during the tenth annual Spring to Dance Festival. Dance St. Louis has gathered 30 companies who will each perform once during the festival, which runs Friday to Sunday (May 26 to 28) at the Touhill Performing Arts Center on the University of Missouri-St. Louis campus (1 University Drive at Natural Bridge Road; www.touhill.org). So, will you pick the main stage session on Friday night with MADCO and the Joffrey Ballet, or will you opt for the Saturday show with San Francisco Ballet, the Dancing Wheels Company and Chicago Tap Theatre? There's also the matter of the early show, which takes place each night in the Lee Theater and features Clinard Dance and St. Louis' own Leverage Dance Theater. You may not have to decide, because ticket prices are only $10 for the 6 p.m. shows in the Lee Theater, and $15 for the 7:30 p.m. main stage performances; you could see all six for less than $100.

4. Remember the Okies at Opera Theatre of St. Louis
The Grapes of Wrath, John Steinbeck's novel of the Great Depression, follows the Joad family across America as they pursue a better life. Chased out of Oklahoma by the Dust Bowl, the Joads head for California to try their luck as migrant fruit pickers. Once there, they discover they're a drain on the local labor force, pawns for the wealthy and subhumans to everyone else. Their only crime is poverty, yet the denizens of the promised land are determined to keep them suffering from it. Ricky Ian Gordon and Michael Korie adapted Steinbeck's morality play for opera audiences in 2007, and this year present the premiere of their new performing version at Opera Theatre of St. Louis. The Grapes of Wrath is performed at 8 p.m. Saturday, May 27, at the Loretto-Hilton Center (130 Edgar Road; www.opera-stl.org). Tickets are $25 to $129. The opera is performed six more times in repertory through June 25.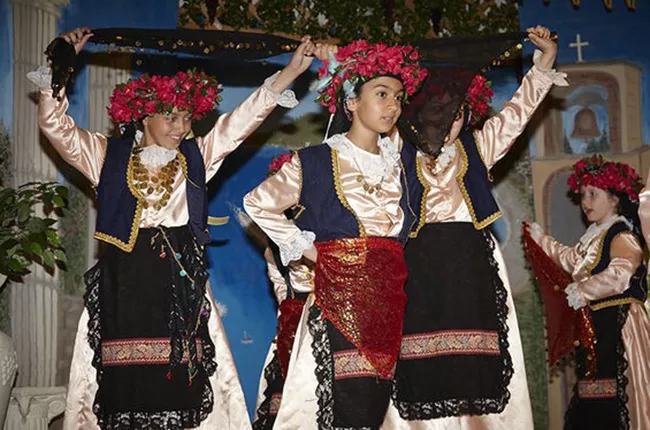 PHOTO BY STEVE TRUESDELL
The St. Louis County Greek Fest returns this weekend.

5. Party it up a la Grecque in Town and Country

"Saturday is all right for festing," as the old song goes, and there's no fest like a Greek festival, because the Greeks invented the concept of the outdoor party. (The Greeks invented everything.) The
St. Louis County Greek Fest
invites you to celebrate Greece's rich heritage with mountains of food and oceans of music from 11 a.m. to 9 p.m. Friday through Sunday and 11 a.m. to 8 p.m. Monday (May 26 to 29) at Assumption Greek Orthodox Church (1755 Des Peres Road, Town and Country;
www.stlgreekfest.com
). And it really is a mountain of food on offer: You can get everything from a lamb shank to a humble gyro sandwich; there are even non-Greek children's plates for picky eaters. You may leave sunburned and weary, but you won't go home hungry. Admission is free.

6. See a new African-American classic
Ron Himes and Charles Creath first debuted their musical revue Crossin' Over in 2005, when we were fighting a war on terror and our civic freedoms were being restrained in the name of public safety. Twelve years later the show returns to a changed America, one that's seen the gains in liberty and equality achieved under our first black president under assault from yet another power-mad dum-dum. Crossin' Over charts the path of the African diaspora, from the middle passage to the civil rights movement. The show incorporates the entire trajectory of black spiritual music, from traditional West African drumming to church hymns and gospel standards, right up to the contemporary gospel of the moment. Throughout, the music runs the constant refrain of survival and resistance — we shall overcome, no matter the odds. Crossin' Over is performed at 7 p.m. Thursday, 8 p.m. Friday and Saturday and 3 p.m. Sunday (May 26 to June 18) in the Emerson Performance Center at Harris-Stowe State University (3026 Laclede Avenue; www.theblackrep.org). Tickets are $10 to $40.
7. Check out reproductions of Tut's tomb at the Science Center

The discovery of King Tut's tomb by Howard Carter in 1922 set off a mania for all things Egyptian that still hasn't quite settled down. The fantastic artifacts recovered from the undisturbed tomb captured the imaginations of the public. (Pharaoh Tutankhamun's solid gold funerary mask remains the visual shorthand for "Egypt," and shows up everywhere from comic books to t-shirts to summer blockbusters.) Back in 1963, some of the discovered items visited St. Louis as part of an official tour. Now a new traveling exhibition,
The Discovery of King Tut
, will bring back some of the excitement. Starting Saturday, May 27, more than 1,000 recreations of Tut's eternal possessions, including his entire tomb, fill the Saint Louis Science Center (5050 Oakland Avenue;
www.slsc.org
) as part of the 15,000 square-foot exhibition. Carter's own diaries provide the text for the guided tour of the installation, which includes information on the discovery and the culture of Tut's Egypt. The Discovery of King Tut remains on display through January 7, 2018. Admission is $14 to $16.
8. Go shopping in a big way in St. Charles

Start reserving those U-Hauls now:
The Gypsy Caravan
is back at the Family Arena (2002 Arena Parkway, St. Charles;
www.familyarena.com
) this Monday. The annual fundraiser for the Saint Louis Symphony is both indoors and outdoors, and it will have perhaps as many as 450 vendors selling antiques and vintage items. The question is not whether you will find something you absolutely have to have; it's whether you can cart it all home — hence the truck rental. Early bird admission (7 to 9 a.m.) is $20, general admission (9 a.m. to 4 p.m.) is $10, and parking is free.


Editor's note: A previous version of this story provided some incorrect information about The Discovery of King Tut. It opens Saturday, May 27 and runs through January 7, 2018. Also, it is 15,000 square feet. We regret the error.