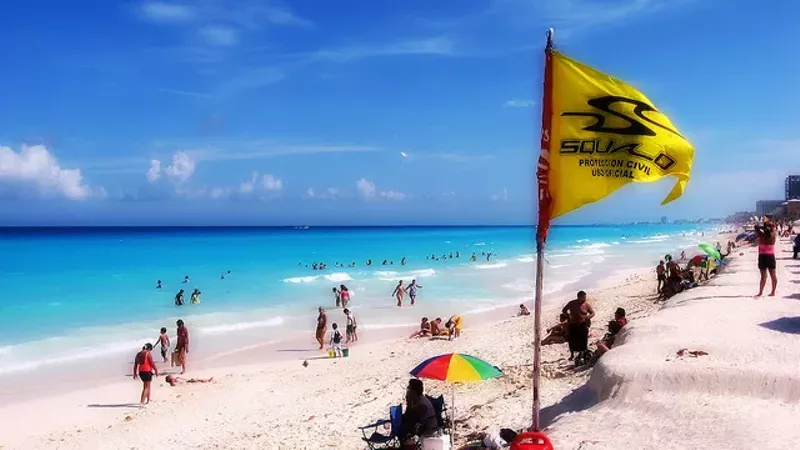 Get ready for that beach vacation.
Southwest Airlines announced this morning that
it will begin offering direct flights from St. Louis to Cancun, Mexico
, beginning November 11. The flights will run every Saturday through at least January 7, 2018. (And not to fear: This is almost certainly not a temporary thing; it's only that Southwest hasn't released its schedules for the period after that.) Prices begin at just $149 one way.
In other words? Mexico, here we come!
Southwest also previously announced it was adding direct flights between St. Louis Lambert International Airport and both Pensacola and South Carolina, with those flights beginning June 4. Forget the winter blues; by the time it gets cold in the Midwest, we'll have three new sunny direct-flight options.
And that means good news for wee little Terminal 2. The airport says it's been working with Southwest to "renovate and reopen" a four-gate section, which will add gates E34 to E40 to the thirteen gates the airline currently operates.
With the addition of the Cancun flight, St. Louis is one of just fifteen airports where Southwest provides international flights.
(Also worth noting: St. Louis previously enjoyed direct flights to Cancun via Frontier Airlines. But isn't it nice to have a second option, with a different carrier?)
"There's been great growth and demand on Southwest in recent years and we're excited for this continued momentum with the addition of new international service," said Airport Director Rhonda Hamm-Niebruegge in a prepared statement. "With the airline's great connectivity now to 44 domestic markets, we're optimistic this new flight will do well for both local and connecting travelers." Ole!
Editor's note: We updated this post soon after publication to include information about Frontier's direct flight from STL to CUN. We regret the previous omission.
We welcome tips and feedback. Email the author at sarah.fenske@riverfronttimes.com