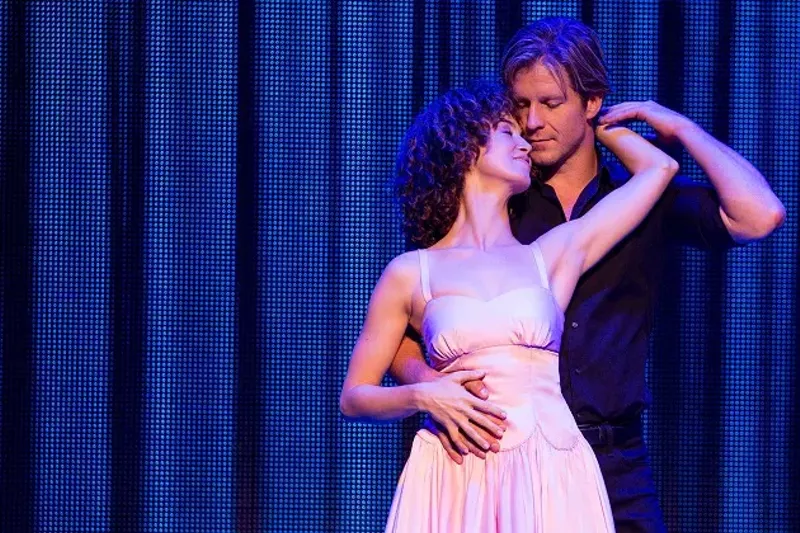 MATTHEW MURPHY
Nobody puts Baby in a corner. Now you can see it all live at the Fox.
This weekend has many options for fun, from art openings to a plays to a beer-centric festival celebrating the arrival of spring (yes!). Here's our cheat sheet on the very best things to do.
1. See a play about race relations in South Africa
Eugene de Kock is a nightmare figure in the history of South Africa. The commanding officer of the notorious C10 police squad, de Kock was personally responsible for the torture and murder of numerous anti-apartheid activists, including members of the African National Congress. He admitted all this freely in court after apartheid was abolished and a new government was established, and was sentenced to 212 years in prison for his crimes. Psychologist Pumla Gobodo-Madikizela interviewed de Kock several times, trying to understand how a man who thought of himself as moral could so brutally and callously treat other human beings. Nicholas Wright adapted Gobodo-Madikizela's book about de Kock and other killers into the two-person play
A Human Being Died That Night
. Upstream Theater presents the chilling work at 8 p.m. Thursday to Saturday (May 12 to 27), 7 p.m. Sunday (May 14 and 21) and 2 p.m. Sunday, May 28, at the Kranzberg Arts Center (501 North Grand Boulevard;
www.upstreamtheater.org
). Tickets are $20 to $30.
2. Watch a movie-turned-musical at the Fox
Frances "Baby" Houseman accompanies her family to the Catskills the summer before she leaves for college. The resort's dance instructor, Johnny Castle, rocks her world with both his physique and his moves on the dance floor. When Johnny's regular dance partner has to bow out of a performance to obtain an illegal abortion, Baby volunteers to take her place — but first she has to learn to dance. Johnny teaches her everything he knows, and some of it even has to do with dancing. Dirty Dancing was a surprise hit as a film, and the musical adaptation Dirty Dancing — the Classic Story on Stage continues that tradition. The dance-heavy musical visits St. Louis for a short run. Performances are at 7:30 p.m. Friday, 2 and 7:30 p.m. Saturday and 1 and 6:30 p.m. Sunday (May 12 to 14) at the Fox Theatre (527 North Grand Boulevard; www.fabulousfox.com). Tickets are $49 to $125.

3. See a play about coming to terms with your family in Creve Coeur
Leo didn't intend to end up at his grandmother Vera's apartment in Manhattans West Village, and she certainly wasn't expecting him — especially not in the middle of the night. But at 91, she's learned a great deal about life, and she can tell something is wrong with her grandson. Something terrible happened during his cross-country bicycle journey, that's for certain. Vera doesn't mind his company; things have been awfully quiet in her life since her husband passed away. Leo's sudden appearance might turn out to be just what both of them need at this point in their lives. Amy Herzog's intimate play
4000 Miles
is about the distance between age 21 and age 91, and how small it really is. The New Jewish Theatre closes its season with
4000 Miles
. Performances are at 7:30 p.m. Wednesday and Thursday, 8 p.m. Saturday and 2 p.m. Sunday (May 11 to 28) in the Wool Studio at the Jewish Community Center (2 Millstone Campus Drive, Creve Coeur;
www.newjewishtheatre.org
). Tickets are $39.50 to $43.50.
4. Visit MoBOT's new Garden of Glass
The Missouri Botanical Garden (4344 Shaw Boulevard; www.mobot.org) continues its tradition of summer exhibitions this year with the flora-inspired Garden of Glass. Comprising 30 works of fused glass created by Craig Mitchell Smith, the exhibit features larger-than-life replicas of orange blossoms, orchids, dandelions and other flowers that are installed throughout the Climatron. Viewings of Garden of Glass are available from 9 a.m. to 5 p.m. daily (May 13 to August 13). Admission is $4 to $17, and that includes regular garden admission. Evening hours for the Climatron only start Thursday, May 25, and last from 7 to 11 p.m. Thursday through Sunday through August 12. Evening admission is $6 to $16.
Nickolas Muray. Diego y Frida.. San Ángel, ciudad de México, 1938 Impresión moderna.

5. Explore photos of a combative couple in Grand Center
Diego Rivera became a legend in his native Mexico for his vibrant murals. Perhaps unfortunately for him, his enshrinement happened early in his life; it's difficult to be a man and a legend at the same time. Frida Kahlo chose to become a painter only after a serious car crash derailed her dream of being a doctor. Her self-portraits are revered for their depiction of the feminine experience, and they are informed both by her continuing physical pain and the emotional turmoil of her marriage to Rivera, whom she eventually divorced and then remarried. They made a vicarious, creative and combative couple, and were often photographed together and separately by friends and family.
Diego and Frida: A Smile in the Middle of the Way
, the new exhibit at the International Photography Hall of Fame and Museum (3415 Olive Boulevard;
www.iphf.org
), showcases a large collection of formal and informal photographs of the pair. Included in the exhibit are pictures captured by Guillermo Kahlo (Frida's father), Ansel Adams, muralist Lucienne Bloch, who photographed much of Rivera and Kahlo's work, and prolific Mexican photographer Agustin Victor Casasola.
Diego and Frida
is open from 11 a.m. to 5 p.m. Wednesday through Saturday (Saturday, May 13, to Friday, August 4). Admission is $3 to $5.
6. Drink It Up at Maifest
Maifest is a German festival that celebrates the arrival of spring weather, which has been hit or miss until quite recently this year. Urban Chestnut Brewery & Biergarten (3229 Washington Avenue; www.urbanchestnut.com) has determined that this weekend is the time to give spring its due with a wilkommen party. Saturday from noon to 10 p.m., Urban Chestnut will have its entire line of bock beers (Earth Day Maibock, Gewasserschutz, Maximilian and Urbangang) ready to go for thirsty revelers, as well as barbecue from Urban Chestnut, Salt + Smoke and Southtown Pub. Admission is $18 and includes a commemorative glass and three beer and food tickets (additional tickets can be had for $6).
7. Catch a modern classic in south county
Luc Besson's space opera
The Fifth Element
was a love letter to the sci-fi comic books of Jean Giraud (better known as Moebius) and Jean-Claude Mézières. As designers, the men influenced both the look of the film and its sprawling, metaphysical story. Bruce Willis plays Korben Dallas, a former elite soldier who now works as a cab driver. Leeloo (Milla Jovovich) literally falls into his life, a scantily clad beauty who just happens to be the ultimate weapon. Bioengineered by aliens to aid Earth in its fight against an ancient evil, Leeloo drags a besmitten Korben along with her as she pursues some plot-bearing stones. Along the way they pick up a priest (Ian Holm) and flamboyant media sensation (and noted screamer) Ruby Rhod (Chris Tucker). It is delightful, and you can see it again on the big screen at 2 p.m. Sunday and 7 p.m. Wednesday (May 14 and 17) at Marcus Wehrenberg Ronnies Cinema (5230 South Lindbergh Boulevard;
www.fathomevents.com
). Tickets are $12.50. You'll also get a sneak peek at Besson's new film,
Valérian and the City of a Thousand Planets
, which is an adaptation of Mézières brilliant comic book
Valérian and Laureline
. If you notice some visual similarities to the films of George Lucas, please keep in mind the that the comic first appeared in 1967.