Allison Babka
Five-year-old Olivia McArthy chats with local drag performers Celeste Covington (left) and Princess Hoodlum at Webster University.
"PENGUINS!" the crowd of children excitedly shouted upon seeing what book was to be read next.
Helena Handbag smiled affectionately, adjusted her emoji-covered dress, bobbed one pink stiletto-covered foot and read
And Tango Makes Three
to her rapt audience at the Webster University library.
"Roy and Silo taught Tango how to sing for them when she was hungry. They fed her food from their beaks. They snuggled in their nest at night," she read from the award-winning 2005 children's book. "Tango was the very first penguin in the zoo to have two daddies."
Books about friendship, individuality and gender concepts were on the menu for Webster's first-ever drag performer storytime yesterday afternoon. Three members of St. Louis' drag community put their theatre and engagement skills to the test in front of an Emerson Library audience that's still a bit too young to attend their late-night shows at area bars — inquisitive kids ages one to eight.
"I was very concerned with how my mouth was going to be today," laughs Matt Jamieson, who's demonstrated a propensity for profanity while performing as Helena Handbag. "It really is a different audience. But it's easy to entertain when your audience isn't anywhere near drinking age."
Jamieson need not have worried; the kids seemed as starstruck by the drag queens as they might be by their favorite Disney characters. Enthralled by everything from the queens' outfits to the voices the performers gave to each book's characters, the children were captivated by the charisma of Helena Handbag, Celeste Covington and Princess Hoodlum for the full two hours of the event. And the typical "quiet as a mouse" library rules didn't seem to apply between stories, when the all-hands dance parties broke out.
What, you thought that a drag event in a library wouldn't feature a little wiggling to Taylor Swift and Whitney Houston? Oh, honey.
Allison Babka
No drag event is complete without dancing to '80s hits, even in a library.
Webster's storytime comes on the heels of similar
events across the country
, which have been gaining momentum as drag and LGBTQIA issues increasingly enjoy mainstream acceptance and appreciation. After successful public library story hours in San Francisco and New York, institutions in the Midwest have begun hosting the queens, offering families a fun way to help children learn about kindness and acceptance.
"To my knowledge, no other academic libraries have done this. We have a very rich history of drag on campus, and for many of us — myself being an alum and an employee — that's what Webster means to us: creativity and diversity," says Sarah Reando, a research librarian at Webster. "If you'd like for your child to meet a drag performer, you can't very well take them down to the Gray Fox on a Saturday night. Since
Hamburger Mary's
closed [in
2014
], there hasn't been a kid-friendly drag show in St. Louis. A lot of people here wanted to try this and liked the idea of filling that niche."
Angie Reno says that her son Joshua, four, loves storytime, so bringing him to Webster's event was appealing.
"We really want him to be introduced to all kinds of people and to understand that while people are different, everyone has value and is important," Reno says. "I want to expose him while he's young to as much as we can so that as he grows up, he doesn't think 'different' is bad or scary; 'different' is fun and great!"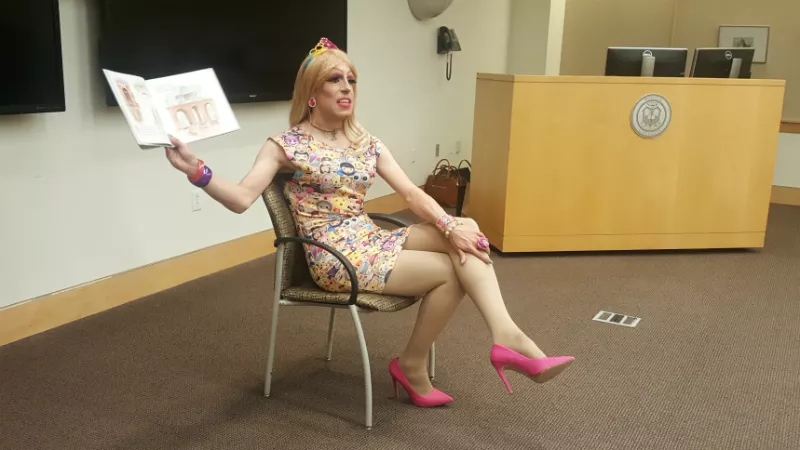 Allison Babka
Helena Handbag (Matt Jamieson) reads "And Tango Makes Three" during Webster University's drag performer storytime.
Sunday's event seemed to be as special for the performers as it was for the audience. As a 2011 Webster graduate, Jamieson says returning to the campus that supported him was meaningful.
"For Webster to be leading the way on this in St. Louis is really incredible," says Jamieson. "Even with the amazing upbringing that I had from two incredible parents, to have a message from someone else saying that it's OK to be different, to be whatever you want, that message would have meant the world to me."
Research librarian Reando says she hopes that the drag performer storytime will become a regular event, possibly coordinating in the future with the university's annual Drag Ball, a campus tradition for more than twenty years.